Published September 16, 2022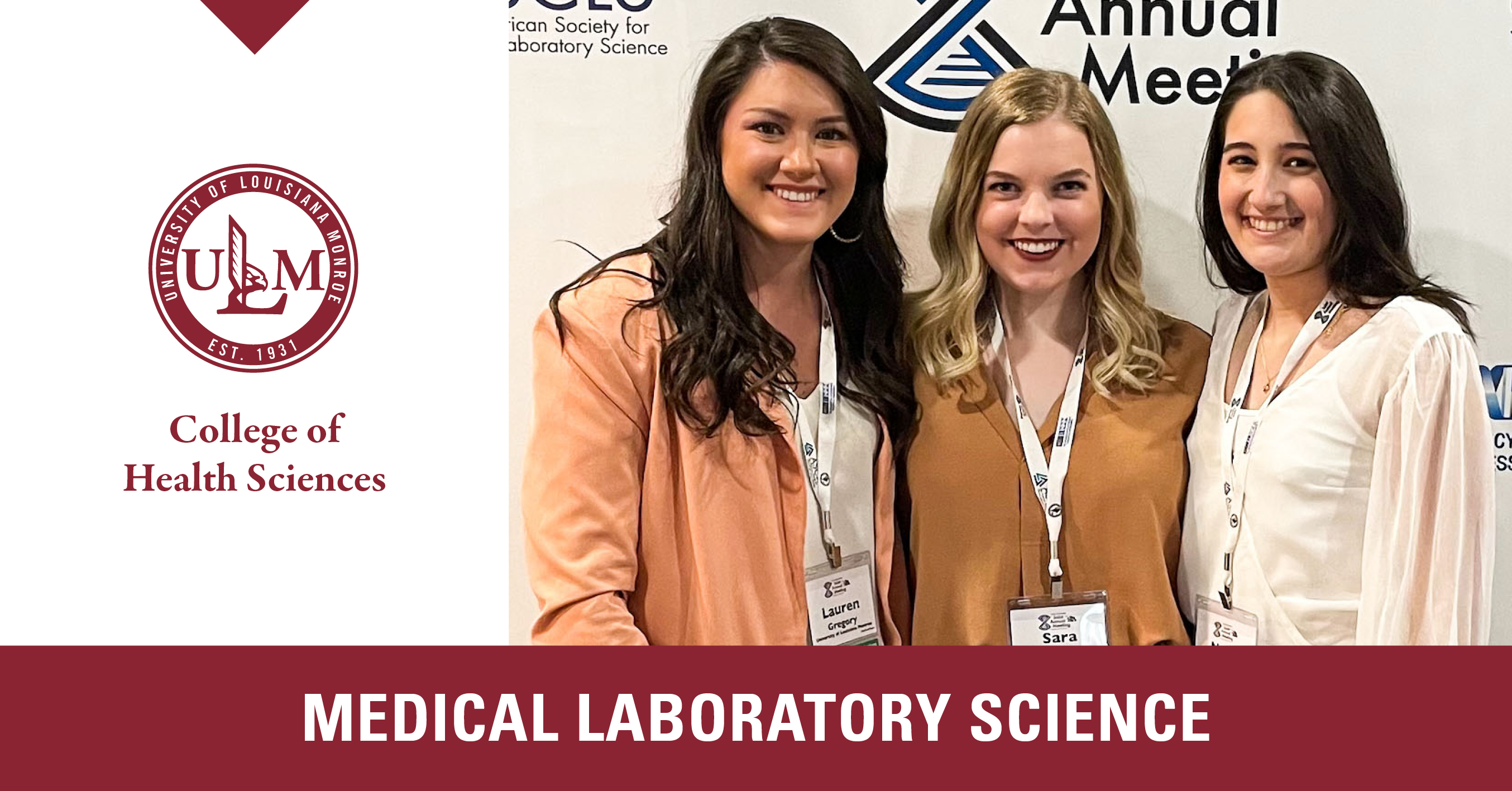 CAPTION:Students from ULM's MLS program recently attended the national ASCLS annual meeting. Pictured left to right: Lauren Gregory, Sara Seiler, Noor Farhat 
MONROE, LA – Three students, Lauren Gregory, Sara Seiler, and Noor Farhat, from ULM's Medical Laboratory Science program had the incredible opportunity to attend the American Society for Clinical Laboratory Science (ASCLS) Joint Annual Meeting this past summer in Grand Rapids, Michigan, from June 26th to June 30th.  
The Joint Annual Meeting (JAM) allows for professionals to gather and share their knowledge of the laboratory field. Many individuals anticipate JAM year-round, and all three ULM students were grateful for the chance to attend such an extraordinary event.  
"ASCLS furthered my passion for this profession, and I had the wonderful opportunity to meet such an amazing and supportive community," said Noor Farhat. "It was a heartwarming experience that I will cherish for years to come. I am forever thankful to my professors for the encouragement and support they provided," she added. Farhat is the Louisiana Student Forum Chair of Developing Professionals and served as a Louisiana delegate at the ASCLS House of Delegates meeting.  
At the annual awards ceremony, Sara Seiler received an ASCLS Travel Grant from the 2021-2022 President of ASCLS, Hassan Aziz. Seiler remarked, "I feel so honored to have received a travel grant from this organization. ASCLS welcomes all members to attend JAM every year, and it was an experience that I'll never forget. We are so thankful to our faculty here at ULM for encouraging us to get involved in ASCLS and making this trip happen for us." 
Lauren Gregory was able to network with potential employers and gain connections with future job opportunities. She stated, "JAM allowed me to meet laboratory professionals from various regions of ASCLS. I have plans to push my boundaries and further my career outside of Louisiana, and the people I had the pleasure of meeting helped me get one step closer to achieving this career goal." 
ASCLS comprises approximately 9,000 medical laboratory professionals, students, and educators across the nation that function to advance the profession. As laboratory personnel, they provide high complexity testing on patient samples to detect, diagnose, and treat diseases. ASCLS and the regional constituent societies advocate for laboratory professionals and represent their interests to legislators and regulators. 
"Attending the ASCLS meeting and representing the ULM MLS program at the national level was an opportunity of a lifetime for these three students" said Debbie Wisenor, ULM MLS faculty and student society advisor. 
To learn more about ULM's Medical Laboratory Science program, visit: https://www.ulm.edu/mls