Published October 27, 2022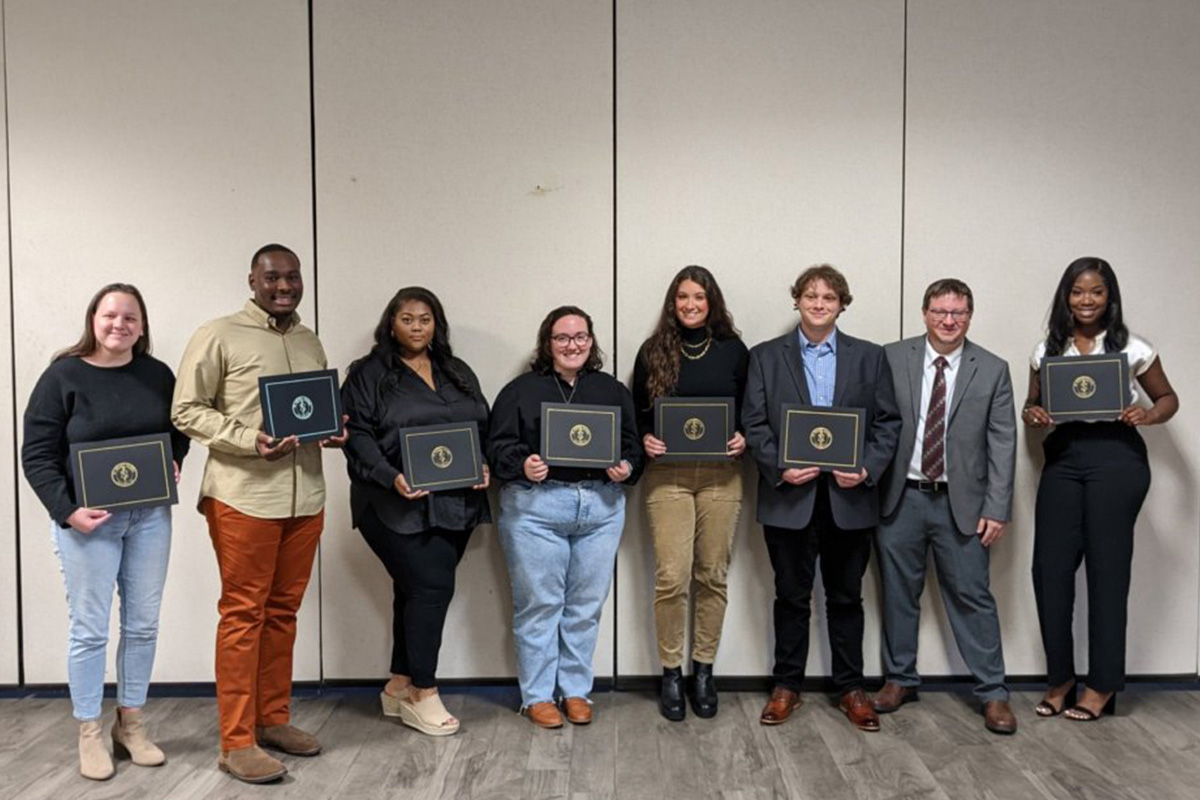 CAPTION:ULM's Fall 2022 Pi Sigma Alpha inductees include Regan Digilormo, Noah Dixon, Caleb Drummer, Maggie Eubanks, Raven Holland, Tajdreial Loston, and Caitlin Slavich. Pictured with Dr. Daniel Hummel 
---
MONROE, LA – On Wednesday, October 26, ULM welcomed Louisiana Democratic Chair Katherine Bernhardt as she delivered the keynote address at the induction ceremony for the Alpha Zeta Nu Chapter of Pi Sigma Alpha, the National Political Science Honor Society. Bernhardt was also presented with her Pi Sigma Alpha certificate awarded in 2010 when she was a political science student at ULM.  
In her keynote speech, Bernardt talked about her journey to becoming the Louisiana Democratic Party Chair, a position she's held since September 2020. "I wanted my time here to be meaningful and to know that whatever I did, I spent my days making Louisiana a better place to raise a family," she said.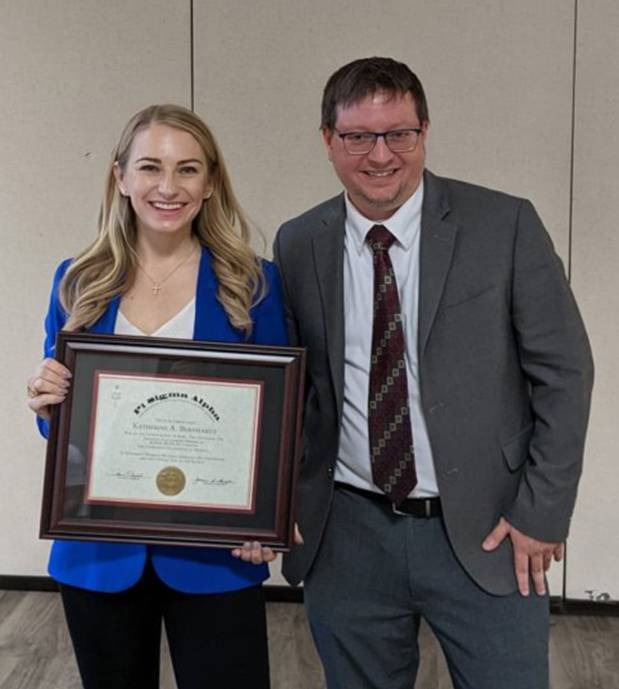 CAPTION: Louisiana Democratic Party Chair Katherine Bernhardt accepts her Pi Sigma Alpha certificate from ULM Political Science Assistant Professor Dr. Daniel Hummel. 
Bernhardt also detailed how her career in politics has been successful due to the support of others. "I think it's so important that each of us offers ourselves to help each other in this journey, regardless of what side of the political sphere we're on. We're working together to make our communities better, our state better, and our country better," said Bernhardt. "A lot of that I learned right here at ULM, but I carry it with me every single day," she added.  
This year's Pi Sigma Alpha inductees included Regan Digilormo, Noah Dixon, Caleb Drummer, Maggie Eubanks, Raven Holland, Tajdreial Loston and Caitlin Slavich. Selection into Pi Sigma Alpha is based upon three criteria: an overall GPA that places the student within the top one-third of their graduating class, a GPA of 3.5 or better in Political Science courses, and the completion of more than twelve hours of political science courses.  Members receive a certificate of induction and an induction pin. 
Bernhardt encouraged the student inductees to throw themselves into their passions and to be willing to ask for help. "Believe in your dreams. This program and the professors here believed in me," she said. Bernhardt closed by saying "I firmly believe that the students and the faculty can give you what you need to drive if you ask. I'm so grateful to have the support network that I do because it's given me a really awesome opportunity to do what I love." 
Pi Sigma Alpha is a national political science honor society founded in 1920 at the University of Texas for the purpose of bringing together students and faculty interested in the study of government and politics.  Pi Sigma Alpha is a member of the Association of College Honor Societies (ACHS), features over 700 chapters worldwide, and inducts 800 new members annually.