Published September 13, 2022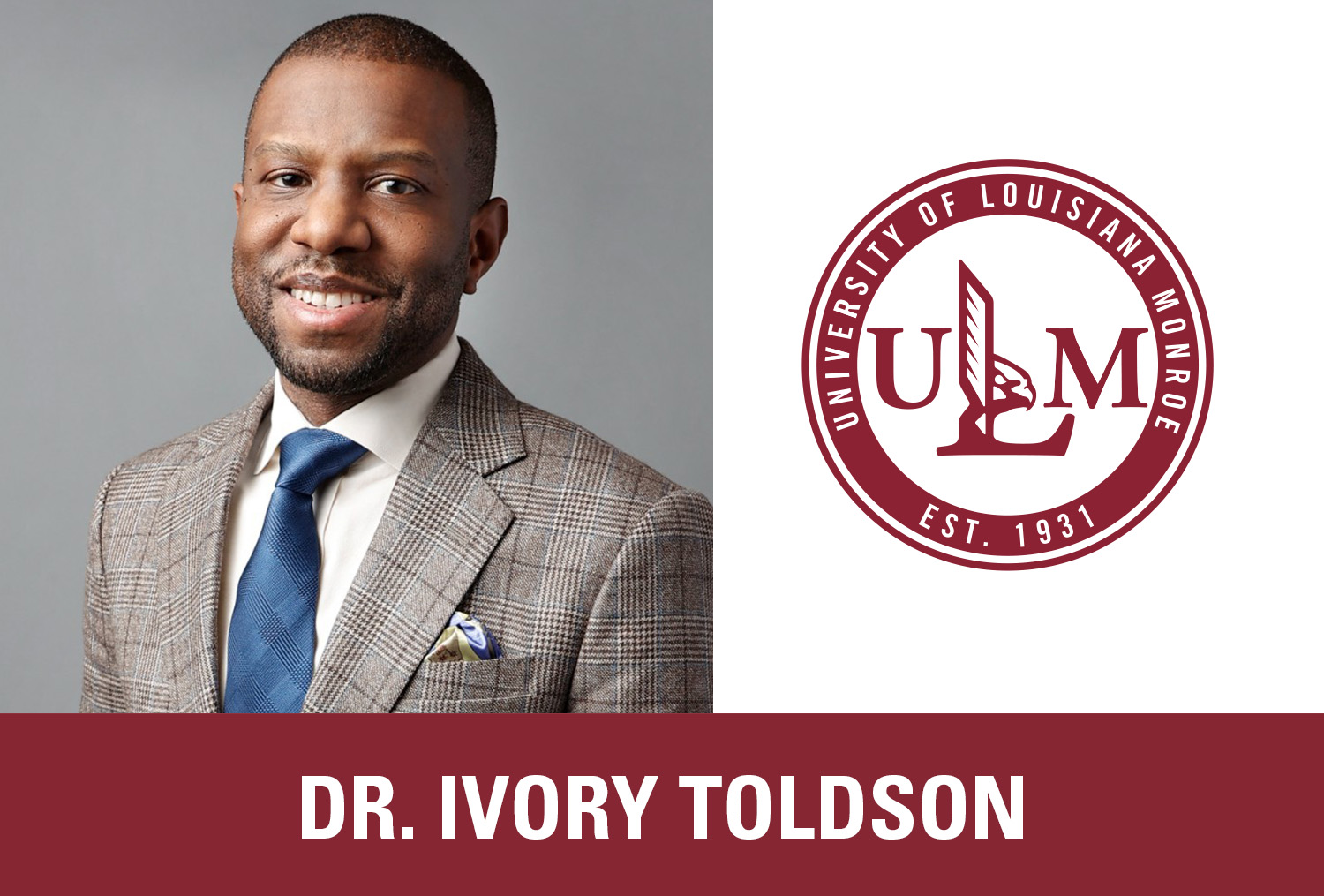 CAPTION:Dr. Ivory Toldson will lead a professional development session at ULM's Bayou Pointe on Thursday, September 15 at 2:00 p.m.
MONROE, LA – The ULM Office of Diversity, Equity, and Inclusion will be hosting a professional development session with Dr. Ivory Toldson on Thursday, September 15 at 2:00 p.m. at Bayou Pointe Event Center on the campus of ULM.  
Dr. Toldson is the Director of Education Innovation and Research for the NAACP as well as a Professor of Counseling Psychology at Howard University. His session is titled "Education in a Changing World: Using Good Data to Find Solutions Rather Than Sell Problems to Close Achievement Gaps."  
All faculty and staff, as well as local and regional educators and administrators are invited to attend the free session. Registration is not required, but attendees are encouraged to pre-register at https://webservices.ulm.edu/webforms/form/professional-development-registration-form 
Dr. Pamela Saulsberry, Executive Director of ULM's Office of DEI says of Toldson, "In his book, he had great information on expectations of marginalized students, their parents' involvement in their education, and what could be done differently to increase the success rate of these students in elementary and secondary school, and thus college."  
DEI Fellow Dr. Alicia Rollins added, "Dr. Toldson is one of the leading voices on using data-driven solutions to make progress in the DEI sector. It's an honor to have him host a professional development session for our faculty, staff, and local educators."  
Session Description: 
In the United States, racial inequities in college preparation, admissions biases, academic advising inadequacies, and wealth inequality lead to differences in racial groups' access to higher education. Overhauling diversity, equity, and inclusion (DEI) efforts across campuses by hiring chief diversity officers to implement data-informed student success interventions is a common response to addressing racial outcome disparities. By analyzing survey data from U.S. two-year and four-year colleges and universities, this professional development session discusses the impact of mindset, practices, and tools on student outcomes across institutions that have been successful at closing the racial achievement gap over the last ten years. Administrators at most institutions reported that they prioritize equity across departments. However, institutions that have narrowed outcome gaps for racial minority students report specific practices that go beyond mindset and intent. This presentation has implications for DEI programs seeking to move beyond mindset and rhetoric, and toward evidence-based practices to improve student success. 
About Dr. Ivory Toldson 
Dr. Ivory A. Toldson is the Director of Education Innovation and Research for the NAACP, a professor of Counseling Psychology at Howard University, the president of Education for Minorities, the editor-in-chief of the Journal of Negro Education, and executive editor of the Journal of Policy Analysis and Research, published by the Congressional Black Caucus Foundation, Inc. Previously, Dr. Toldson served President Barack Obama's administration as the executive director, for the White House Initiative on Historically Black Colleges and Universities. 
Dr. Toldson has more than 60 publications, including 4 books, and more than 150 research presentations in 36 US states, Puerto Rico, Dominican Republic, Scotland, South Africa, Paris, and Barcelona. He has been featured on MSNBC, C-SPAN2 Books, NPR News, POTUS on XM Satellite Radio, and numerous local radio stations. His research has been featured in The Washington Post, The New York Times, The Root, The National Journal, Essence Magazine, and Ebony Magazine.