Published September 21, 2022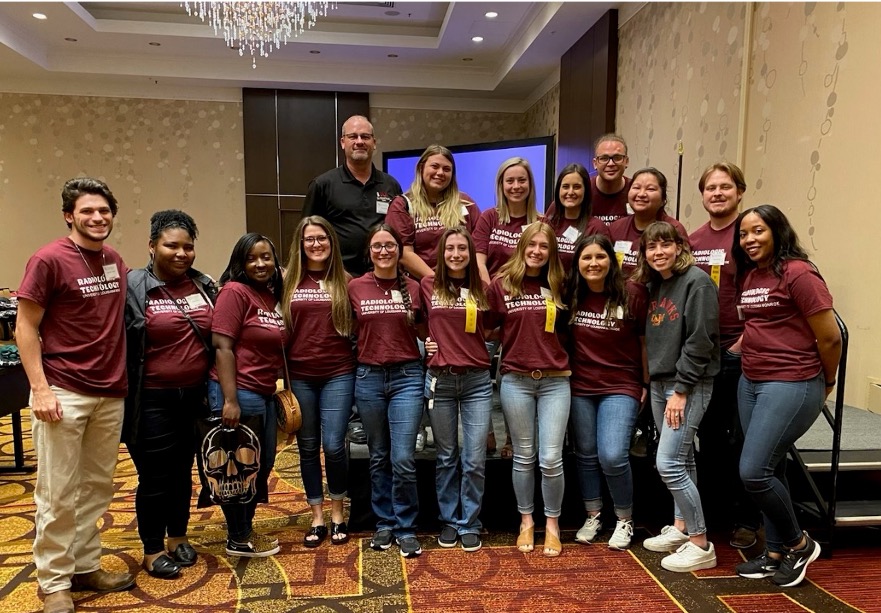 CAPTION:(Top, L-R): Brett Bennett (ULM RADT Program Director), Hallie Sims, Caroline Ezell, Brianna Paul, Andrew Frazier, Anh Nguyen, and Jessie Thomas; (Bottom, L-R): Cody Tindall, Queen Bolden, Britney Bobo, Mary Denison, Mallory Bonnett, Londyn Bice, Hailey Whittington, Kateland Fulmer, Rayleigh Walker, Takaria Jackson 
MONROE, LA – Students and faculty from ULM's Radiologic Technology program recently represented the University at the Louisiana Society of Radiologic Technologists Annual Conference in Baton Rouge, LA on July 14-16, 2022. The students placed in several events, including 2nd place in the quiz bowl championship. 
Hailey Whittington of ULM won second in the Student Essay Competition with her submission of "MRI Guided Focused Ultrasound Used for Noninvasive Brain Therapy." In addition, Takaria Jackson and Kaitlin Phillips of ULM placed third in the Student Exhibit Competition with their submission of "Palliative Radiotherapy in Metastatic Breast Cancer." 
 Students Andrew Frazier, Anh Nguyen, and Hailey Whittington also attended the prestigious LSRT Student Leadership Development Program, a specialized program to develop leadership skills where they had the opportunity to network with various leaders across the state. The three student also now have the opportunity to apply for the national Student Leadership Development Program hosted by the ASRT next summer. 
ULM Faculty were also recognized for their contributions to the LSRT. Mr. Brett Bennett, ULM Radiologic Technology Program Director and Associate Professor, was honored at the event for his service to the society in his role as the Executive Secretary of Finance. Mrs. Brittany Smith was elected by her educator peers as the Louisiana Educators in Radiologic Sciences Council (LERS) Chairperson. Mrs. Rebecca Hamm hosted the conference events as President of the LSRT and will now assist with leading the organization as Chairman of the Board throughout coming year.  
"ULM Radiologic Technology students and faculty work so hard every day. To see it pay off like this is always satisfying," said Bennett.