Published December 8, 2022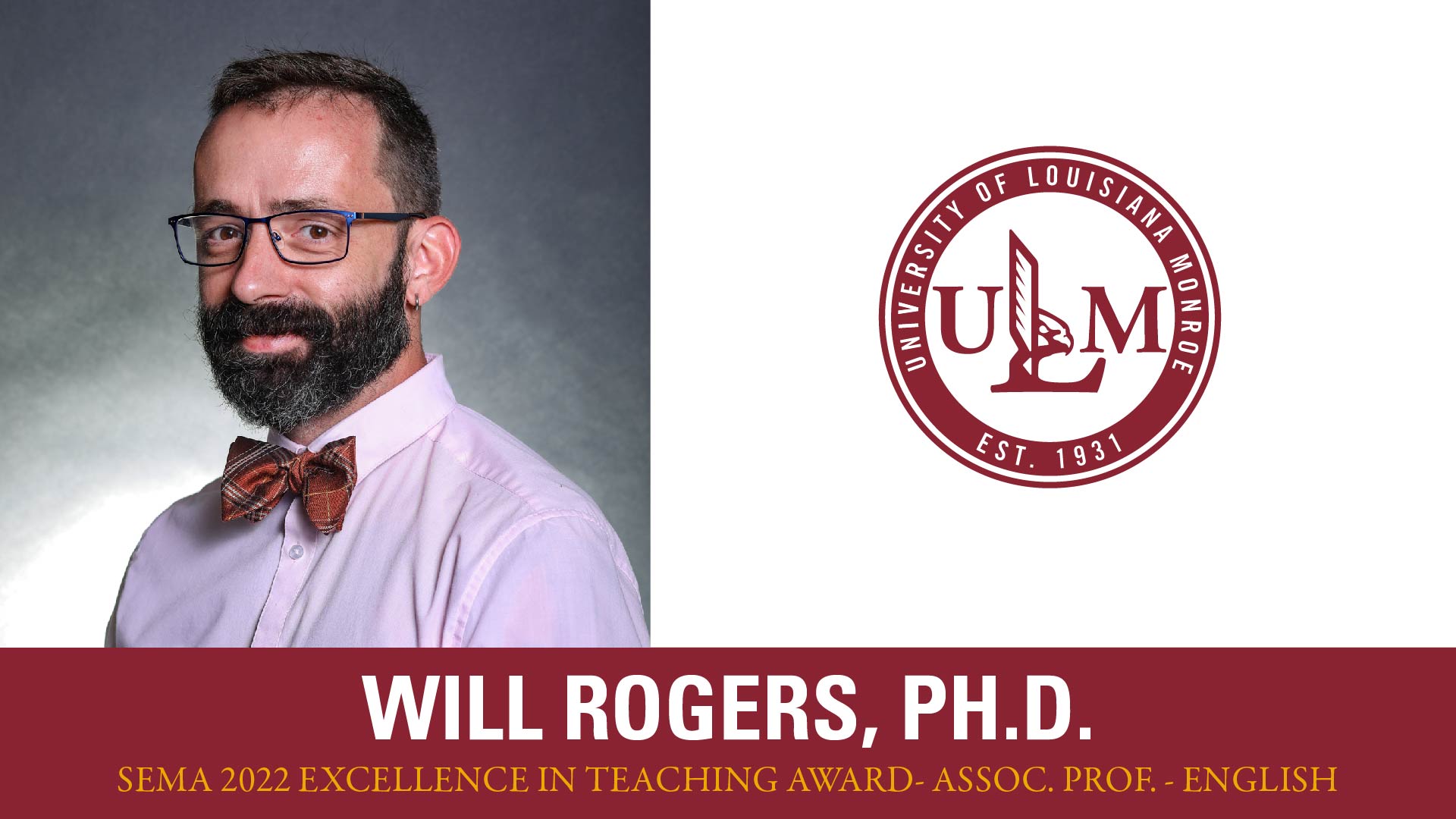 MONROE, LA – ULM Associate Professor Will Rogers, Ph.D. has been awarded the 2022 Excellence in Teaching Award by the Southeastern Medieval Association. Rogers received the award at the annual SEMA conference in Birmingham, Ala. in November. 
Dr. Rogers is a long-time member of SEMA and is also the Tommy and Mary Barham Endowed Professor of English at ULM. According to the committee who gave him the award, Dr. Rogers "has not only been a popular and effective classroom teacher, but a mentor and inspiration to others."  
"The Award for Excellence in Teaching is one that means a great deal to me—decided on by my peers in Medieval Studies and my colleagues in the Southeast, it recognizes the work I've done to bring knowledge of medieval texts, history, and culture to Monroe and to bridge the distance between the past and present," said Rogers.  
One of Dr. Rogers students notes that, "His patience and understanding creates an atmosphere in which students feel comfortable to ask questions and build confidence." The student went on to say, "His popular courses in LGBTQ studies and trauma theory embody the empathy and openness that he inspires in his medieval literature students, and his years of experience helping his students challenge themselves and others make him an inspiring example of the scholar-teacher that many of us aspire to become." 
The committee also stated, "One example of his breadth and innovation may be found in a well-regarded article in Studies in Medieval and Renaissance Teaching (SMART), which finds a model for composition theory in Anchoritic texts and exemplifies his ability to move smoothly between the first-year classroom and the graduate student seminar, applying his specialized knowledge to the classroom in practical and productive ways."