Published November 16, 2022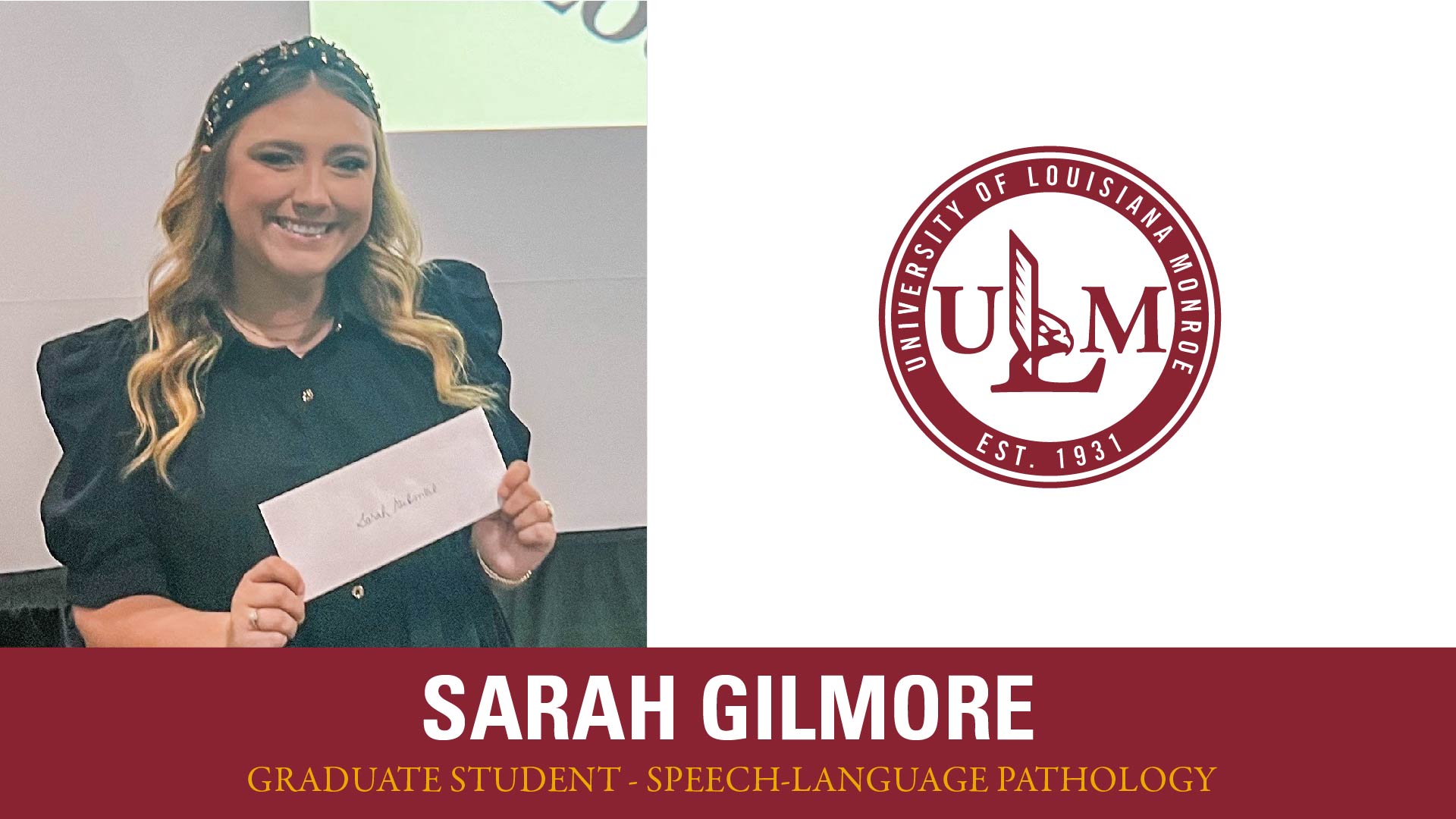 CAPTION:Speech-Language Pathology graduate student Sarah Gilmore accepted a $1,500 scholarship from the Association of Speech-Language Pathologists and Audiologists in Louisiana Schools 
---
MONROE, LA— Sarah Gilmore, a second-year ULM Speech-Language Pathology graduate student from Natchitoches, La. was recently awarded a $1,500 scholarship from the Association of Speech-Language Pathologists and Audiologists in Louisiana Schools (SPALS).  
Accepting the award at the annual SPALS conference held in Lafayette, Sarah said, "I am honored and blessed to be chosen as a SPALS scholarship recipient this year. I am looking forward to all that the future may bring through this amazing profession that I am so passionate about." 
In her letter of application, Sarah indicated that she has always had an interest in Speech-Language Pathology since she received articulation therapy for seven years as a child.  As she prepared for college, she found the progress notes from her childhood sessions.  Reading over those notes and reflecting on all that she had accomplished reminded Sarah of how the school Speech-Language Pathologist had changed her life and led her to her career choice.   
The Association of Speech Pathologists and Audiologists in Louisiana Schools (SPALS) is committed to supporting the education of future professionals. SPALS awards two scholarships each year. The scholarship is a one-time award of $1,500 and is intended for tuition, books, and supplies. Applicants must be an entering or continuing, full-time student pursuing a Master's or Doctoral degree in Speech Pathology or Audiology at a Louisiana university with a verified cumulative grade point average of at least 3.2 on a 4.0 scale for all college courses.