Published May 17, 2022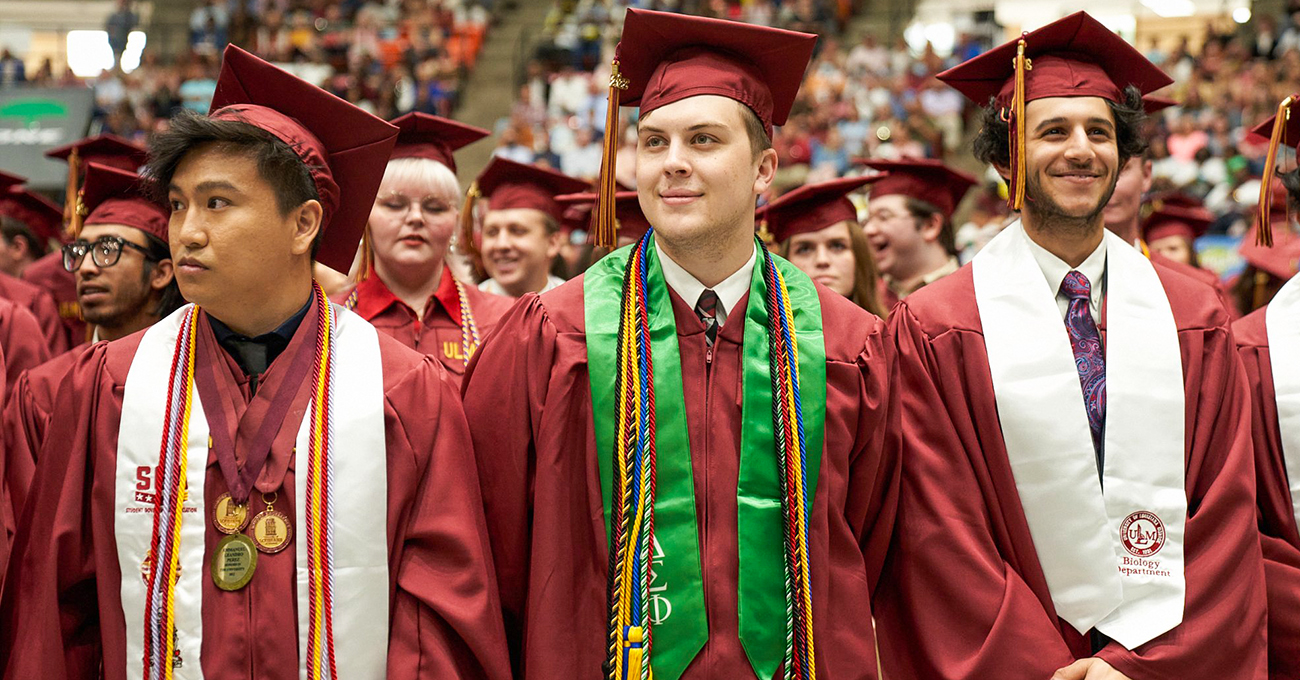 The University of Louisiana Monroe President Ron Berry conferred degrees to 943 graduates at the 2022 spring commencement ceremonies on May 14.
Two ceremonies were held, with the College of Business and Social Sciences and the College of Pharmacy degrees being conferred together and the College of Arts, Education, and Sciences and College of Health Sciences taking part in a separate commencement. Graduate students were conferred degrees in both ceremonies.
A total of 943 students earned degrees in the spring 2022 semester. Of those, ULM bestowed 77 Pharm.D. degrees and 17 doctoral degrees. Nine students earned multiple degrees, and 22 students were Honors Program graduates.
Degrees by each college include 160 in Arts, Education, and Sciences, 282 in Business and Social Sciences, 182 in Health Sciences, 94 in Pharmacy, and 235 in the Graduate School.
There were 245 Distinguished Graduates; 49 Summa Cum Laude, 63 Magna Cum Laude, and 133 Cum Laude. University-level Honor Graduates for associate degrees included one High Honors and two Honors.
Top spring graduates with 4.0 cumulative GPAs were Misisipi Bhandari, Ramesh Chapagain, Jacob M. Corrent, Derek Daigle Dufrene, Jimena Paula Garbino, Annie Watkins Hebert, Mary Aster Lo, Suprabha Pudasainy, Kade Aaron Smith, Kassidy Renee Stanford, Bryan Caleb Strong and Elizabeth A. White.
Although there was no official keynote during these commencement ceremonies as is the custom in years past, ULM President Ron Berry Spoke off-script to the graduates and their families, expressing his appreciation for tradition as well as his commitment to the Warhawk Way. "It's the way we treat each other, the way we respect each other and how we have a commitment to make changes in the lives of others," said Berry.  
President Berry went on to acknowledge the challenges and unbelievable obstacles the graduates have persevered through like natural disasters and a global pandemic. "We are so proud that you are going to join the ULM alumni family," said Berry "and I hope you know that you will always be a Warhawk."