Published April 14, 2022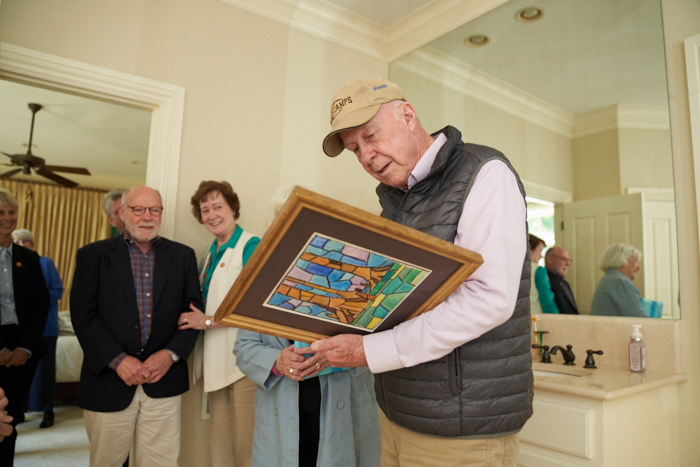 Tommy Barham holds the framed sketch of a design he created in 2008 for a stained glass window for Bon Aire, home of the University of Louisiana Monroe president. Here, Barham reads the letter he sent to Betty Scott Cummins, stating that he had found the sketch. Cummins commissioned Baton Rouge artist Sam Corso to create the stained glass window "ULM Cypress," recently installed at Bon Aire – 14 years after Barham made the sketch.
Paul Ware/ULM Photo Services
---
About 14 years ago, in 2008, the finishing touches were underway at the University of Louisiana Monroe's new home of the president, Bon Aire. The ULM Foundation funded the house, and at that time, Tommy Barham served as a Foundation board trustee, and Betty Scott Cummins was the president.
One element concerned Barham and Cummins – a large window overlooking Bayou DeSiard was above the bathtub in the president's private living quarters. Barham said for privacy's sake it should not be clear glass.
"It faced out on the bayou, and it didn't need to be open glass, obviously," Barham said. "I just made the comment that a stained glass window would be a possibility. Betty and I talked about it. Something with a local theme would be good. You know, there are a lot of cypress trees along the bayou."
On a piece of art paper, Barham painted a design of what the stained glass could look like. He showed it to Cummins, but the issue with the window was resolved with opaque glass, and Barham forgot about it. However, Cummins remembered, and later that year, she asked Barham if he still had the sketch and, if so, could she have it.
"I said I'll see if I can find it," Barham told her.
He located the sketch and sent it to Cummins with a short letter. She kept the letter, written on Barham's stationary, and the sketch. 
Time passes
Fast-forward to early April 2022. Barham was intrigued when Susan Chappell, ULM Foundation Executive Director, invited ULM Foundation Board members to Bon Aire for a surprise, and they were going into the president's private residence. 
"I could not imagine why we were going into the president's private quarters," Barham said.
Then, Barham was shown the stained glass window replacing the original window. Barham said he was impressed with the beautiful craftsmanship and design, but he didn't recognize it was based on his sketch.
Barham said he "can vaguely recall doing the sketch. I did not remember doing it when we went out there to look at it."
Barham put the pieces together when shown his framed sketch and the letter he had written Cummins in 2008.
"Once I saw the sketch and saw my letter – it was kind of a weird thing. The sketch is framed, and on the backside of the sketch, they framed my letter to Betty. I read it – it's on my letterhead; obviously, I wrote the letter, I remember that. I said I found it and sent it to her," he said.
"It was a thought process, a sketch of a possibility of filling that window opening that would not be see-through from the outside and at the same time be an attractive thing to decorate the area," Barham said.
"Sam Corso, the artist, just did a fabulous job of creating this stained glass window. I thought it was very nice. It was an outstanding execution, a wonderful stained glass image. What I did not connect when I first saw it was it was from the sketch I had done. I certainly didn't remember that. Then, after I saw the sketch and recalled having done it, it kind of made sense," Barham said.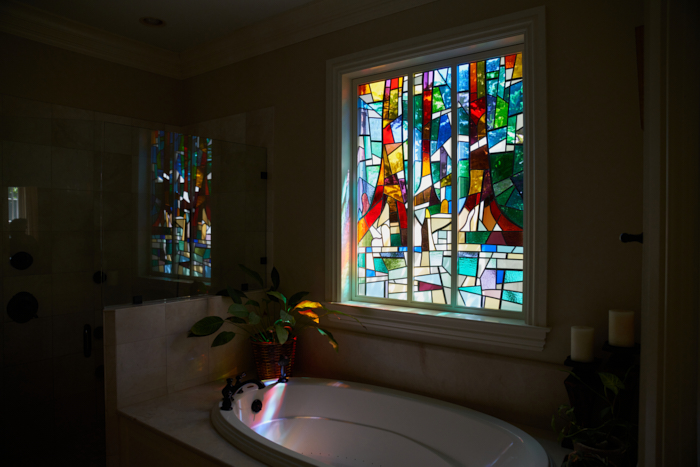 The stained glass window, "ULM Cypress," was recently installed at Bon Aire, the University of Louisiana president's home. The artwork is based on a sketch by Tommy Barham and was commissioned by Betty Scott Cummins. It was created by Baton Rouge artist Sam Corso, originally from Monroe.
Paul Ware/ULM Photo Services
"ULM Cypress"
Wishing to bring Barham's drawing to reality, Cummins commissioned the award-winning glass and multi-media artist Samuel Joseph Corso,originally from Monroe, to create the window. 
Corso named the creation "ULM Cypress."
Corso owns Dufour-Corso Studios in Baton Rouge. As a multi-disciplinary artist, he has completed more than 300 commissions of artwork for residential and liturgical architecture in a career spanning 47 years. 
"My intention in creating the stained glass window was to follow Mr. Barham's concept of the cypress tree trunks and embellish the design with a wide pallet of color, using beautiful hand-blown transparent and translucent glass and traditional leading techniques," Corso said. 
Using the conceptual art provided by Barham's drawing, Corso created the stained-glass design for the 5-feet-tall by 4-feet-wide window. It is leaded in the traditional manner, using lead came and solder. "ULM Cypress" is in three panels set into a poplar wood frame, made by carpenter craftsman Kendall Cooper of West Monroe. 
The majority of the glass is antique and was hand-blown in the United States or Europe. Most of the domestic antique glass was produced in Milton, W.V., by Blenko Glass Company. Blenko has been family-owned and operated since 1893. Its glass is identifiable by the hammered texture.
The European antique glass was produced in Germany. The glass sheets were laid on straw to cool, resulting in "straw marks." The clarity and transparency are a hallmark of German glass.
Some antique glass in the lower part of the window is "opal" or "opaque," also known as "flashed" glass. It is created by blowing one layer of glass over a second layer. This allows light to penetrate the surface but blocks vision. 
Some Cathedral glass was used in the artwork. This glass comes in a multitude of colors and a variety of textures, making it a unique and original work of art.