Published March 21, 2022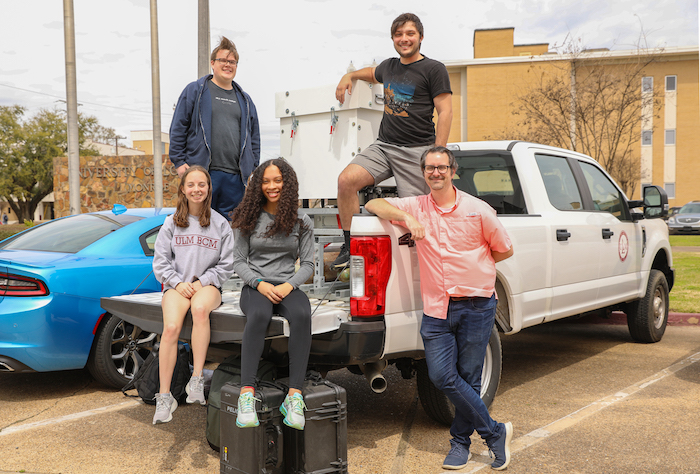 University of Louisiana Monroe Atmospheric Sciences Assistant Professor Dr. Todd Murphy, right, standing, and four students left campus Monday, March 21, to collect data on an approaching storm system. Murphy was awarded a PERiLS grant of $276,000 to study how tornadoes form from squall lines. Atmospheric Science students participating in the field mission are, from left, seated, Emily Allen and Haniston Holloway, and standing, Isaiah Montgomery, and Jacob Zeringue.
Lanaya Bolden/ULM Photo Services
---
$267,000 grant to study development of tornadoes from squall lines could lead to better weather warnings
March has been a quiet month, weather-wise, until Monday, March 21.
A line of severe weather stretching from the Great Lakes to the Gulf of Mexico is marching east and expected to set up camp in Northeast Louisiana later today. The National Weather Service forecasts threats of heavy rain and flooding, hail, high winds, and tornadoes.
It's a scenario that University of Louisiana Monroe Atmospheric Science Assistant Professor Todd Murphy, Ph.D., knows well. And he and atmospheric science students Emily Allen, Haniston Holloway, Isaiah Montgomery, and Jacob Zeringue are ready.
At 1 p.m. Monday, Murphy and the students left ULM in a truck packed with the university's weather instruments, including weather balloons and the portable LIDAR (Light Detecting and Range) equipment.
LIDAR uses lasers to measure components of the wind before a storm. Data on direction, speed, and other wind variables can be used to better predict severe weather.
Backed by a three-year, $276,000 PERiLS grant to study tornadoes born from squall lines, Murphy and his team headed to Meridian, Miss., to get in front of the storms.
"Our first PERiLS mission is this event. We picked a subdomain south of the Starkville, Miss., area," Murphy said.
"The project is specifically interested in examining severe tornadic squall lines. Not just any type of thunderstorm or supercell thunderstorm that other projects have been focused on," Murphy said.
PERiLS is a National Oceanic and Atmospheric Administration and National Science Foundation project to study the "Propagation, Evolution, and Rotation in Linear Storms."
"A squall is a line of thunderstorms. It's linear, not thunderstorms that just form. Usually when a cold-front passes, there's a squall line," Murphy said.
"There are a lot of unanswered questions on the scientific side as to why tornadoes form in squall lines. Some parts might form a tornado, and others do not when everything else looks the same," Murphy said.
After spending the night in Meridian, Murphy and team will drive into western Alabama to set up. The ULM LIDAR and weather balloons will monitor the squall line approaching their site at Demopolis, Ala. Teams from other partners in PERiLS will be in different locations along the squall line.
LIDAR uses a laser to produce wind shear readings every five minutes compared to a weather balloon, which can take an hour or more to report data.
"Some of our science objectives on the ULM side are we're specifically interested in seeing how quickly the wind shear changes in the lowest 1-3 kilometers of the atmosphere as the squall line approaches," he said.
"The LIDAR will allow us to plot out the wind in the atmosphere at a pretty high resolution. We'll get a new wind profile about every five minutes, similar to when we launch a weather balloon. We get the same kind of data; we get a wind profile, but it takes about an hour for that weather balloon to rise through the atmosphere," Murphy said.
"Over the course of that hour, the environment is changing, especially in front of these squall lines. We hypothesize that the environment is changing very quickly. We're not exactly getting the best low-level data of how quickly the weather is changing with the weather balloons."
Using LIDAR and other weather instrumentation, Murphy said they will be "able to map out how quickly these squall lines are changing in both time and space."
Ultimately, all the research is dedicated to improving the weather warnings issued by the National Weather Service.
"If we can see something interesting in our science data that we can report back to the National Weather Service about where you should be looking at squall lines, then maybe they can issue better warnings," Murphy said.
Murphy was awarded the PERiLS grant in October. The three-year grant includes two years of fieldwork and one year of compiling data and research. In 2022, the grant will fund six-to-seven missions, and in 2023, eight-to-nine missions. The PERiLS territory reaches from the Missouri bootheel to the Gulf Coast and the mid-and lower-Mississippi Valley to the Appalachian foothills.
Universities that received PERiLS funding in addition to ULM are the University of Oklahoma, University of Alabama, Huntsville, Purdue, Texas Tech, Pennsylvania State University, SUNY Stony Brook, University of Illinois, Urbana-Champaign, and North Carolina State.
Under the direction of NOAA and the NSF, 60 to 70 researchers could be on the ground for each mission.