Published August 23, 2022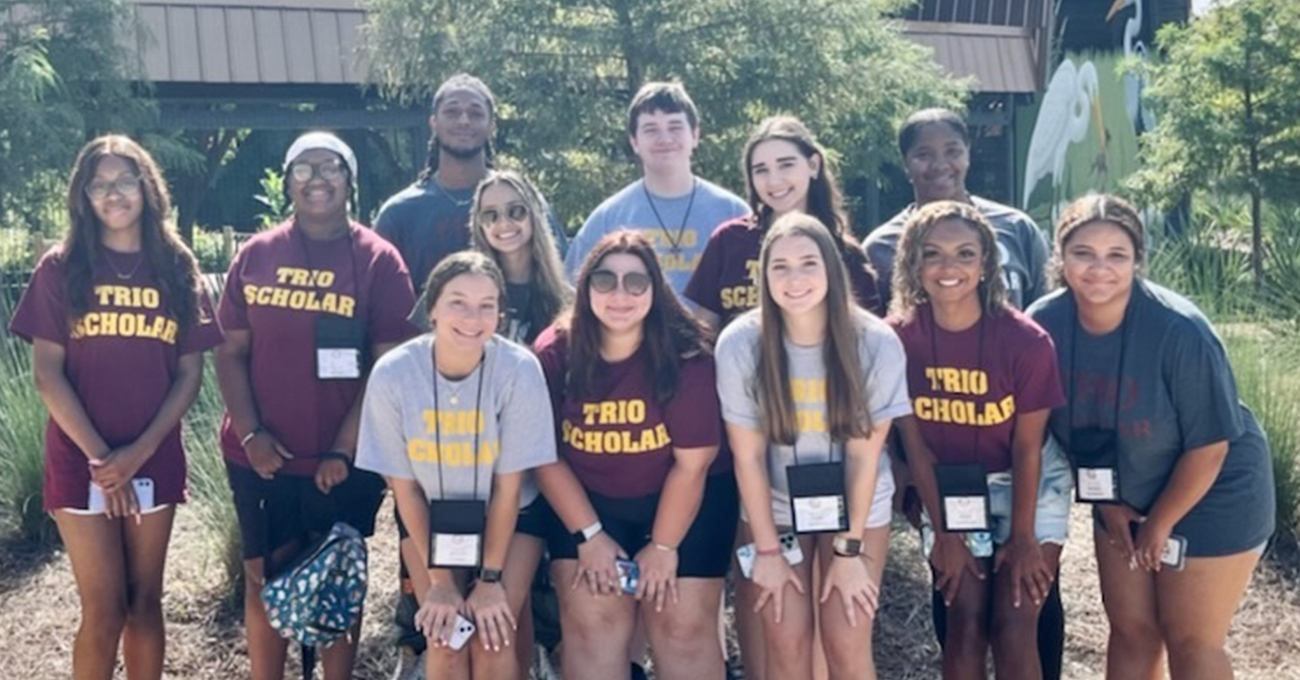 CAPTION: First-generation students participate in WINGS Camp to prepare for their first semester at ULM. The students included Victoria Pittman, Trista Reagan, Olivia Harrod, Jeslyn Edwards, Marissa Bannister (front row from left to right), Anaiya Harris, Khayla Moore, Maritza Gonzalez, Layla Aymond, Aalyiah Warren (second row from left to right), Menelik Fort and Joshua Mills (back row from left to right).
MONROE, LA — The University of Louisiana Monroe's TRIO Programs Student Support Services (TRIO-SSS) hosted its seventh annual WINGS College Transition Camp August 10-12.
This three-day program is held before the fall semester for TRIO-SSS program participants to become familiar with campus resources and college life. TRIO-SSS is one of the eight TRIO programs fully-funded by the U.S. Department of Education to assist first-generation, income-eligible students to remain in good academic standing and graduate from college.
"The transition from high school to college is challenging for all new students," said Dr. Mystee Burrell, co-associate director of TRIO programs. "The WINGS College Transition Camp prepares students for the rigors of the college experience and serves as a first step in building a successful and meaningful first-year experience." 
The camp gave students individualized guidance and support, peer-mentoring activities, financial aid assistance and a supportive community.
This year, 12 students participated in numerous workshops and activities designed to address their academic, career, financial and social needs. Students discussed strategies for succeeding in math and biology, helpful tips for choosing a career and study skills. 
ULM faculty and staff members like Director of the Math Resource Center Telitha Doke, Assistant Director of Career Development Michael Stogsdill Bricker and Student Employment Coordinator Alicia Rollins connected with students during the camp.
"WINGS Camp is critical for our students," said Dr. John W. Sutherlin, chief innovation and research officer. "Many students come to ULM unaware of the vast support services provided. ULM has so much to ensure the success of students."
Participants visited the Louisiana Purchase Gardens and Zoo for a STEM activity. TRIO-SSS also facilitated a session for participants' parents and family members to learn about the program and tips on supporting students throughout college.
To learn more about the TRIO-SSS program or to apply, visit www.ulm.edu/trio or stop by the TRIO-SSS office in Strauss Hall 206.