Published July 12, 2023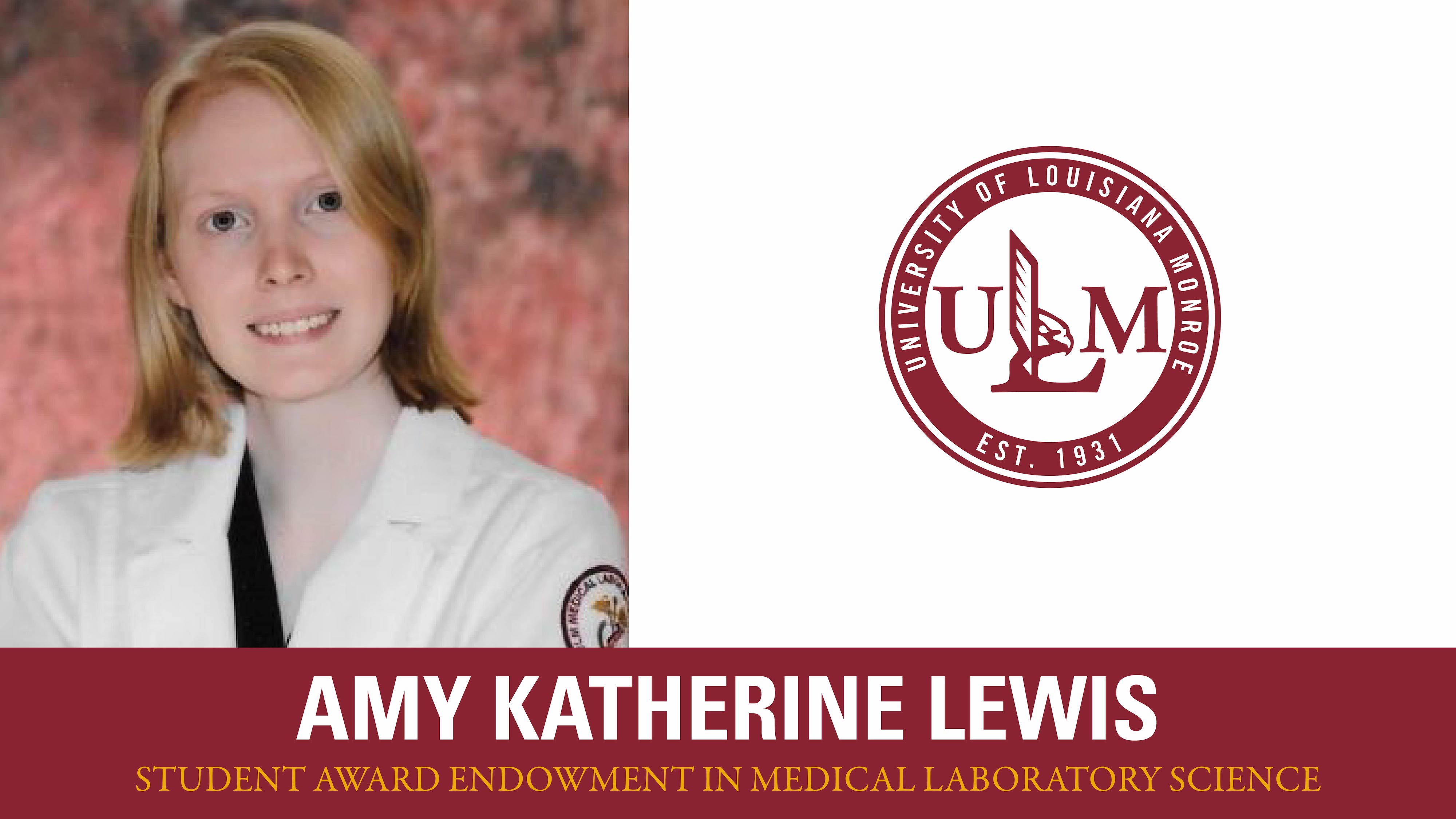 MONROE, LA – A $50,000 donation made to the ULM Foundation has established the Amy Katherine Lewis Student Award Endowment in Medical Laboratory Science. The donation was made in memory of Amy Katherine Lewis by her parents Jay and Teri Lewis.  
Amy Katherine Lewis was a 2016 graduate of ULM, earning a Bachelor of Science degree in Medical Laboratory Science. Glenwood Regional Medical Center hired Amy upon graduation, where she worked in the laboratory until her passing in July 2020.  
"Amy loved her time in ULM's MLS program, and she was proud to be a member of the MLS profession," said Amy's father Jay Lewis. "We know that she would be very pleased to know that she is helping the future success of the program through this student award endowment." 
"Amy was a hard worker who overcame significant obstacles in her life to become an MLS professional, and she always prioritized taking care of patients. We hope that this award endowment helps students who are similarly hard workers with obstacles to overcome so that they too can become patient-focused health professionals," added Lewis.  
Recipients of the Amy Katherine Lewis Student Award Endowment in Medical Laboratory Science must be full-time students in good standing in the MLS professional program, including maintaining a minimum 2.5 GPA. Recipients must demonstrate a record of diligent, hard work in the MLS professional program, as judged by the MLS faculty. Recipients must be in their senior year of the program and may receive the award for a maximum of two semesters.  
According to remarks made at her memorial, Amy's love for all animals was evident and gave her joy. She adopted Sadie, a mixed breed dog from the Humane Society Adoption Center of Monroe. Amy's colleagues in the lab at Glenwood shared how much they miss her smile, her laugh, her intelligence, her wit and her dry sense of humor. Amy was not easily impressed by material things or instant gratification, but rather her strong Christian faith gave Amy a more eternal outlook on life.  
"In her relatively young life, Amy faced cancer, heart disease, and lupus," said Jay Lewis. "She faced these challenges head-on, and we believe these challenges gave her unique insight into the patient's side of health care. Though she was at a high risk from COVID, and ultimately succumbed to its after-effects, she continued to do her job and serve patients during the pandemic. We will always be proud of our brave Amy," he added.  
Additional contributions to enhance the benefits of the Amy K. Lewis Student Award Endowment are greatly appreciated. Prospective donors may contact the ULM Foundation at (318) 342-3636 orfoundation@ulm.edu. Contributions may be completed online at https://webservices.ulm.edu/give/ by selecting Student Scholarships-Specify by Name in the designation drop-down box and enter Amy Katherine Lewis Student Award Endowment. 
For more information about the ULM Medical Laboratory Science Program, visit ulm.edu/mls.