Published June 22, 2023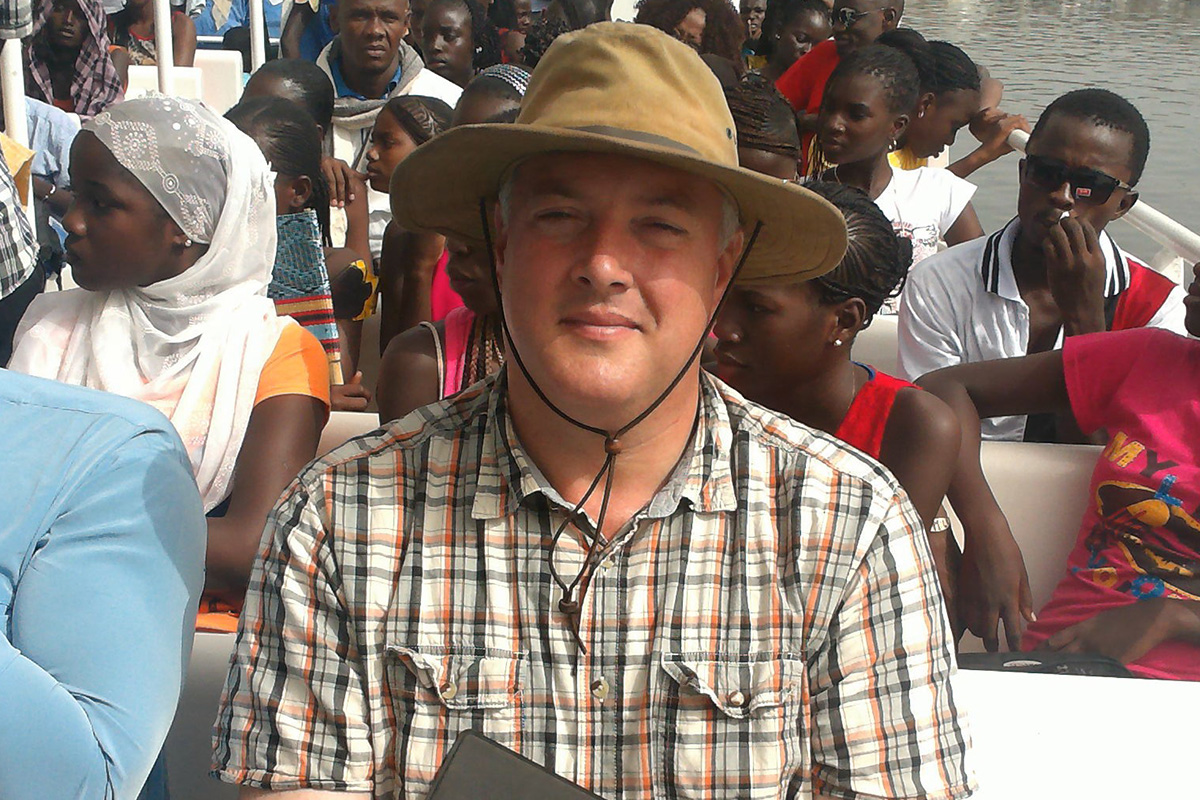 CAPTION: Dr. Jeffrey Anderson traveled to Senegal for his research on the Voodoo religion. 
---
MONROE, LA – Dr. Jeffrey Anderson, Associate Director of ULM's School of Humanities and History Program Coordinator, was recently featured in the May 2023 edition of Nova Religio, The Journal of Alternative and Emergent Religions, published by the University of California Press. Anderson's article, entitled "Mississippi River Valley Voodoo: A Living Tradition?" examines the history of the religion and how it has evolved over the years.  
"Voodoo is an important aspect of Louisiana's identity, especially in the eyes of outsiders," said Anderson. "The problem is that most people only understand Voodoo as a caricature.  To the average person, it was evil magic concerned with death and zombies.  In reality, it was a full-fledged religion, complete with deities and communal rituals," he said.  
Dr. Ruth Smith, Director of ULM's School of Humanities, says"Jeff Anderson's article provides a concise and fact-based comparison of the Voodoo practiced pre-1940's in the Mississippi Valley and New Orleans with the emerging New Orleans Voodoo which shows characteristics of the African diasporic belief. His analysis demonstrates that the current practices do not have a strong connection with the historical Voodoo religion of the region. Rather the new developing religion shows a much clearer connection to the Vodu of Haiti or the Vodun of West Africa which is being added to the legacy of Voodoo." 
Anderson says his fascination with Voodoo began when he was in college and wrote a paper on conjure, a magical practice similar to the supernaturalism one finds in Voodoo. "I found it difficult to locate good information.  Since that time, I have kept trying to make my understanding more accurate, and I discovered that much of what passes for fact online and even in some print sources is very far from it," said Anderson. 
To expand his knowledge of the religion, Anderson made a series of trips in 2015 and 2016 that included stops in Senegal, Benin, Togo, the Republic of Congo, Haiti, and Cuba, which were funded mostly by the William R. Hammond Professorship of Liberal Arts from the ULM Foundation. "My goal was to see the closest living relatives of Mississippi River Valley Voodoo as they operate today.  Basically, the Voodoo one would have once seen along the Mississippi is a mixture of elements from Senegal, Benin, and the Congos with later influence coming from Haiti," he said.  
Anderson says his article is a modified version of the last chapter of a forthcoming book he authored. "In it, I try to lay out every significant fact about the faith and provide some plausible reconstructions for major aspects that were never documented," he said.  
The abstract of the article reads: 
"When visiting New Orleans, it is easy to assume that Voodoo, as practiced by the likes of the nineteenth-century "Voodoo Queen of New Orleans" Marie Laveau, is alive and well, as evidenced by the Voodoo-inspired tourist shops, merchandise, and art that are ubiquitous in the French Quarter. Such is not quite the case. Following more than a century of suppression, the religion that throve into the late nineteenth century was struggling to survive by the 1940s and may have ceased to exist as a living faith shortly thereafter. While some scholars have suggested that the African American Spiritual churches of New Orleans are modern manifestations of Voodoo, these congregations lack key features of the historical Voodoo religion and have but a tenuous connection with it. The city's current practitioners of Voodoo, meanwhile, tend to be initiates of Haitian Vodou or West African Vodun. Ultimately, Lower Mississippi River Valley Voodoo, both in New Orleans and elsewhere, is best understood as a historical religion rather than a living tradition. Contemporary practitioners of "New Orleans Voodoo" are constructing an emerging religion from elements of African diasporic belief in a city deeply imbued with a legacy of Voodoo." 
The full article is available on the Nova Religio website here.