Published May 11, 2023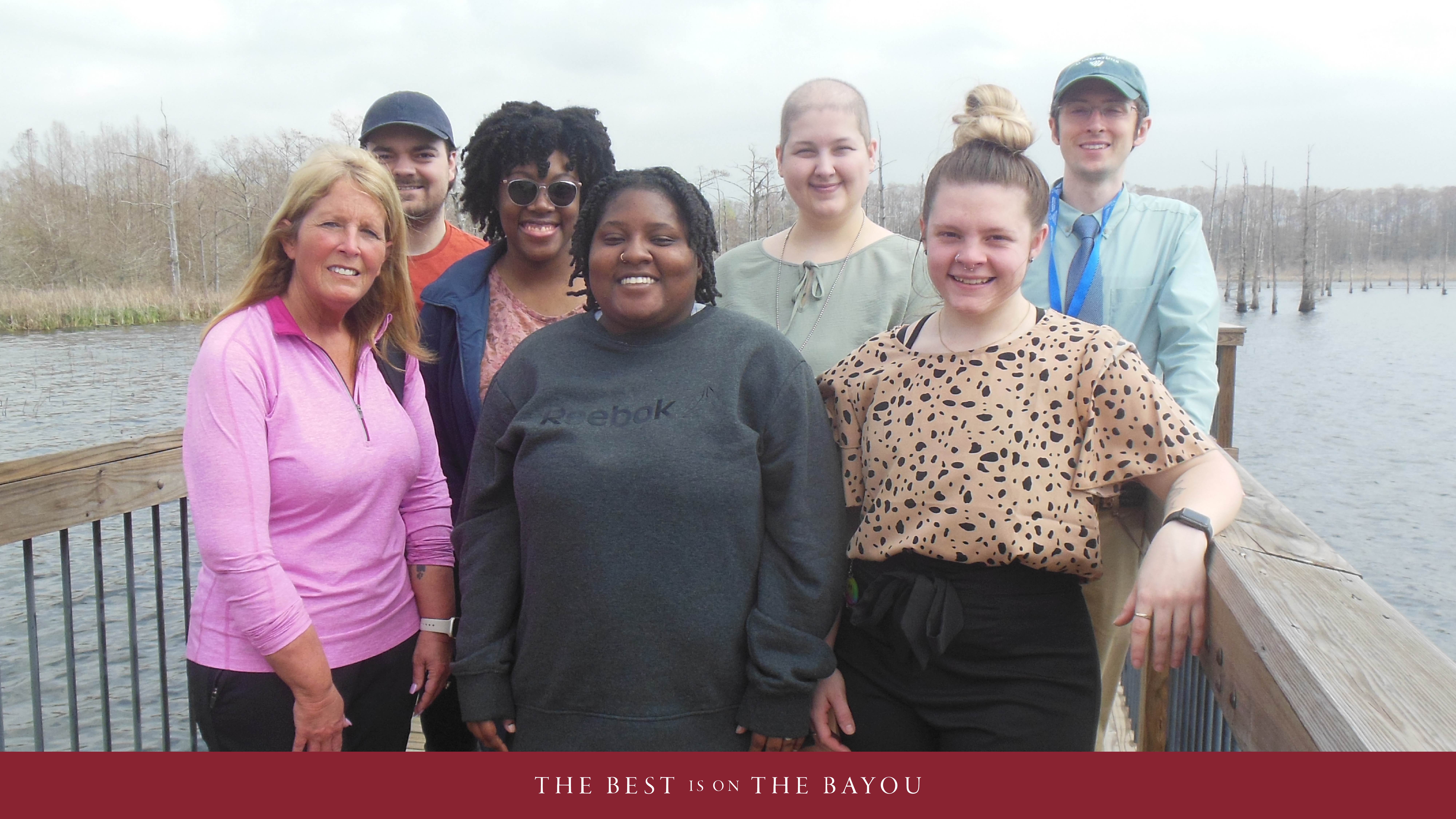 CAPTION:ULM English students and faculty collaborated to create new signage for Black Bayou National Wildlife Refuge. Participants included (back row, L-R): Cade Robinson, Melissa Jackson, Kaylee Sadler, Dr. Patrick Morgan (front row, L-R): Karla Robertson, Adarian Turner, Paige Hertzler 
---
MONROE, LA – English students at the University of Louisiana Monroe designed signage for the nature trail and wildlife pier at Black Bayou Lake National Wildlife Refuge. 
The students were in the spring 2023 Environmental and Nature Writing course taught by Patrick Morgan, Ph.D., Assistant Professor of English in the College of Arts, Education, and Sciences.  Participating students included Alexa Anders, Paige Hertzler, Melissa Jackson, Karla Robertson, Cade Robinson, Kaylee Sadler, and Adarian Turner. 
"This was a highly collaborative project, with students working with each other, local experts, the network of National Wildlife Refuges, and the Friends of Black Bayou Lake NWR," said Morgan.  "They applied the writing process they've honed as English students to create signs that will impact visitors for years to come." 
Black Bayou Lake NWR wants to educate visitors about our local environment.  A major way to educate visitors is through interactive signage along the trails. 
"What these writers did so well was provide the big picture, asking a crucial question," said Erin Bellavia, U.S. Fish and Wildlife Service's Refuge Coordinator at Black Bayou Lake National Wildlife Refuge.  "What story do we want visitors to walk away with?  They put in the work and brought the perspective of new visitors, blending the multiple goals intended for these signs." 
The students presented their signs to Black Bayou representatives in late April, and their ideas were enthusiastically received.  "The signs these students designed invite every visitor to slow down and observe nature," said Joydeep Bhattacharjee, Ph.D., President of Friends of Black Bayou Lake NWR and the Charles Allen Endowed Professor of Biology at the University of Louisiana Monroe.  "They did a brilliant job in this collaborative and interdisciplinary project." 
Students studied the works of nature writers throughout the semester.  And then became nature writers themselves by helping Black Bayou.   
"I spent the semester researching the local wildlife and ecosystems of Northeast Louisiana," said Sadler.  "This project allowed me to contribute something larger than myself by serving the Monroe community."