Published April 25, 2023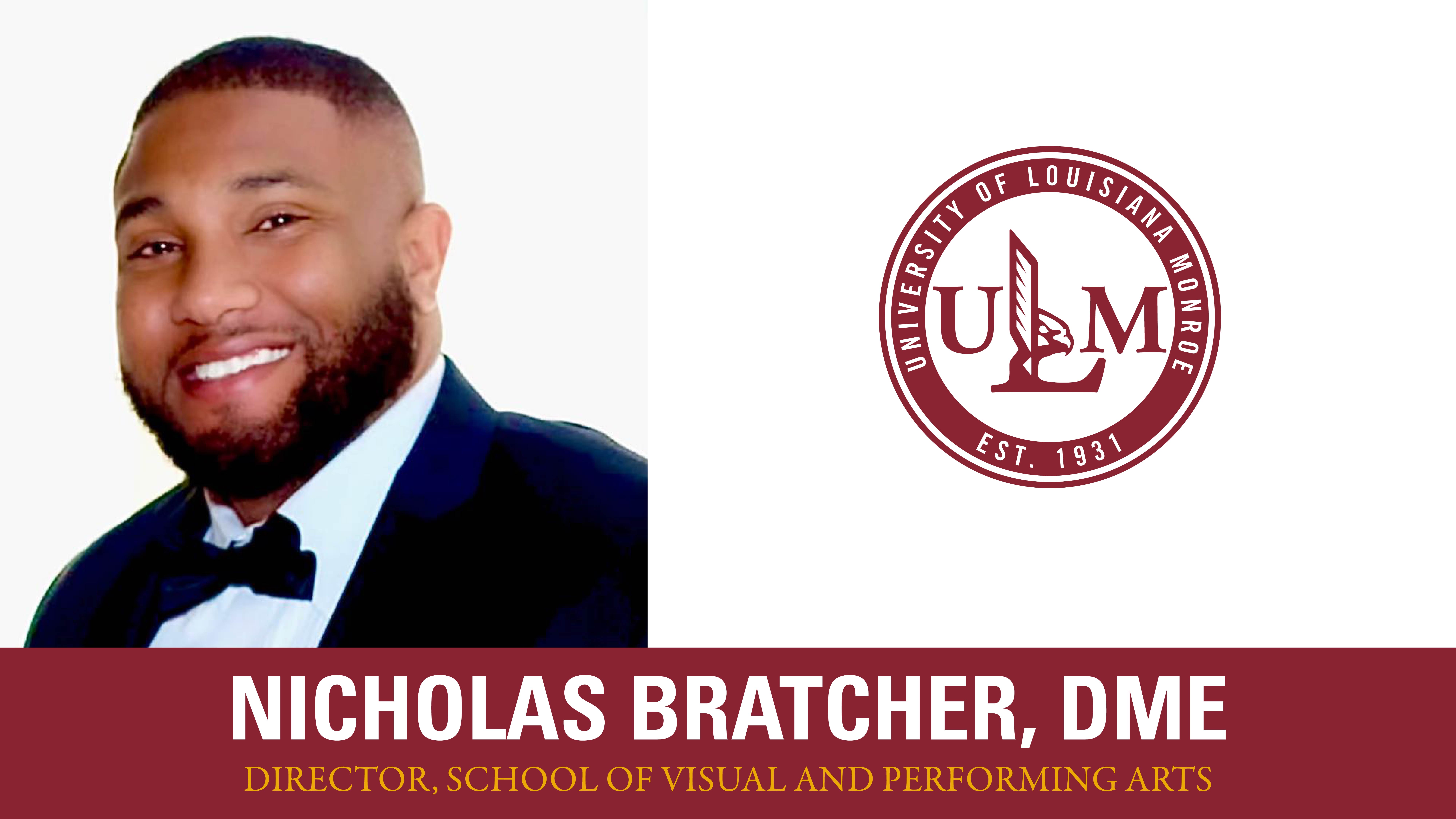 MONROE, LA – The University of Louisiana Monroe is proud to announce the hiring of Nicholas Bratcher, DME as the new Director of the School of Visual and Performing Arts (VAPA). In addition to his administrative duties as Director for the School of VAPA, Dr. Bratcher will serve as the Coordinator for Music, conduct the ULM Wind Ensemble, and teach graduate courses in music education as a tenured Professor of Music.  
"We are very happy to be welcoming Dr. Bratcher to ULM," said Dr. John Pratte, Dean of the College of Arts, Education, and Sciences. "He brings a tremendous amount of experience in music, education, and music administration to VAPA, having served in administrative roles of ever-increasing responsibility at several institutions across the U.S.  His vision for VAPA fits the new ULM Strategic Plan perfectly, and we all look forward to working with him to make this vision a reality," added Pratte.  
Prior to his appointment at ULM, Bratcher held positions as Director of Bands and Coordinator for Music Education at California State University San Bernardino, Director of Bands at the University of Dubuque in Dubuque, Iowa and Assistant Director of Bands at Savannah State University in Savannah, Ga. In each role, Bratcher helped grow and develop comprehensive band programs with educational outreach initiatives for public school students and directors; as well as several wind and jazz ensemble performance tours throughout varying regions of the United States. 
Bratcher says he was drawn to ULM by a desire to work with first-generation students and underrepresented minority students. "ULM boasts a significant number in each of these categories, and their Strategic Plan directly aligns with many of my philosophies as an educator," said Bratcher. "To me, ULM seems to represent a solid framework for academic growth and success and a strong commitment to diversity, equity, and inclusion.I wanted to be a part of that work and continue to help see those goals and ideals come to fruition. I've also found that the passion and energy for the arts here in Louisiana is unmatched. I'm greatly looking forward to adding to that environment and becoming a part of the ULM and greater Monroe community...and the food's not bad, either," added Bratcher.  
The Director of VAPA position was previously held by the late Dr. Derle Long, ULM's long-time Director of Bands, who passed away unexpectedly in October 2022. Bratcher says he is "humbled and honored to build on the wonderful foundation left by Dr. Long." Bratcher added that he has hopes to expand the School of VAPA through innovation and pathways needed to better prepare students as 21st-century artists, giving them more ownership in their academic success through incorporating entrepreneurship and experiential learning opportunities into VAPA degree programs.  
Bratcher attended South Carolina State University and earned a bachelor's degree in music and a Master of Arts in Music Education from Coastal Carolina University. He later earned his Doctorate in Music Education with studies in Conducting from the University of Georgia.   
Bratcher will begin as the Director of VAPA on June 1, 2023.  
For more information about the ULM School of Visual and Performing Arts, visit www.ulm.edu/vapa.