Published July 5, 2023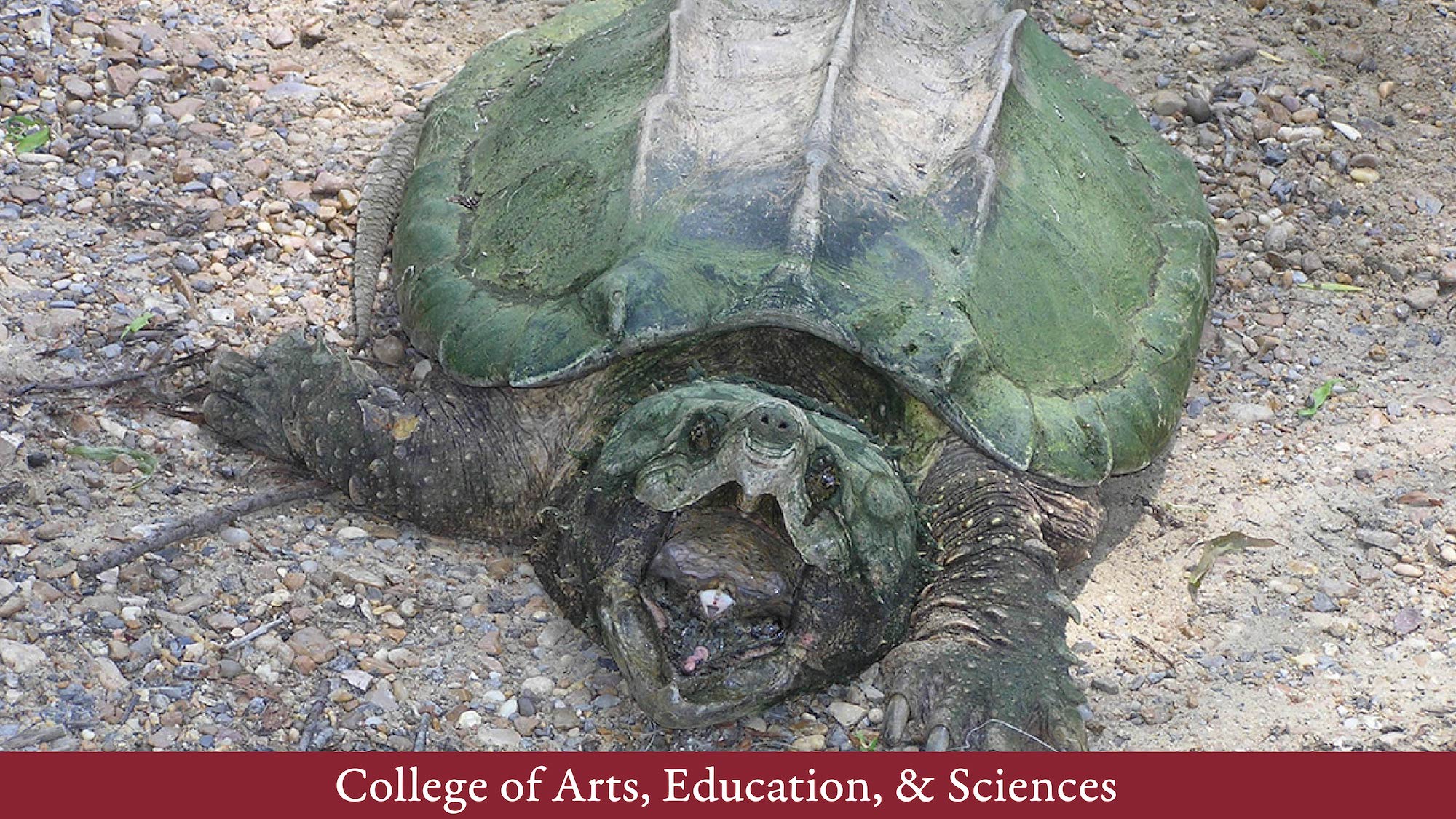 MONROE, LA – ULM Professor Emeritus of Biology Dr. John Carr recently served as a co-editor and contributor to a special issue of Southeastern Naturalist, a peer-reviewed interdisciplinary scientific journal with a focus on the southeastern United States. The special issue is titled "Biology and Conservation of Alligator Snapping Turtles (Macrochelys)."  
According to Carr, the issue is now the "single largest source of information on this uniquely southeastern USA group of turtles, which are the largest in North America and currently under consideration for listing as Threatened under the Endangered Species Act."  
Carr served as co-editor of the issue alongside Ethan J. Kessler of the University of Illinois, and Gerald R. Johnston of Santa Fe College in Gainesville, Fla. The issue includes 28 articles grouped under seven topics, comprising over 450 pages, including introductory material written by the three editors. Ninety-eight different authors contributed to the 28 articles. 
In addition to Carr, ULM Professor Emeritus of Biology Dr. Neil Douglas, and ULM Visiting Assistant Professor Dr. Ross Couvillon contributed to the issue. Seven former ULM graduate students mentored by Dr. Carr are authors of one or more articles, with three articles based on materials from their master's theses. Two articles in the issue are focused on studies conducted at Black Bayou National Wildlife Refuge.  
Carr began studying alligator snapping turtles in 1996, shortly after joining the faculty at ULM. "Back then, it was certainly true that much less was known about all aspects of the biology of the species than is known now, so it was a poorly known, understudied species, and I had just moved here, where it seemed we were surrounded by these secretive animals in their natural habitat. They can even be found on campus in Bayou DeSiard," said Carr.  
Carr first contacted the editor-in-chief of Southeastern Naturalist in early 2021 with the idea to publish more of his work about alligator snapping turtles after having recently finished several projects funded by the U.S. Fish and Wildlife Service and the Louisiana Department of Wildlife and Fisheries at the end of 2020. After submitting a proposal and receiving feedback from the journal's editorial board, Carr connected with Kessler and Johnston to help spread out the workload and provide additional expertise. "My team has been a tremendous asset in accomplishing the original mission, in fact, in making it much more than I initially conceived," said Carr.  
The team solicited manuscript proposals from the scientific community, receiving over 40 in the process. They then asked authors to submit manuscripts, which were passed along to individual manuscript editors for the journal's customary peer-review process. The lengthy process was completed in early 2023 and the special issue was finalized and readied for publication. It was officially published on June 7, 2023.  
Keith Goldfarb, the Editor-In-Chief of the journals Northeastern Naturalist and Southeastern Naturalist, said of the issue, "It is truly an impressive volume that should prove to be a valuable resource for all those interested in the natural history and conservation of these iconic turtles." 
Carr says he hopes the special issue will provide a launching point for biologists who want to work on the species going forward. "It's satisfying to have it completed and I was happy that we were able to have several articles published in it that represent work in conjunction with former graduate students, including several specifically associated with their theses," said Carr. "This, I think, reflects well on ULM's graduate program in Biology and on the University as a place to come, be a part of research projects, and accomplish significant things such as publishing in the scientific literature," he added. 
ULM students, faculty, and staff can access the special issue of Southeastern Naturalist through BioOne, a service provided by the ULM Library. The issue can be viewed here.  
For more information about Southeastern Naturalist, click here.