Published May 16, 2023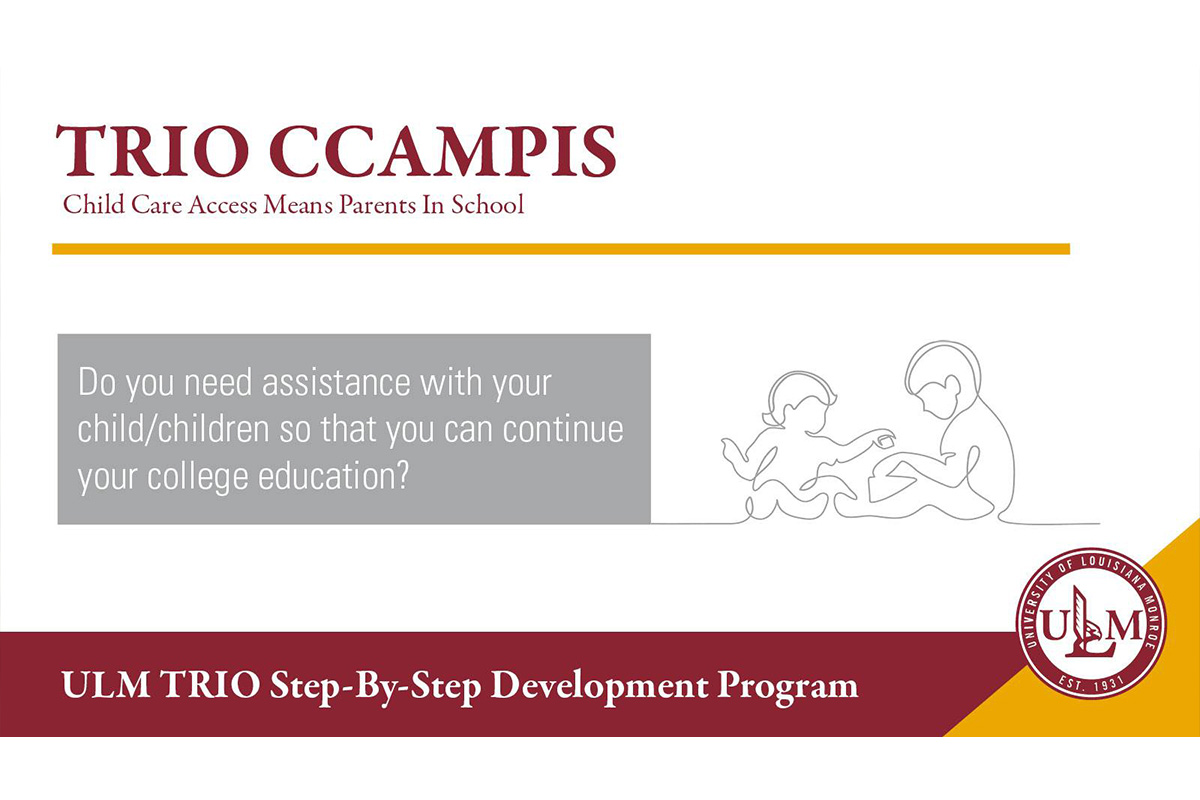 MONROE, LA – ULM's TRIO programs have been a major part of the success of students for decades. The addition of a program to offset childcare costs has been another contributor to that success. Child Care Access Means Parents In School (CCAMPIS) is a federal grant funded by the U.S. Department of Education. This program provides financial support to student-parents by assisting them with their childcare payments while enrolled at ULM. 
According to Tammy Anderson, the Assistant Director of ULM's CCAMPIS program, "Access to quality childcare can be a barrier for our student-parents when pursuing their educational goals. This program provides eligible student-parents with the resources they need to achieve their academic goals, without having to worry about childcare on and off campus, as well as more student support for long-term success." 
Beginning in 2018, ULM's TRIO program decided to apply for a grant outside their regular programs. Dr. Catherine Estis, Executive Director of TRIO, submitted the grant application for CCAMPIS, which has become a model for programs across the state. CCAMPIS increases retention and graduation rates among Pell-eligible, low-income undergraduate and graduate student-parents. One of the primary goals of the CCAMPIS program is for the participants to achieve academic success. 
"Our job at CCAMPIS is to clear the way and offer actual answers that remove obstacles for student-parents, making college feel less like a silly idea and more like an attainable future," said Anderson. 
Student-parents face many challenges that non-parent students do not: time poverty (balancing family, school and work), obtaining dependable childcare, work commitments, financial difficulties, and learning how to be a parent. CCAMPIS provides Financial Literacy, Parenting Skills, and Child Development Workshops, as well as Parental Involvement Activities/Events. 
Kalie, from West Monroe, La., has been a CCAMPIS participant for two years. "The financial help is definitely amazing, but it is also so wonderful to have people alongside you, rooting for you and your family," she said. "I have also learned a lot from this program through attending family events and taking parenting workshops," she added.  
CCAMPIS increases collaboration with other on and off-campus programs to increase the network of support that participants can access, along with providing more information about other services from which student-parents can benefit, including programs such as The Food Bank of NELA, SNAP and WIC benefits, Medicaid, and Marriage and Family Counseling. 
Another CCAMPIS participant from Kentwood, La. said her experience was enhanced by the constant positive communication she received from the program. "Those messages personally meant a lot to me. Ms. Anderson truly cared about each one of us and it made this program even more welcoming," she said.  
"According to the remarks that the student-parents wrote at the end of their CCAMPIS surveys, we found that the CCAMPIS program has quantifiably beneficial aspects, in terms of helping our participants reach their academic and parental goals," said Anderson. In the survey results, numerous CCAMPIS participants frequently stated that the extra time they could spend on schoolwork was highly valuable to their success.  
Participants also believe that their children are in a safe environment, and have a supportive network that is adaptable, dependable, and trustworthy. "The program's demand for parental involvement has helped student-parents connect with their own children more effectively, as they have more time not only for their studies, but also to be more involved parents in their children's life," Anderson added. 
"Student parents are working hard and making sacrifices to secure a better future for themselves and their children. The ULM TRIO CCAMPIS Program can make it easier for them to succeed", said Estis. 
For more information about the ULM TRIO CCAMPIS program, click here.