Published August 28, 2023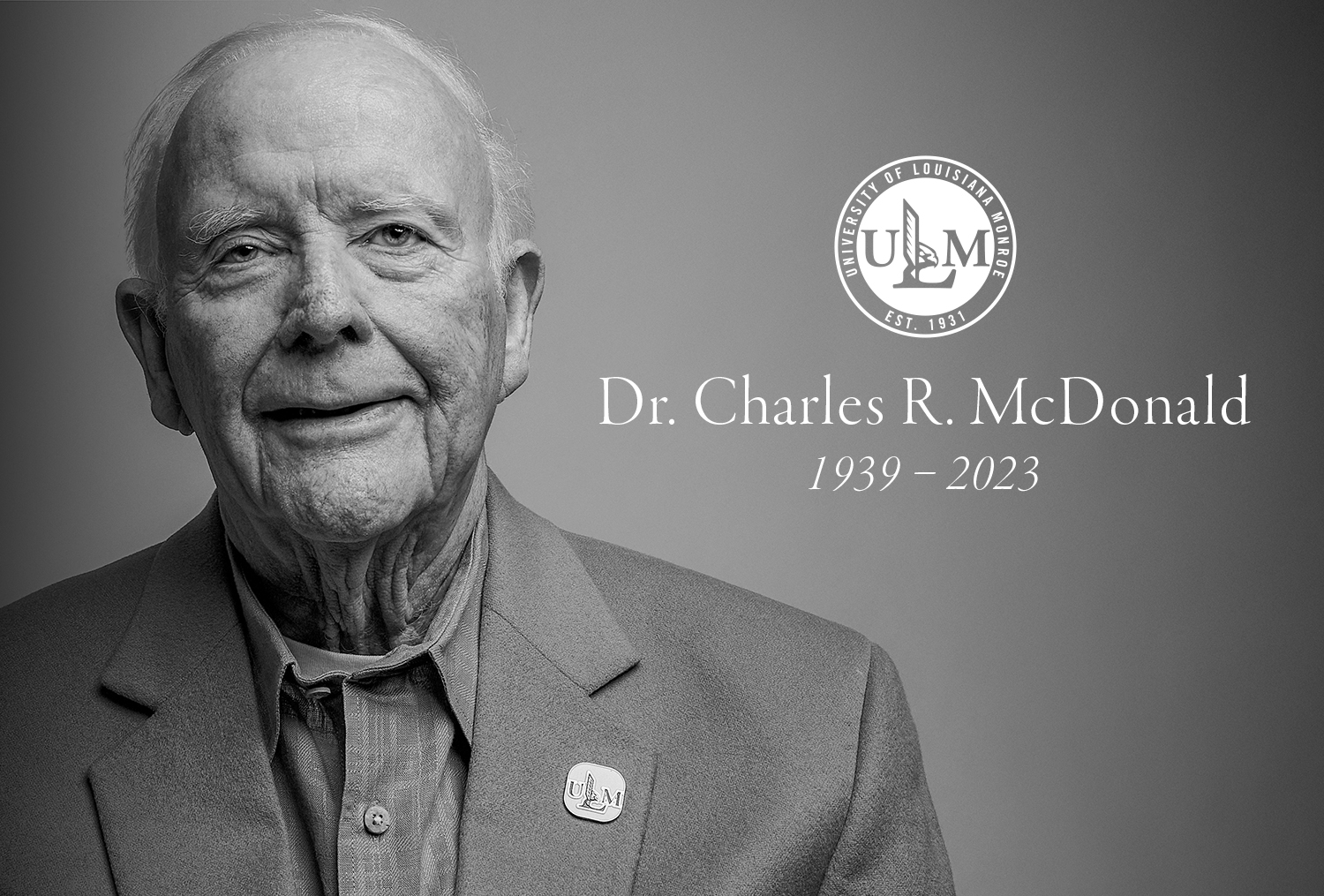 MONROE, LA – The ULM family endured a loss Saturday with the passing of former employee and renowned Louisiana legislator Dr. Charles R. McDonald.  
In January, ULM recognized McDonald in a standing-room-only crowd with the naming of the "Dr. Charles R. McDonald Office of Financial Aid." McDonald is regarded as the "Father of TOPS," which, on average, provides more than 58,000 students annually with financial aid, with the state legislature allocating approximately $300 million each year to support the program.  
During his time at ULM, McDonald served as the Director of Counseling, Placement, and Testing and the Director of Financial Aid and Scholarships, where he worked tirelessly to ensure students had the resources they needed to succeed at ULM.  
By 1991, McDonald had served for thirty years in the field of education. He then began a 17-year tenure in the Louisiana House of Representatives, where he served under four governors. Over the years, McDonald was instrumental in securing funding for many facilities upgrades and improvements for ULM, including renovations to Malone Stadium. He also led the efforts to purchase the building that currently houses the ULM College of Pharmacy and worked closely with Governor Kathleen Blanco to obtain the funds to renovate the building, helping it become a state-of-the-art facility.  
"Dr. McDonald had a true servant's heart, always working to help others," ULM president Dr. Ron Berry expressed. "He was one of ULM's strongest advocates and supporters and a good friend to me and the university. Our deepest condolences and sympathy to his family and the many friends, former students, and colleagues whose lives were positively impacted by the gracious and generous life he lived." 
Here is his complete obituary: 
Charles Richard McDonald, Jr., 84, passed away August 26, 2023.   He was the beloved husband of Jo Hale McDonald for 7 years.  Charles was the father of one child, Richard Scott McDonald (Leazel Fields) and two stepchildren, Teri Hale Weber (Steve) and Trish Hale Botoff (Ron).  He is also survived by two grandchildren, Tucker Richard McDonald and McKenzie McDonald-Christensen (Andrew) along with two step-grandchildren, Scott Weber, Haley Weber (Sarah) , great-grandchild, Nora Weber and nephew Donovan McDonald (Claudine). 
He was predeceased by his parents, Charles Richard McDonald, Sr and Leuna Poda McDonald, step-father, Leon Dyer, wife, Patsy Crain McDonald and his brother, Donnie McDonald.  
Charles was born May 4, 1939 in Jonesboro-Hodge, La, and spent most of his childhood in Holly Ridge, La.  He graduated from Holly Ridge High School in 1957 and Northeast Louisiana State College (now ULM) in 1961.  Immediately following his graduation from NLSC he entered the U. S. Army commissioned as a 2nd Lieutenant.  He spent 2 years in Germany during the Berlin Wall Crisis and was honorably discharged in 1965.  Charles then began his career in Oak Grove, La as teacher and coach at Oak Grove High School.  He later served as coach, teacher, and administrator in several schools in Bastrop, La before earning his Master's Degree in Education Administration and EDd from ULM.  Charles spent more than 20 years at ULM serving as Director of Financial Aid, Counseling and Placement in addition to teaching a variety of classes.  He then began a career in politics serving as Louisiana State Representative in 1991.  He faithfully served his constituents for the next 15 years, involving himself in legislation that continues to positively impact northeast Louisiana.  He served as Chairman of the House Education Committee along with a coveted role on the Appropriation Committee.   Among his most notable achievements was as lead Author of the Tuition Opportunity Program (TOPS).  TOPS is recognized as the most significant piece of legislation authored to support Louisianians attending post-secondary education.  More than 58,000 students now utilize TOPS to support their efforts in pursuing post-secondary education. 
Following his political career, Charles formed his own company, CMAC and Associates providing consultant services to several businesses and municipalities.  As a small business owner, he also invested in other companies including Freedom Mobility, LLC.  Through Freedom Mobility he was proud to be part of a partnership that provided more than 250 all-terrain wheelchairs to customers.  Many of those wheelchairs are owned by military veterans. 
In 2017, he was honored to be appointed to the Louisiana Board of Regents serving all colleges and universities in the state.  He served in that capacity until his term expired December 31, 2022.  
In recognition of his service to the university, legislative accomplishments and Regent appointment, Charles was honored by ULM by having the university's Financial Aid Suite renamed "Dr. Charles R. McDonald Office of Financial Aid".  He has been acknowledged and honored by many different groups for his dedication, integrity, and ability to lead. 
Charles was a longtime member of the ULM Athletic Foundation, ULM Alumni Association and was honored by ULM as a "Golden Arrow Award" recipient. 
He was most proud of his rural roots, growing up in Holly Ridge, earning an opportunity to attend ULM and credits the U. S. Army for making a significant difference in his life.  It afforded the "country boy" an opportunity to see the world, learn how to lead people and give him confidence to tackle any situation. 
The family would like to thank the staff at St. Joseph Hospice and special heartfelt appreciation to Kim Butler. 
Service for Charles will be held at First Methodist Monroe on Wednesday, August 30 at 10:00 am.  Visitation will be held at Mulhearn Funeral Home on Tuesday, August 29  from 4:00 pm to 7:00 pm. 
Read more about Dr. McDonald in the Spring 2023 issue of the ULM Magazine: A Legacy of Service: Dr. Charles R. McDonald.