Published May 9, 2023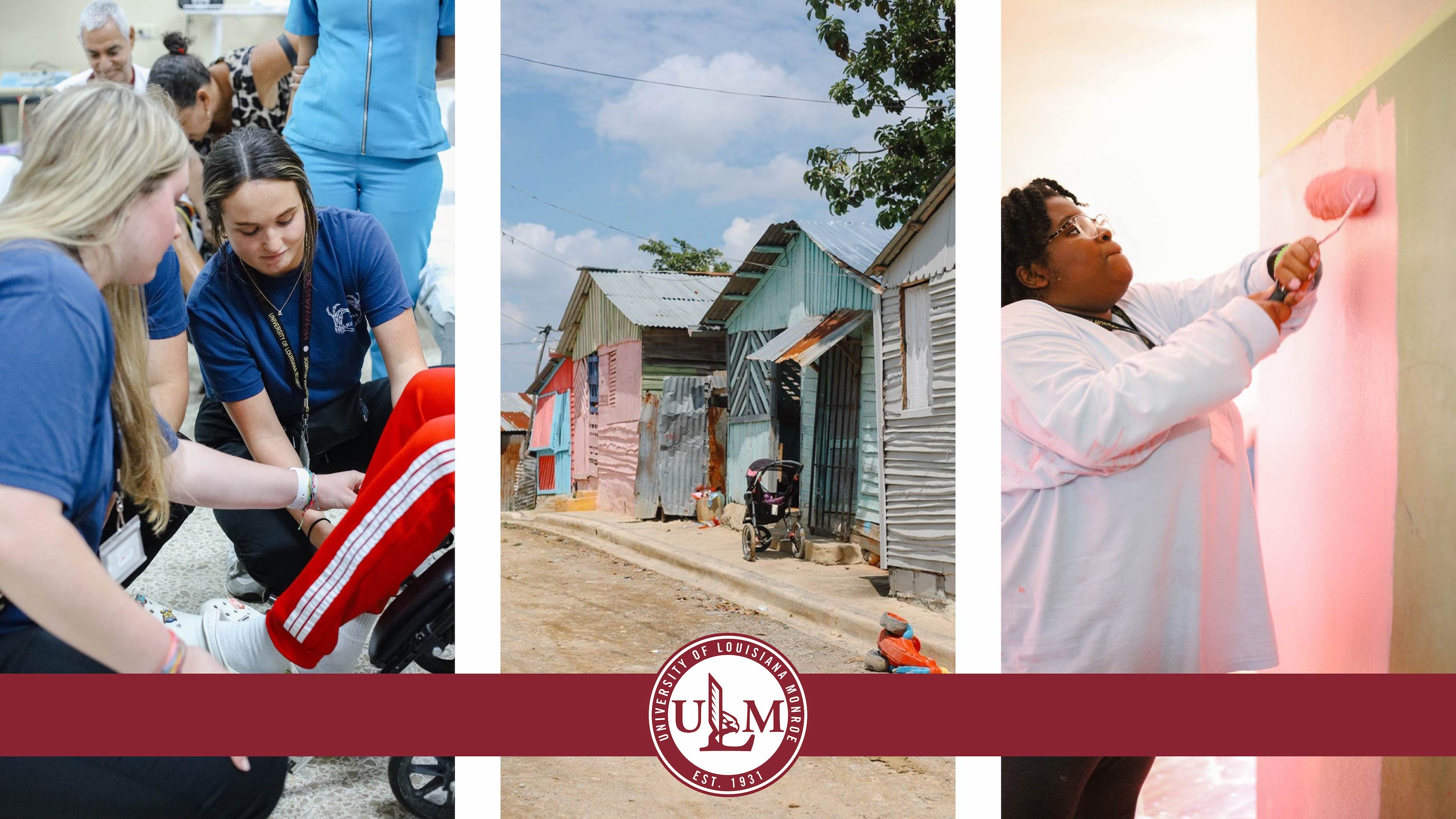 photos courtesy of Kellie Belgard
---
MONROE, LA – Students and faculty from the four colleges of the University of Louisiana Monroe recently traveled to the Dominican Republic for a service-learning trip from April 8 – 14, 2023. Twenty-seven students and faculty from physical therapy/kinesiology, social work, political science, education, and pharmacy traveled to the Dominican Republic to engage in service learning centered around Abba's House Children's Center, located in the barrio of Cienfuegos, a nonprofit organization that educates, feeds, and provides medical care for 125 children living in extreme poverty. Students were also engaged in various learning and practice experiences related to their specific areas of study in Santiago. 
"The purpose of the trip is for these students to gain an international perspective of their programs of study – how pharmacists are trained in the Dominican Republic, for example, or what social work entails there. Simultaneously, students shared their skills with impoverished people living in the Cienfuegos area," said Dr. Sandy Watson, Associate Professor in ULM's School of Education. 
According to Watson, a cross-college service-learning experience is one that involves students and faculty in multiple colleges and programs of study. She added that service-learning is a teaching strategy that involves students completing social service to improve or eliminate problems in communities while gaining practical experience related to their programs of study. Students and faculty who participate in service-learning become more socially responsible, gain a greater focus on social justice, increasingly engage in reflective practices of such experiences, and become more empathetic.  
Watson said all students on the trip were able to gain experience in their specific fields of study.  "For example, physical therapy and pharmacy students treated patients while social work students interviewed residents and collected information for a Dominican Republic governmental report. Political science students engaged in discussions with Dominican Republic political leaders about politics in the Dominican Republic versus politics in the United States," she said. "All of the students engaged in activities with the children at the Center – some organized games, others taught English, and still others led craft activities. ULM students were able to gain access to governmental offices and officials, hospitals, pharmacies, and other locations not normally open to U.S. citizens," added Watson.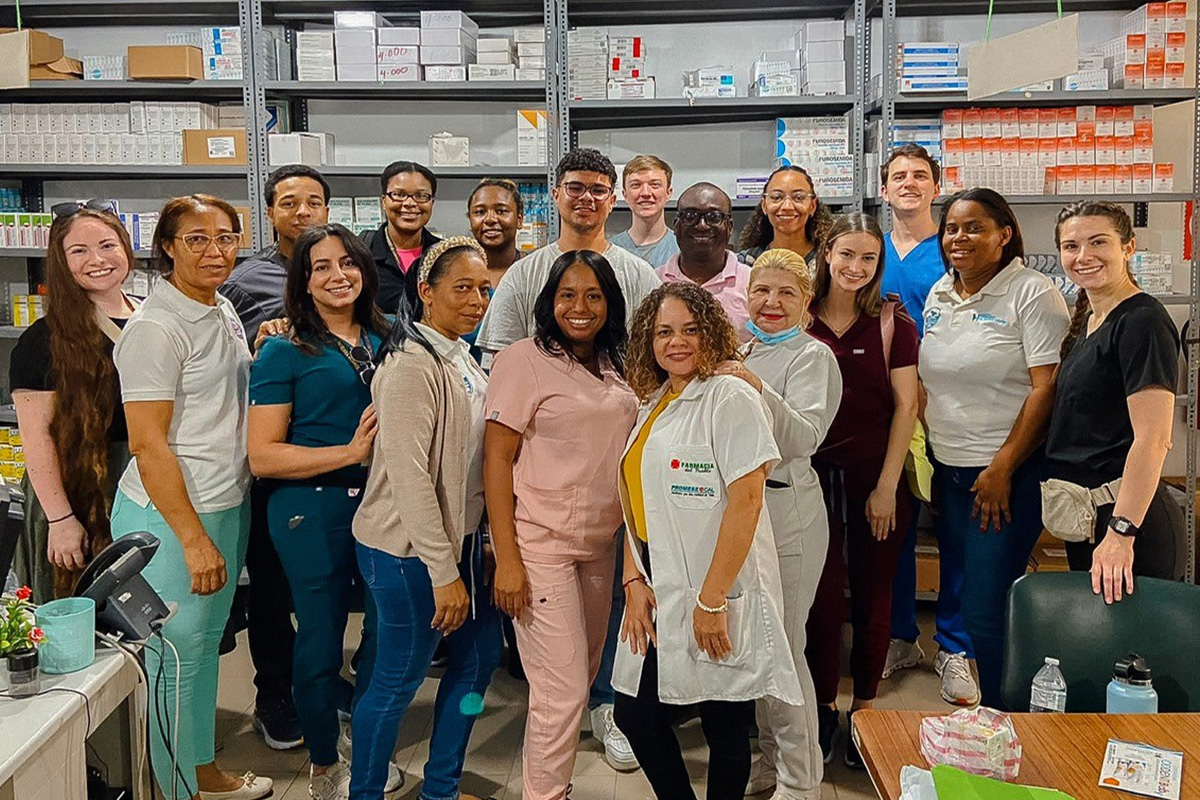 CAPTION: ULM pharmacy students and faculty visit Hospital Periferico de Cienfuegos with local pharmacy professionals. Photo courtesy of Kellie Belgard
---
"The experience that I gained from this trip will benefit me in the rest of my college career but will also follow me long after into my future career," said Marissa Martin, a junior Kinesiology major.  
"International experiences can be transformative, and I hope that this experience has enriched the lives of our students and given them a larger sense of their own potential impact," said Dr. Hanna Rotundo, Clinical Assistant Professor in ULM's College of Pharmacy. "I hope that students walked away from this trip with a broader perspective on issues that affect their discipline beyond the United States as well as a greater sense of their own potential to make a positive difference in the world," said Rotundo.  
Shylon Francis, a P3 Doctor of Pharmacy student said, "This trip revealed to me that places not too far form the United States can be completely different when it comes to laws, culture, and how others see the world."  
Dr. Ashanti Jones, Director of Clinical Education and Assistant Professor in ULM's Doctor of Physical Therapy program described the trip as a life-changing experience for herself and her students. "It was a great opportunity to show our students a different physical therapy perspective encompassing a multicultural experience," said Jones.  
The faculty planning team for the service-learning trip was led by Dr. Sandy Watson (School of Education) and Dr. Hanna Rotundo (College of Pharmacy), and included Dr. Ashanti Jones (Physical Therapy), Dr. Gaby Andonie (Pharmacy), Dr. Jennifer Dumas (Political Science), and Dr. Valerie Fields (Vice President for Student Affairs). 
Students participating in the trip included, from kinesiology: Marissa Martin (Junior), Keaton Authement (Junior), Tucker Tarjick (Junior), Adrianna Humes (Junior), Briana Primm (Senior); from social work: Leslie Rockhold (Senior), Rea'ianna Winston (Senior), Francis Carter (Junior); from Psychology: Tyeisha Brooks (Sophomore); from Political Science: John'Nise Nichelle Peoples (Junior), Caitlin Slavich (Junior); from Doctor of Pharmacy: Falene Nunez (P3), Kellie Belgard (P3), Antoinette Leo (P3), Logan Dugas (P3), Layne Dishman (P3), Brooke Bourgeois (P3), Shylon Francis (P3), and Jennifer Eubanks (P3).  
Schools and programs from all four colleges at ULM participated in the trip including: from the College of Arts, Education, and Sciences – School of Education, from the College of Pharmacy – School of Clinical Sciences, from the College of Health Sciences – Physical Therapy program, from the College of Business and Social Sciences – Social Work program. The ULM Office of Student Affairs also participated in the trip.  
Dr. Rotundo says the faculty planning group hopes this trip will be the beginning of a long-term partnership with the community in Santiago. "Our team began a dialogue with local leaders and health care providers about how we can help to serve the needs of the Cienfuegos community," said Rotundo. "For example, our students participated in a project where they interviewed local residents to identify what they perceived as the community's greatest health needs. This information will be used to guide our work in partnership with the Cienfuegos community through future service-learning trips. We hope to have a true bilateral partnership that benefits both of our communities and addresses unmet local needs," she added.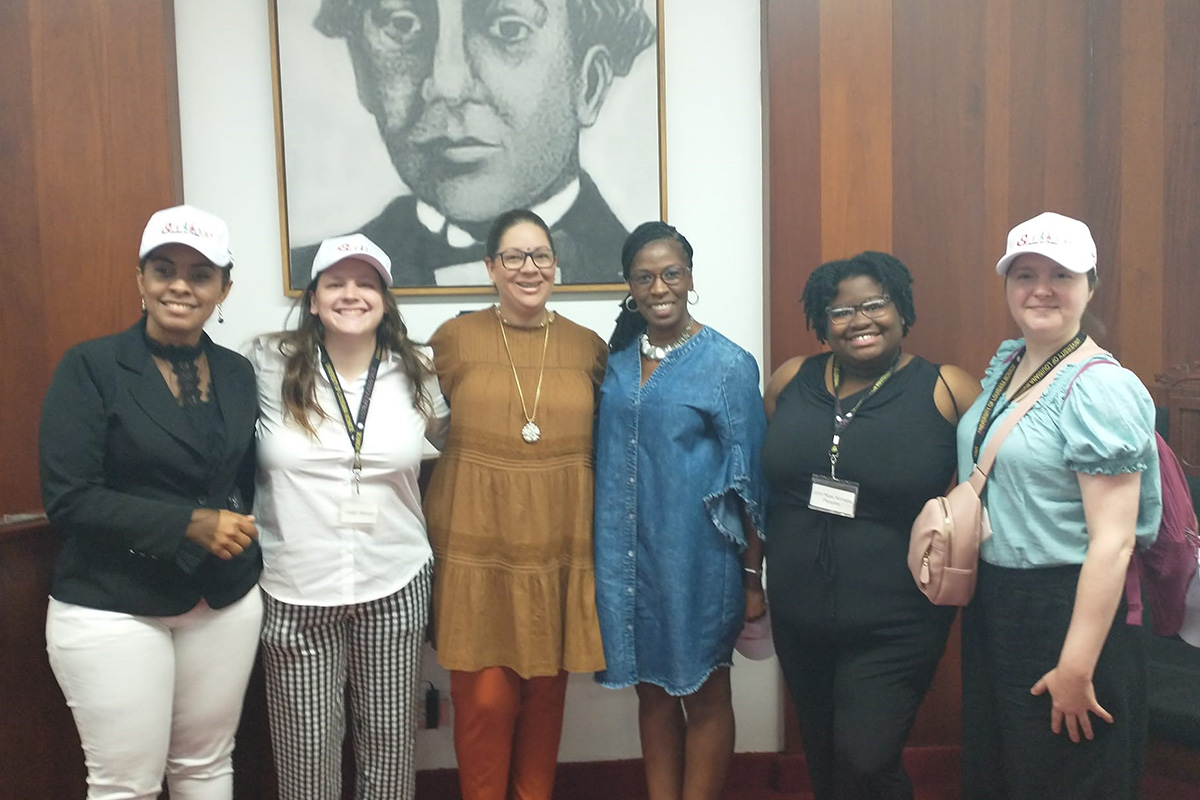 CAPTION: Political Science students and faculty visit Santiago City Hall. (L-R): Yaniris Espinal, of the Dominican Republic Ministry of Culture; Political Science student Caitlin Slavich; Hilda Ovalles, Santiago City Hall official; Dr. Valerie Fields, ULM Vice President of Student Affairs; Political Science student John'Nise Peoples; Assistant Professor of Political Science Dr. Jennifer Dumas Photo courtesy of Dr. Jennifer Dumas