Published January 18, 2023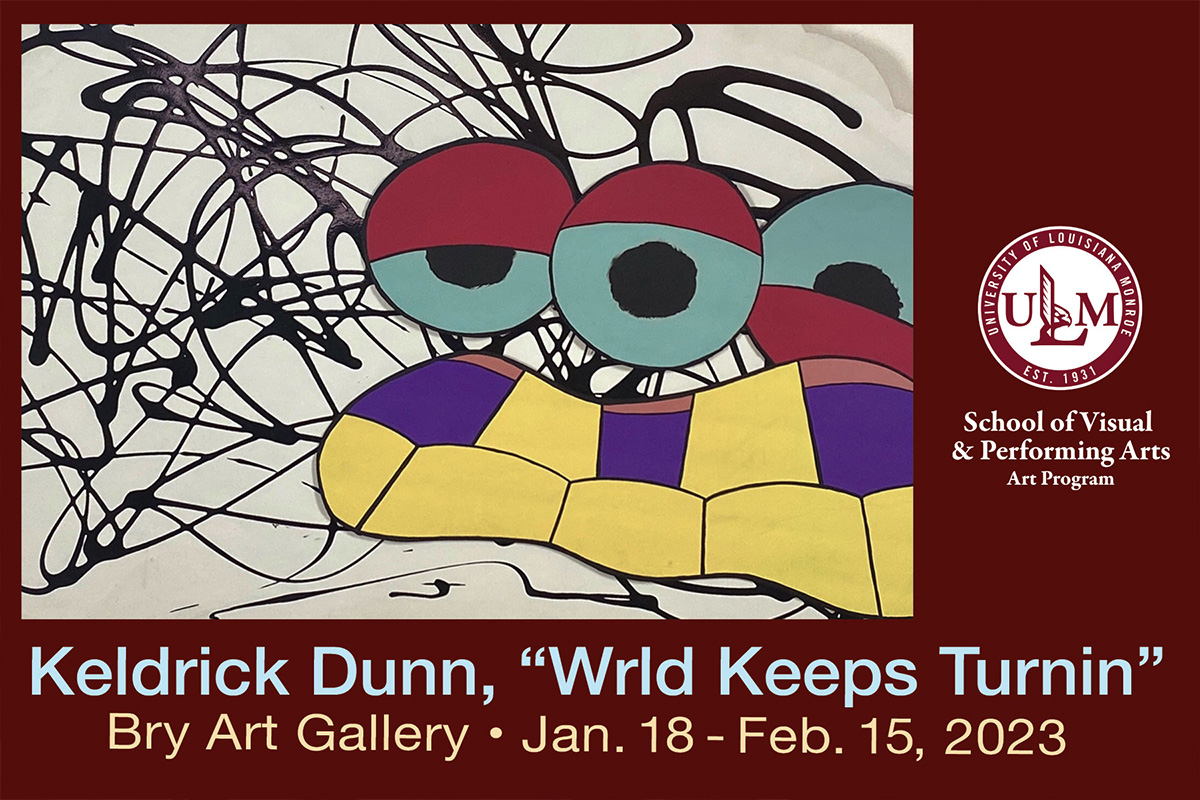 MONROE, LA – The ULM Art Program and Bry Gallery are currently hosting an exhibition of works titled "Wrld Keeps Turnin" by Minden artist Keldrick Dunn. The exhibition runs from January 18th through February 15th. An artist's talk will be given on Wednesday, February 15th in Sandel 236 at 2:00 p.m. with a reception following in Bry Gallery. 
Mr. Dunn is currently showing work at the Creative Exchange Gallery and Ruston Artisans, both located in Ruston. In 2020 Mr. Dunn received the Director's Award for Achievement by Louisiana Tech's Visual Arts. 
Of this exhibition, Mr. Dunn wrote, "Wrld Keeps Turnin" is a collection of paintings that find its identity rooted in the past. The works in this series document my feelings of being one of few black people at my college, using these "token black" characters as avatars to explore the feeling of cultural isolation. The work is largely autobiographical, yearning for community while retreating to a distorted version of the past in search of a familiar comfort." 
Dunn continued, "Cartoons have a universal nature about them, the most iconic being able to transcend time, language, and geography. I first fell in love with art because of images I saw in cartoons, comic strips, and album artwork. These mediums challenged and expanded my idea of art, allowing me to pay homage to the things that impacted my childhood. I find value in the way that cartoons can express intense emotions while being removed enough from reality to still be palatable to different audiences." 
 
Bry Gallery is located in Bry Hall, 4101 Desiard St. in Monroe, and is open from 8:00 a.m. - 4:30 p.m. Monday through Thursday and 8:00 a.m. -11:30 a.m. on Fridays. The public is invited, and admission is free. For more information, please contact Joni Noble, Art Program Coordinator at (318) 342-1376.