Published April 17, 2023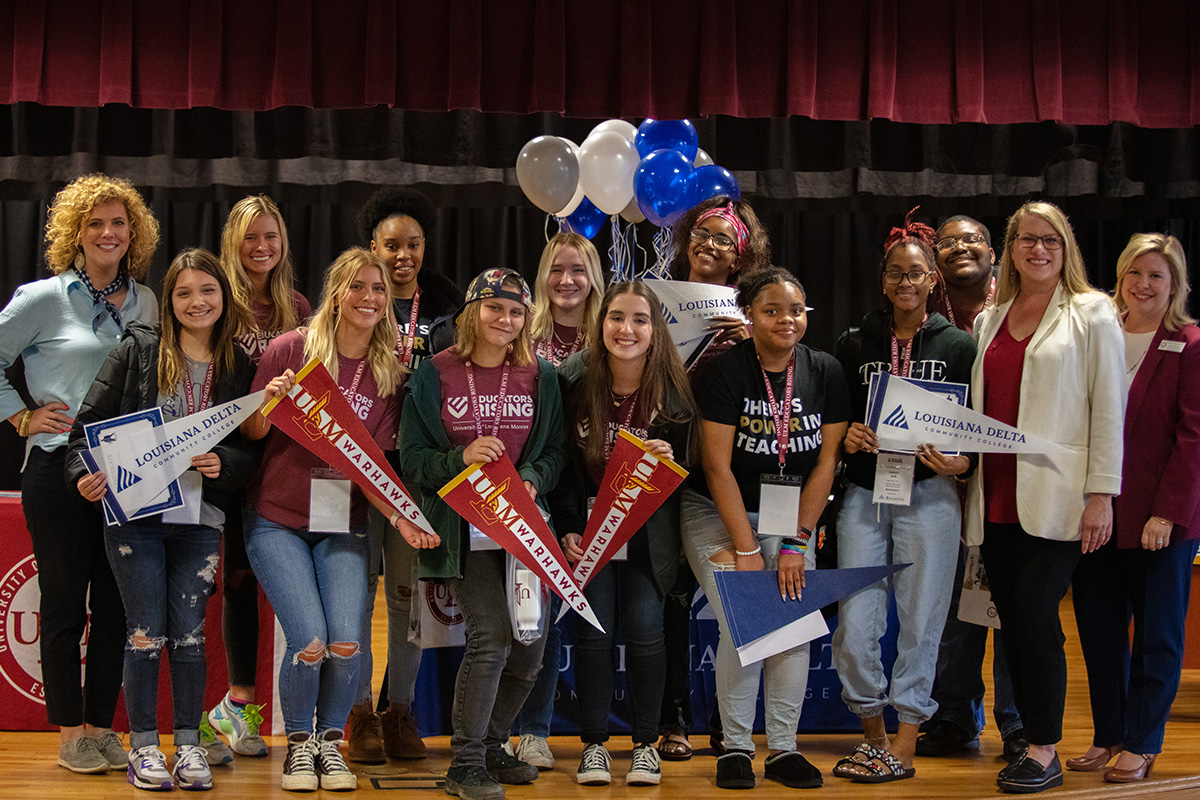 CAPTION:Graduating seniors from local high schools committed to attend ULM and LDCC during a signing event at the annual Educators Rising Campus Day.
---
MONROE, LA – The University of Louisiana Monroe hosted the second annual Educators Rising Campus Day on Thursday, April 6, 2023, in The Hangar on the second floor of the ULM SUB.  Over 200 students, administrators, and personnel from eight school districts and 11 partner high schools learned more about being professional educators. Partner school districts in attendance included Caldwell, DeSoto, Franklin, Madison, Monroe City, Morehouse, Ouachita, and Richland.  
"We are incredibly pleased to see the growth of this program and our campus visit day event. We have more than doubled our enrollment in pre-educator coursework and our attendance at this event from last year to this year," said Dr. Amy Weems, ULM Assistant Professor of Education. "We make regular visits to all our partner schools throughout the school year, but it is especially exciting for them all to be together to share their ideas and energy towards the future of education," added Weems. 
The crowd was welcomed in an opening address by ULM President Dr. Ron Berry, who encouraged the students on their path to becoming educators. "If you look around, one of our biggest needs as a state is teachers. Teachers who care about other individuals and want to make a difference in their lives, who want to create their futures. So please stay with it. We desperately need you," said Berry. In closing, he added "ULM is known for meeting people where they are and helping them get to where they need to be. So when you come to ULM, I can assure you that you will have the opportunity to become the best teacher possible." 
The day continued with sessions and activities for the students including the opportunity to participate in a service-learning project by helping assemble "LEAP Survival Kits" that will be distributed to approximately 90 local 4th grade classrooms. These students are part of ULM's Centennial Scholars Program, who will make up the incoming freshman class of 2031, the University's 100th year. The kits included snacks and activities for the elementary students to enjoy during their state testing.  
"We are so thankful for the support of our service-learning project from the campus visit day participants, our ULM family, and the community," said Weems. "We know these LEAP survival kits and the inspirational videos we are creating will help our Centennial Scholars during standardized testing week," she said.   
The closing keynote speaker was Kimberly Eckert, who currently serves as the Dean of Oxford Teachers College at Reach University. An educator for 15 years, Eckert was a 2020 Global Teacher Prize finalist, 2019 NEA Social Justice Activist of the Year national finalist, the 2018 Louisiana Teacher of the Year, and the inaugural Louisiana Public Interest Fellow for her work developing a state-wide Educators Rising Program for targeted recruitment of a diverse and culturally responsive teacher pipeline.  
 
In her speech, Eckert recounted experiences from a recent trip to Kenya. She spoke about the educational challenges faced by teachers and students there and what American educators can learn from them. She closed by saying that she would love for all of the students to join her in the profession of becoming a teacher. "Because even though you may be one part of your community now, whenever you become a teacher, you become part of a much larger community, and none of us are alone. All of us have so much to share, and we do it all through the willingness to serve an entire community," said Eckert.  
The afternoon closed with a signing ceremony featuring graduating high school seniors who have committed to attend ULM or Louisiana Delta Community College (LDCC) in the fall to pursue a degree in education. LDCC has a "two plus two" agreement with ULM which allows students to transfer to ULM after two years at LDCC and receive a teaching degree.  
Students signing a commitment to attend ULM included: Keriann Cassels, Caldwell Parish High School; Rhiannon Doucet, Caldwell High School; Ray English, Jr., Wossman High School; Lauren Gwin, Mangham High School; Shelby Nicholson, Rayville High School; and Claire Russell, Sterlington High School. 
Students signing a commitment to attend LDCC included: Alyssa Hernandez, Mangham High School; TyDresianna Jenkins, Wossman High School; RaNya McDaniel, Wossman High School; Natechia Pikes, Wossman High School; and Aakayla Ruff, Wossman High School.  
"I cannot think of a more inspiring way to end our campus visit day than to celebrate the commitment of these 10 pre-educators to continue their pursuit of teaching as a profession. We cannot wait to have them with us on campus in the fall semester," said Weems.  
The 2023 Educators Rising Campus Day also marked the second year of a five-year, $100,000 grant from Regions Bank. The grant provides two Regions Bank ULM Educators Rising Program Scholarships per year and assists in retaining students in the School of Education.
For more information about the ULM Pre-Educator Pathway or Educators Rising, contact Weems at weems@ulm.edu or 318-342-1280. 
About ULM Pre-Educator Pathway 
The ULM Pre-Educator Pathway was recognized by the Louisiana Department of Education, Board of Elementary and Secondary Education. In 2020, the program was adopted statewide by the Louisiana State Workforce Commission Workforce Investment Council. 
About Regions Financial Corporation
Regions Financial Corporation (NYSE:RF), with $163 billion in assets, is a member of the S&P 500 Index and is one of the nation's largest full-service providers of consumer and commercial banking, wealth management, and mortgage products and services. Regions serves customers across the South, Midwest and Texas, and through its subsidiary, Regions Bank, operates approximately 1,300 banking offices and more than 2,000 ATMs. Regions Bank is an Equal Housing Lender and Member FDIC. Additional information about Regions and its full line of products and services can be found at www.regions.com.
About Educators Rising 
Educators Rising is a nonprofit organization designed to cultivate future educators by providing college-credit classes, support, and guidance while still in high school and through university graduation. The National Education Association, National Board for Professional Teaching Standards, and the Walton Family Foundation are among its partners.