Published February 2, 2023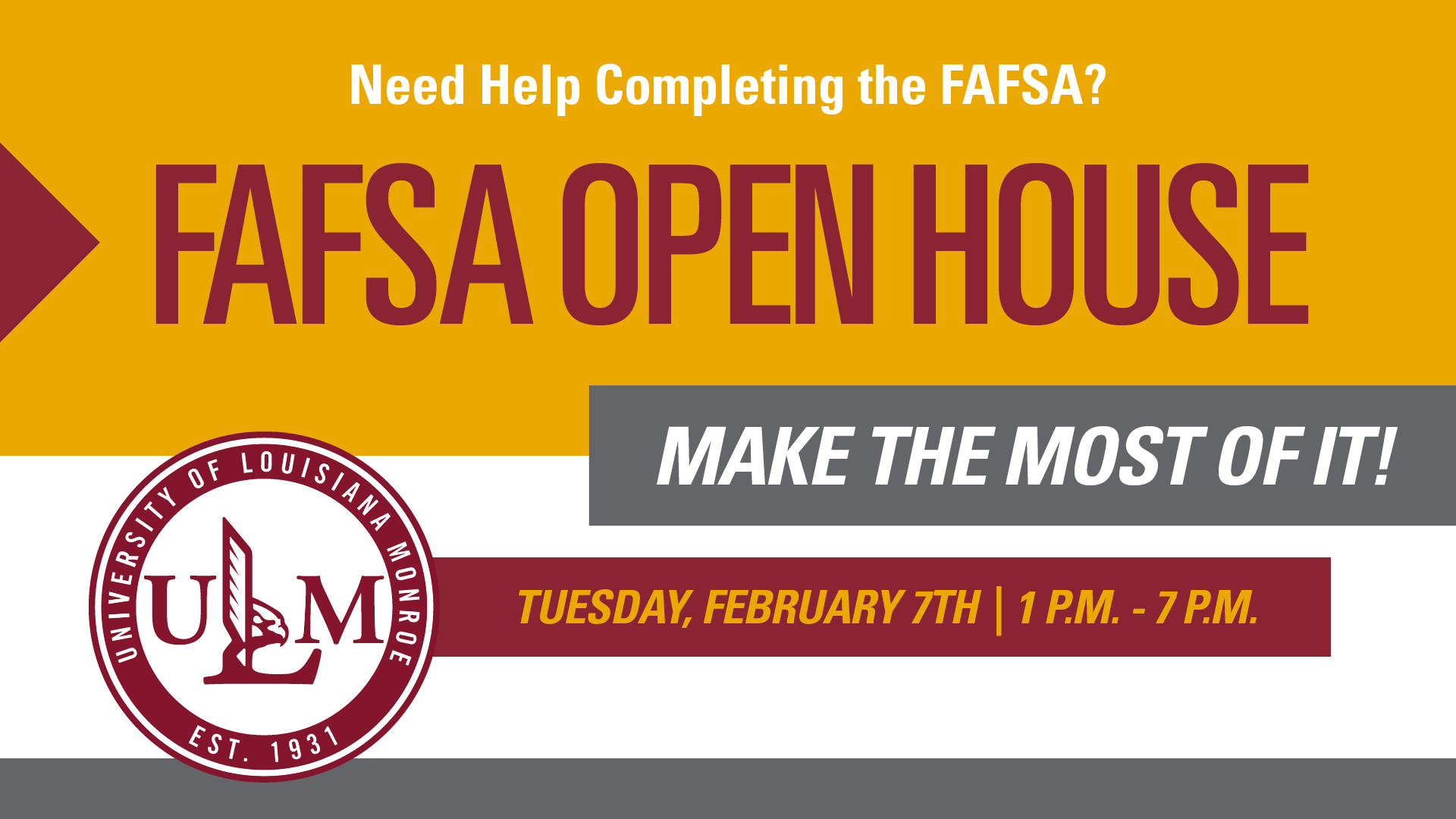 ---
WHAT: ULM FAFSA Open House 
WHEN: Tuesday, February 7, 1:00 p.m. - 7:00 p.m. 
WHERE: Sandel Hall, 4020 Northeast Dr., Monroe 
WHO: High school and transfer students 
---
MONROE, LA – The University of Louisiana Monroe is hosting a free event to help high school and transfer students fill out their FAFSA applications. Students are encouraged to come to the lobby of ULM's Sandel Hall, 4020 Northeast Dr. in Monroe, on Tuesday, February 7, any time between 1:00 p.m. and 7:00 p.m. Staff from ULM's Recruitment and Financial Aid departments will be on hand to help students navigate the form.  
FAFSA stands for Free Application for Federal Student Aid. Completing the form allows high school students to know what types of financial aid for which they qualify. Completing the FAFSA is also a requirement for Louisiana students to be eligible for TOPS.  
"The FAFSA can be so overwhelming and confusing, and that's why we are hosting FAFSA day," said Kaitlin Arnett, ULM Director of Recruitment. "We want to help students and parents fill out the FAFSA and answer any questions about financial aid they may have," she added.  
Students can pre-register online at ulm.edu/money or they can simply show up at the door. Each student will need to bring their FSA ID information for themselves and their parent or guardian, 2021 tax return and W-2 information for the student and their parent or guardian. Students and parents are also welcome to bring any questions they may have.  
"ULM wants to make sure that no student leaves any money on the table," said Erica Hopko, ULM Associate Director of Customer Service and Outreach. "We will help you fill out the FAFSA so that college can be more affordable," she said.  
Snacks and popcorn will be provided. For more information about the FAFSA, visit studentaid.gov.