Published June 9, 2023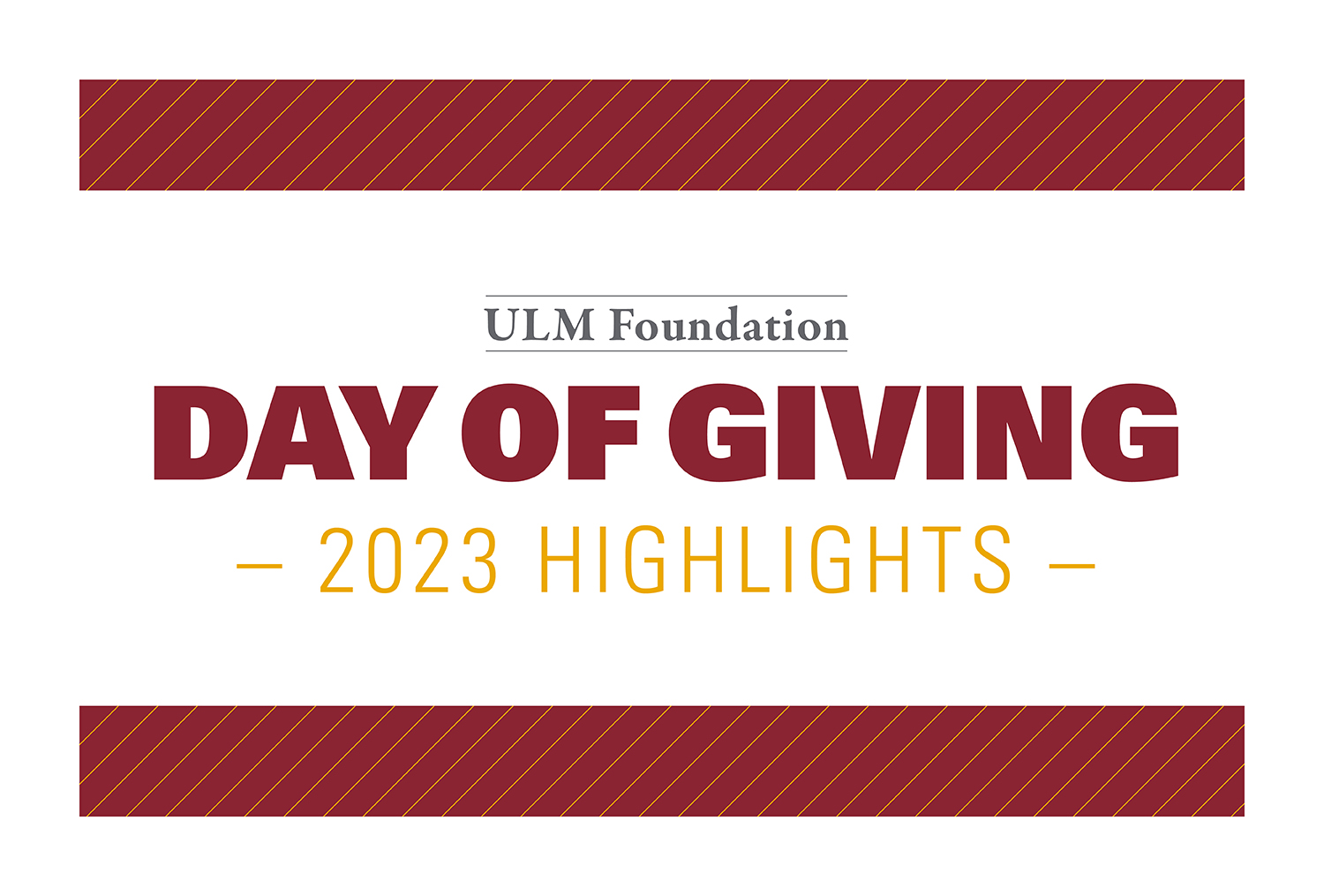 MONROE, LA – During the inaugural Day of Giving on May 17, 2023, the ULM Foundation received over $2.3 million in donations in 24 hours. A portion of those donations came in the form of matching gifts from partner businesses. The ULM Foundation would like to recognize the generosity of these businesses.  
GO CARE/Pinnacle Family Health 
The ULM College of Health Sciences received a matching gift donation from GO CARE Community Health Center. At the May 4th groundbreaking for their 24,000 square foot future location at 101 Crosley Street in West Monroe, GO CARE CEO, Mark Windham, presented the College of Health Sciences, with a $2,000 check for the college's general fund, reflecting their dedication to collaboration with the college and its program.  The health center is excited about continuing and growing its relationship with ULM at its new site by providing internship opportunities for ULM COHS students as they prepare to enter the healthcare work force.  GO CARE also announced their name will change to Pinnacle Family Health when the new facility opens in early 2024. 
Windham announced that in addition to changing locations and names, GO CARE will also be increasing their number of clinical rooms by 50%, behavioral health offices by 200%, adding an on-site diagnostic radiology, an on-site pharmacy, and a dental clinic which will include 6 treatment areas and a panoramic x-ray.  Once the new clinic opens, it will be rebranded Pinnacle Family Health, Inc. The expansion of current services and the addition of new services will create a "one stop shop" to meet the health needs of people in our region.   
"The College of Health Sciences is grateful to receive such a generous donation from Pinnacle Family Health.  Mark and his team have been an annual sponsor of the School of Allied HealthProfessional Luncheon since its inception and have always provided opportunities for clinical rotations, internships, and employment opportunities for students," said Interim Dean Wendy Bailes. 
Louisiana Wholesale Drug Co., Inc.  
The ULM College of Pharmacy received a matching gift donation from Louisiana Wholesale Drug Co, Inc. (LWD). LWD is a long-term partner of the ULM School of Pharmacy by providing tuition assistance to several ULM future pharmacists per semester as well as regular donations to the ULM Dufilho Society, which was named in honor of the first licensed pharmacist not only in the state of Louisiana but the entire United States, Mr. Louis J. Dufilho.  Funds generated by the society are used to support student achievements and innovation in the College of Pharmacy's pursuit of excellence. 
LWD Board Members and ULM Pharmacy Alumni, Errol Duplantis and Nicholas LeBas, presented the check to Dr. Glenn Anderson, Dean of the ULM School of Pharmacy, on behalf of the entire company. 
"LWD and the College of Pharmacy have successfully partnered for a number of years. LWD has a history of supporting the College's Dufilho Society and subsequently our scholarship and research programs. LWD's continued support is making an impact in Louisiana, through supporting ULM's efforts to provide affordable education for pharmacists who return to serve their home communities and through supporting our college's efforts to find new ways to prevent or cure the diseases that afflict Louisianians," said Anderson.  
LWD was founded in 1979 by a group of Louisiana independent pharmacists and has since grown from 51 pharmacists to 178 stockholders serving over 275 stores.  It is currently one of the top three privately held companies in Southwest Louisiana. 
Lumen Technologies 
Lumen Technologies, a Fortune 500 multinational technology company founded in Louisiana, donated $2,000 to support the work of the College of Arts, Education & Sciences.  Lumen has been a long-time donor to ULM, funding programs affiliated with sports such as golf, football, and baseball, and academic projects including robotics competitions, the President's Academy, sponsoring the Women's Symposium, funding Lumen employee student scholarships, as well as being a major benefactor to the Clarke M. Williams Student Success Center on campus. 
Not only has Lumen been a consistent financial supporter of ULM but they also provide internships to high-achieving students ensuring important real-world work experience is gained prior to graduation.  "Over the years, Lumen has provided our students and graduates with excellent internship and career opportunities.  This generous gift will allow the College to continue offering our students life-changing educational experiences" said Dr. John Pratte, Dean of the College of Arts, Education & Sciences. 
Lumen Technologies, Inc. provides digital solutions for home and business premises and offers communications, network security, cloud solutions, voice, and managed services for customers in North and Latin America, Africa, Europe, Asia Pacific, and the Middle East.