Published February 1, 2023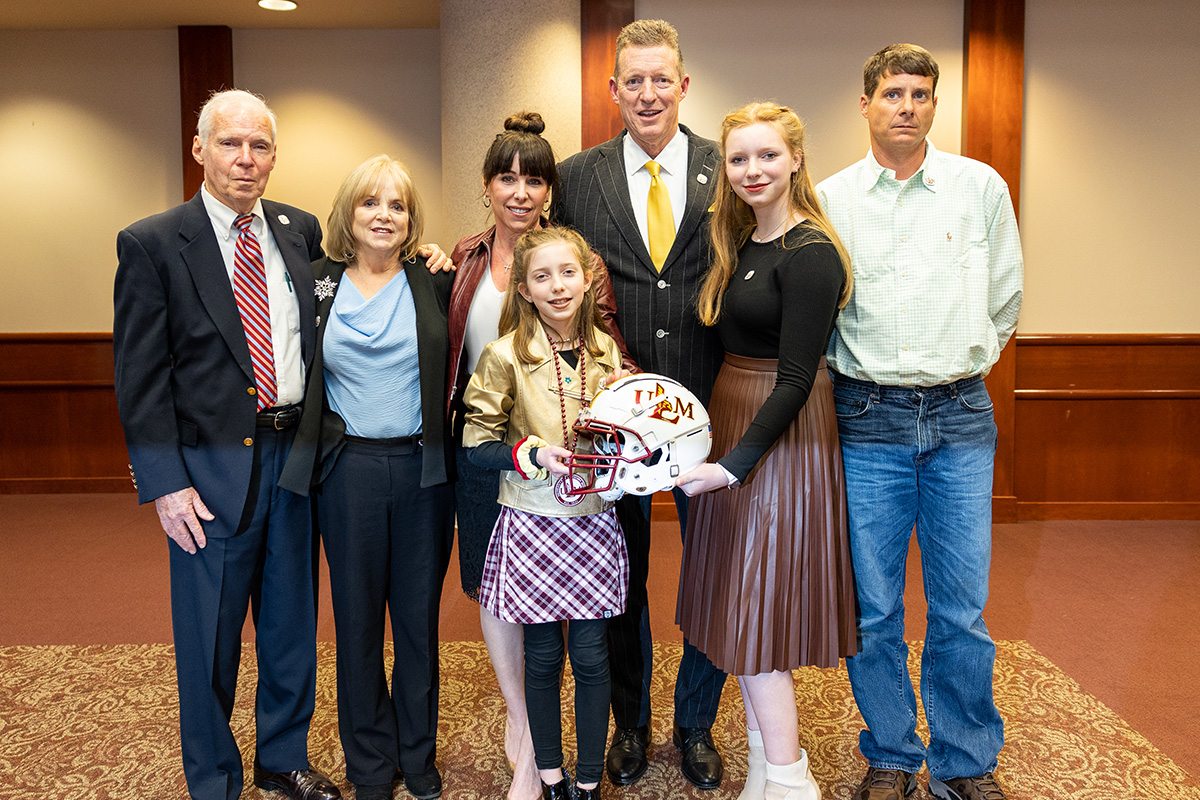 CAPTION:New ULM Director of Athletics John Hartwell is joined by his family at a press conference on January 30. (L-R) Dr. Jim Seale, Ginger Seale, Heather Hartwell, Madison Hartwell, John Hartwell, Lauren Hartwell, Jimbo Seale 
---
MONROE, LA – The University of Louisiana Monroe officially welcomed newly hired Director of Athletics John Hartwell to campus at a press conference on Monday, January 30. Hartwell comes to ULM after having served as Director of Athletics at Utah State University and ULM's Sun Belt Conference rival Troy University. 
"We are truly privileged to be able to announce John Hartwell as our new Director of Athletics," said ULM President Dr. Ron Berry.  
Hartwell took to the podium and thanked the ULM Warhawk family for the warm welcome and for the opportunity. He spoke about the bright future of ULM Athletics and the Sun Belt Conference.  
"There is no doubt to me that there is an upward trajectory for the Sun Belt Conference. Both us as an institution and the Sun Belt Conference are poised for great days ahead. Obviously that takes work. I want us to be an upper tier school in every sport in the Sun Belt Conference," said Hartwell.  
Hartwell made it clear that for him, this new position begins and ends with ULM's student-athletes. "It is our job as administrators to provide the tools and resources for those 360 student-athletes to be successful first in the classroom, secondly on their various fields of competition, and thirdly and maybe the most important, arm them with the life skills that will help them be successful no matter if they're a teacher, a doctor, an attorney, a coach, or a professional athlete," he said.  
Hartwell's hiring helps further ULM's recently implemented strategic plan, which includes Athletic Excellence as one of its five pillars. "I'm so thrilled to see that the ULM strategic plan includes athletic excellence," said Hartwell. "I take that as a challenge and I assure you that we are going to work diligently every day to ensure that there is excellence across the board," he added.  
Hartwell plans to focus on development and fundraising to continue raising the profile of ULM's 17 intercollegiate sports teams, including fundraising for facilities improvements.  
Hartwell said in addition to success in competition, his focus areas for student-athletes will include winning in the classroom, increasing GPAs, increasing the graduation success rate, assisting with job placement, and student-athlete mental health. 
The move to Monroe brings Hartwell's family closer to home. Hartwell's wife Heather is originally from El Dorado, Ark. and her family still lives there. Her parents Dr. Jim and Ginger Seale joined the Hartwell family at the press conference.  Hartwell described the ULM Director of Athletics position as a "family affair," saying that he, Heather, and their two daughters will be involved greatly at ULM.  
Hartwell promised to be accessible and closed by saying, "To every member of the Warhawk family, I can't wait to get started and meet you all." 
Hartwell is set to begin as ULM's Director of Athletics on February 27.