Published March 15, 2023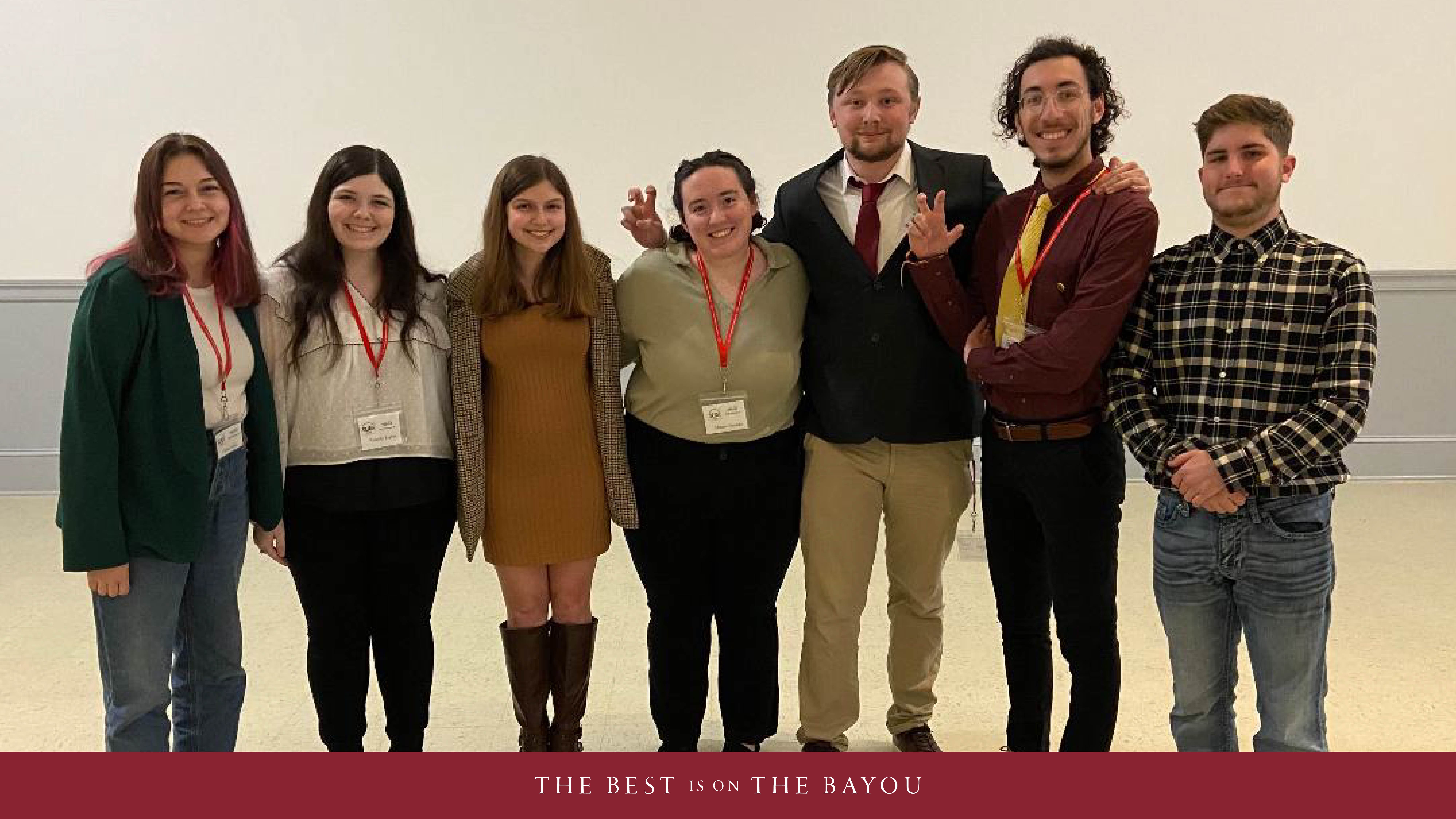 CAPTION: ULM Hawkeye Staff (L-R) Carley Nail, Kassidy Taylor, Zoe Sissac, Maggie Eubanks, Cameron Jett, Beau Benoit, Jonah Bostick
---
MONROE, LA – The staff of ULM's student-run newspaper, The Hawkeye, joined student journalists from twenty-two other universities at the Southeast Journalism Conference 2023 on February 9 -11, 2023, at Nicholls State University. The Hawkeye editors attended sessions and participated in on-site competitions over the two-day event.  SEJC co-president and host, Dr. James Stewart, Alfred N. Delahaye Endowed Professor in Mass Communication at Nicholls, said, "We were thrilled to have everyone at the same location after two years of virtual conferences."   
At the Best of the South2022 awards dinner, The Hawkeye ranked as sixth best newspaper, with one judge commending its broad campus coverage.  Individual Best of the South awards included Maggie Eubanks, Political Science, who placed seventh in both Best News Writing and Best Opinion-Editorial Writing.  Jonah Bostick, Kinesiology, placed fifth and Cameron Jett, Communication, placed eleventh in Best Sports Writing.  ULM was the only university to have two students ranked in the sports writing category. 
SEJC officials planned for fast-paced competitions from the first evening's event when participants attended a Nicholls versus UNO men's basketball game.  Alongside photographers and reporters from local news outlets, students nudged their lenses into timeout huddles and manned the press desk for play-by-play action as part of the on-site Sports Writing and Sports Photography competition. Editor in Chief, Cameron Jett, admitted he is most proud of the team's outcomes in the on-site competitions, in which The Hawkeye tied with Mississippi State University for overall winner.  "The on-site competitions showed the best of us in true, real-world scenarios.  The fact that we brought home so many awards proves we can hang with almost any school out there," he added. 
In other on-site contests, Maggie Eubanks placed first in News Writing and second in Media Law.  Zoe Sissac, English, placed first in Opinion-Editorial Writing.  Cameron Jett placed second in Feature Writing. Carley Nail, Communication, placed third in Arts and Entertainment Writing and Honorable Mentioned in Sports Photography.  Kassidy Taylor, Pre-Pharmacy, placed first in Copy Editing.  Beau Benoit, Toxicology, contributed to the team score in the Current Events category, as did Jonah Bostick in Sports Writing. 
Student Publications publishes The Hawkeye on Mondays most weeks of each semester.  Students and faculty can pick up The Hawkeye on campus at the Hub, the library, and near the entrances of most academic buildings.  Community members can find The Hawkeye at 25 area businesses throughout Monroe and West Monroe, including Ouachita Parish Public Library Main Branch and Ouachita Valley Branch.  The digital version is available at https://ulmhawkeyeonline.com .  Student Publications welcomes students from all majors to get involved. For more information contact Courtney Collins, assistant director, at (318) 342-5450 or ccollins@ulm.edu.