Published September 27, 2023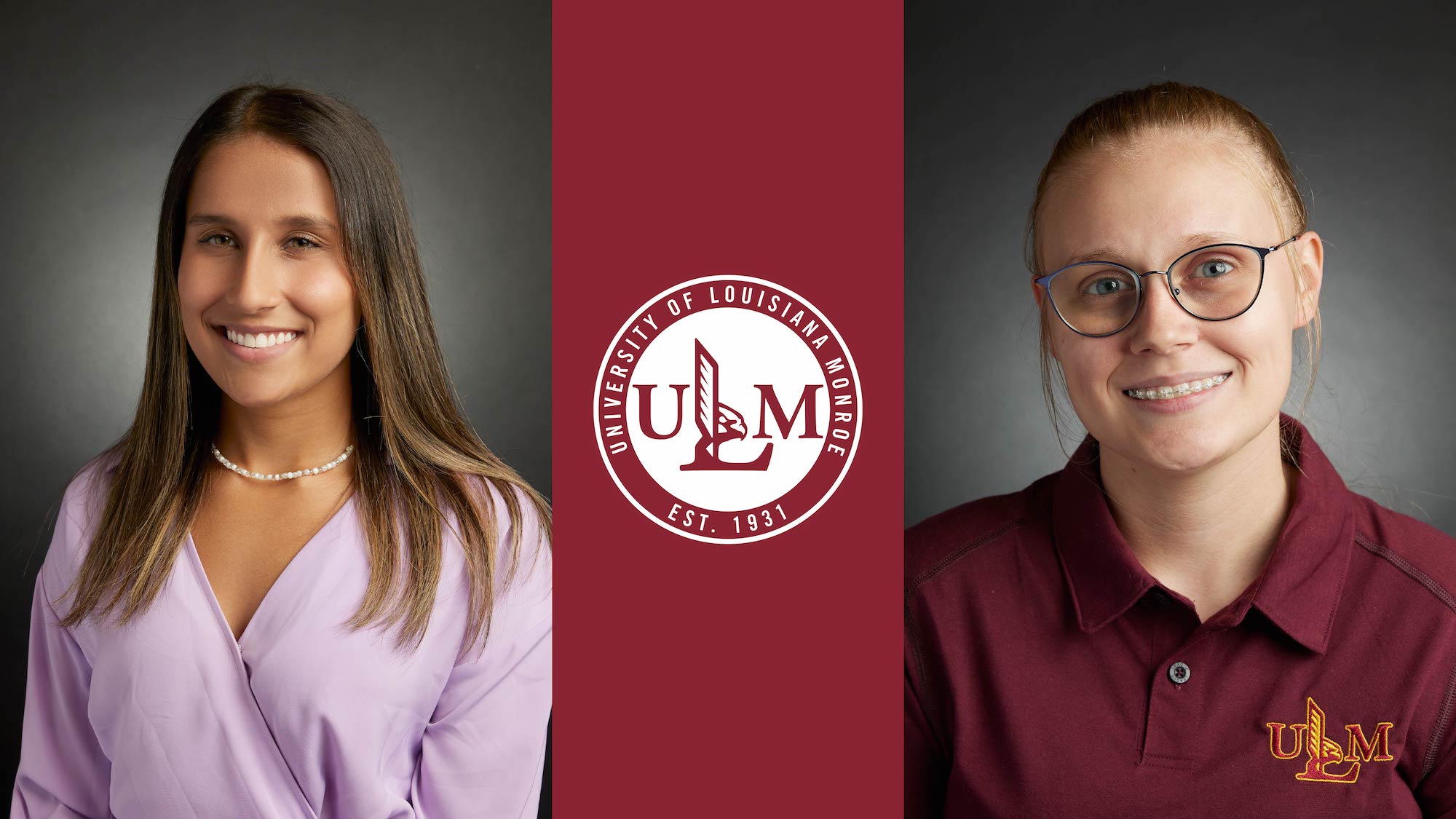 CAPTION: Two ULM Health Studies students, Sohalia Schoen (left) and Mikala Weems (right), participated in research programs over the summer.  
---
MONROE, LA – In the summer of 2023, two ULM Health Studies students, Sohalia Schoen and Mikala Weems, attended two summer research programs offered through the Louisiana State University Health campus in Shreveport and New Orleans.  
Schoen secured a spot in the immersive eight-week summer research program in cardiovascular disease known as the CURIOUS program. Weems participated in the Interprofessional Education and Collaborative Practice (IPECP) summer program— Building Health Teams.  
During the CURIOUS program, Schoen explored various topics that are typically beyond the reach of undergraduate students. The CURIOUS program teaches a wide range of techniques including the operation of a qPCR machine, immunofluorescent staining, flow cytometry straining, microscope usage, centrifuging, RNA isolation and synthesis of cDNA.  
Schoen conducted hands-on experiments with high-quality laboratory equipment and worked alongside graduate students, PhD students, post-doctoral researchers and professors. Schoen's research focused on using hi-PSC-derived cardiomyocytes as a potential tool to study chemotherapy drug-induced cardiotoxicity.  
"I learned how to culture and reprogram blood cells into stem cells, differentiating them into cardiomyocytes to examine the impact of the chemotherapy drug doxorubicin on the heart," Schoen said.  
Schoen presented a final poster presentation on her research and won first place in the CURIOUS program.  
Schoen said this platform could help assess chemotherapy-induced cardiotoxicity by obtaining samples from patients and treating the cardiomyocytes with various chemotherapy drugs to evaluate their effect on their biological function. This research could potentially contribute to the development of personalized medicine for patients affected by cardiotoxicity.  
Schoen attributes her success in the CURIOUS program to the crucial role the ULM Health Studies program played. 
"With the guidance from the Health Studies Program Director, Dr. Dolecheck, I learned how to maintain a professional appearance when applying for the program and in the workplace," Schoen said. "As a student in Health Studies, you are encouraged and supported through your undergraduate journey with classes that enrich your mind and help you discover your true interests." 
In Weems' virtual summer research program, she met with other students for four weeks to discuss topics related to interprofessional leadership, collaboration, problem-solving strategies, public health, critical thinking tactics and effective communication. The group met twice every week, one with the entire class and another with smaller teams assigned to complete a final project focused on four different healthcare roles. 
"One of the most engaging aspects of the program was the open discussions. Each week, we explored different topics and it was fascinating to interact with healthcare professionals from various roles and discuss their responsibilities," Weems said. 
Similar to Schoen, Weems felt confident in sharing concepts discussed because of the ULM Health Studies department. Weems' most memorable moment in the IPECP program was explaining the concept of social determinants of health (SDH). 
"As the sole ULM student among LSU students, I have gained a comprehensive understanding of SDH through my Health Studies major. When the topic came up, I was the only student who could confidently provide an answer," Weems said. "Without the foundation provided by the Health Studies program, I wouldn't be anywhere near the well-rounded young professional that I am now."