Published November 8, 2023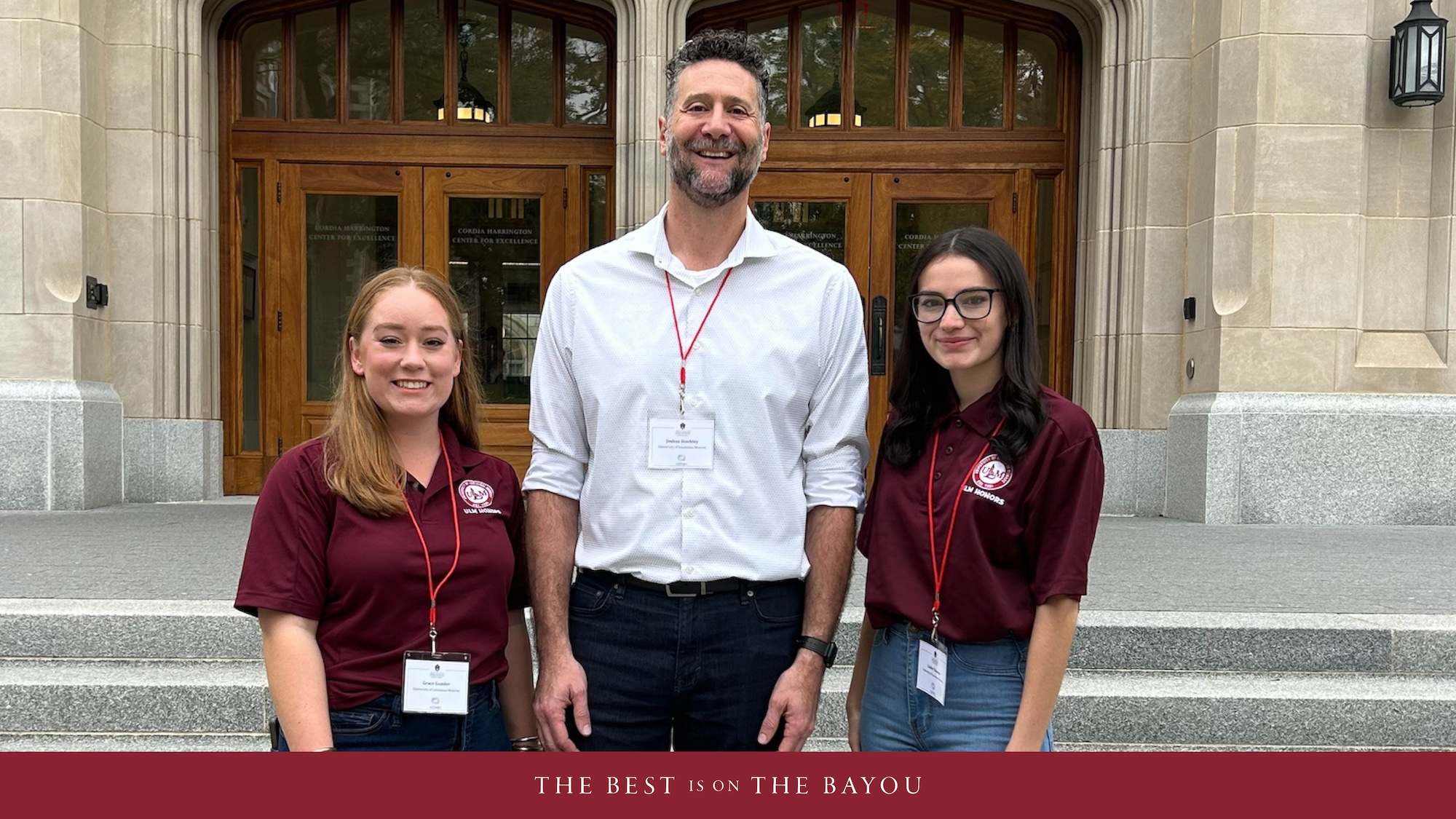 CAPTION: Pictured L-R: Grace Gunder, Dr. Joshua Stockley, Gabby Thomas 
---
MONROE, LA – The University of Louisiana Monroe Honors Program attended the annual meeting of the National Society for Minorities in Honors Conference on October 25-27, in Fayetteville, AR hosted by the University of Arkansas. The theme of the conference was "Why Honors? The Value of an Honors Education for Students From Underrepresented Backgrounds." 
Dr. Joshua Stockley, Director of the ULM Honors Program, was accompanied by two students –Grace Gunder, a senior biology major and president of the Honors Council, and Gabby Thomas, a freshman pre-pharmacy major and freshman representative of the Honors Council. 
"The ULM Honors Program values the ability to include every student from every major, every organization, every place, and every walk of life because we are dedicated to inclusion and enriched by an exposure to diversity," said Dr. Stockley. "We can do better, though. We still have boundaries to break and participating in NSFMIH is an opportunity to learn how other programs are addressing similar challenges." 
"I am thankful to have been given the opportunity to attend NSFMIH and learn more about the importance of an honors education for students from underrepresented backgrounds," said Grace Gunder. "We were able to hear from students in honors and how other colleges and programs are evolving to become more inclusive and diversify their student bodies. With the knowledge and perspective I have gained from this conference, I am looking forward to building a more supportive community and sense of belonging for students within and outside of our honors program here at ULM." 
"My experience at NSFMIH was full of learning opportunities and incredibly nice people. From networking with other honors programs and getting a day in the life of someone who attends other universities, I have gained many ideas to implement into our own honors program," said Gabby Thomas. "These ideas will help increase diversity and improve equity not only for our honors program, but our campus. Ultimately, our goal was to gain knowledge to improve our program which will improve our communities. After all, we are preparing the next generation of leaders." 
Attending the conference were honors students and administrators from colleges and universities across the United States. 
The National Society for Minorities in Honors (NSFMIH) was founded in 2015 to bring together and advance discussions and action in relation to diversity, equity and inclusion in honors education. The organization holds an annual conference, hosted by institutions around the USA, and promotes the wide dissemination of ideas and initiatives related to diversity, equity and inclusion in honors education - through its annual conference, through national and international seminars and electronic events, and through publications. 
About the ULM Honors Program 
The ULM Honors Program is a unique program within ULM that seeks intellectually curious students who desire to challenge themselves with new ideas and work with similarly motivated students. The program is open to all majors and works within all degree programs. Honors students are exposed to more in-depth topics and work closely with faculty in smaller courses. 
For more information about the Honors Program contact Dr. Joshua Stockley at stockley@ulm.edu or 318-342-3216 or visit ulm.edu/honors.