Published May 23, 2023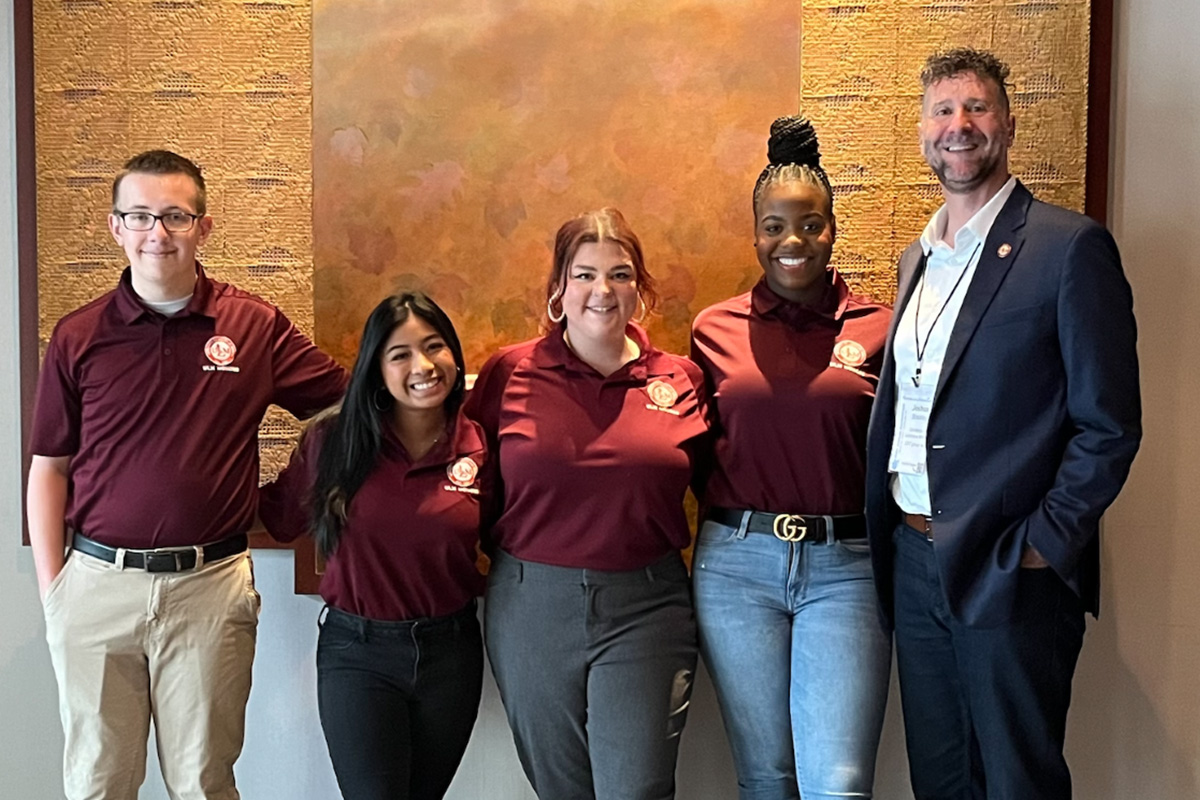 CAPTION:(L-R) Brennan Remington, Zy Villanueva, Caitlyn Cullen, Amaya West, Dr. Joshua Stockley 
---
MONROE, LA – The University of Louisiana Monroe Honors Program joined the annual meeting of the Southern Regional Honors Council on March 30-April 1, in Charlotte, NC.  
Dr. Joshua Stockley, Director of the ULM Honors Program, was accompanied by four students – Brennan Remington, a senior psychology major; Caitlyn Cullen, a senior political science major; Zy Villanueva, a junior pre-pharmacy major; and Amaya West, a sophomore biology major. 
Remington presented "The IQ Qualm – A Systemic Review of Historical and Current Intelligence Testing." His presentation was based upon his honors thesis, which reviewed how methods of quantifying intelligence have changed dramatically with changes in the academic community. 
Remington said, "I had the invaluable opportunity at SRHC to meet a wide array of individuals from a variety of institutions, which I utilized to form connections that will lead to inter-university research in the future. I also generated a wealth of new research topics based on sessions that I attended, ranging from introducing virtual reality technology within collegiate classrooms to developing support programs for twice-exceptional learners (learners who are gifted with learning disabilities). I was able to gain valuable experience when I presented my undergraduate honors thesis and fielded questions regarding it, which will help me as I attend an increasing number of conferences as I become more involved with research and our graduate program." 
Remington was joined by Cullen, West, and Villanueva for a student panel entitled, "Student Development Outside of the Honors Community." The panel discussed how being involved outside of the honors community fosters relationships between honors and other university organizations and assists individuals in developing leadership and creating career connections. 
"SRHC is an eye-opening experience for honors students who are looking for ways to better themselves, their programs, and their honors experiences. There, I got to hear from other student leaders on how to enhance our program," said Cullen. "Additionally, SRHC is where I gained further inspiration for my thesis research and presentation style. The wide range of student presentations exposed me to topics outside of my field of study and how honors programs differ among universities," she added.  
"SRHC gave me the opportunity to connect with students that have similar academic goals and experiences with campus involvement. It allowed me to share how my involvement in multiple campus organizations have enriched my academic and social environment," said Villanueva.  
Dr. Stockley was also a panelist for a roundtable entitled, "Navigating the Transition from Program to College." The panel discussed the role of strategic planning, programmatic data, professional development, curricular planning, and administrative support for honors programs considering the transition to an honors college. 
"SRHC is an excellent opportunity for our students to share their experiences – the successes and failures – with the rest of the honors community as well as for our students to learn about the innovative strategies implemented by other programs to improve our own program. The ULM Honors Program is a great program, but we are always looking for ways to improve. I was impressed by the presentations of our students, the questions they answered, and the quality of connections they fostered with other programs from across the nation."  
Attending the conference were honors students and administrators from colleges and universities across the southern region of the United States. 
The Southern Regional Honors Council is an educational organization that promotes and advances Honors Programs and Honors Colleges in the southern United States. SRHC currently comprises over 100 member institutions, hosts an annual conference, publishes a literary arts journal Sanctuary, and provides a variety of grants to support student efforts to engage in NCHC-sponsored experiential learning as well as leadership in honors organizations.  
About the ULM Honors Program 
The ULM Honors Program is a unique program within ULM that seeks intellectually curious students who desire to challenge themselves with new ideas and work with similarly motivated students. The program is open to all majors and works within all degree programs. Honors students are exposed to more in-depth topics and work closely with faculty in smaller courses. 
For more information about the Honors Program contact Dr. Joshua Stockley at stockley@ulm.edu or 318-342-3216 or visit ulm.edu/honors.