Published January 27, 2023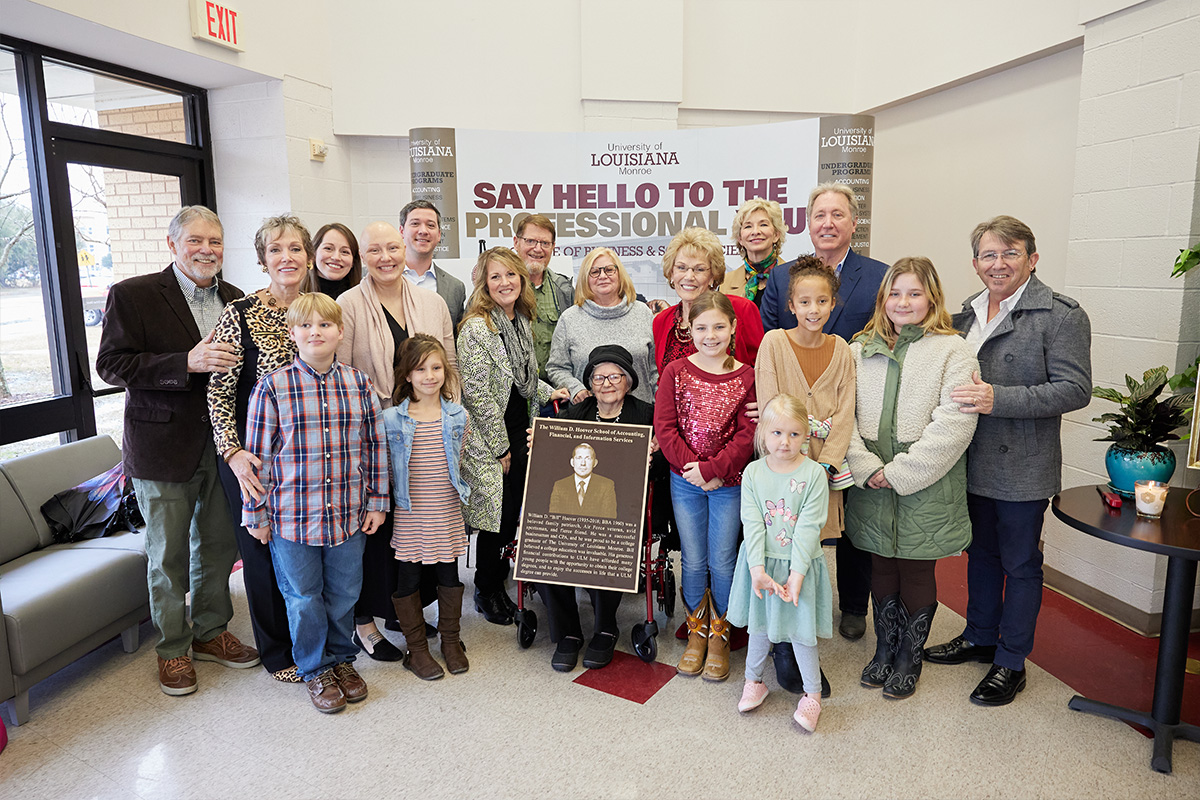 CAPTION:Members of the Hoover family pose with a rendering of the plaque that will be installed in Hemphill Hall to commemorate the naming of The William D. Hoover School of Accounting, Financial, and Information Services. Paul Ware/ULM Photo Services 
---
MONROE, LA – The University of Louisiana Monroe held a ceremony on January 24, 2023 to unveil installations that will commemorate the William D. Hoover School of Accounting, Financial, and Information Services. The school is housed in the College of Business and Social Sciences, located in Hemphill Hall.  
Members of the Hoover family were on hand to honor the legacy of Mr. Hoover and the contributions he made to ULM and the local business community.  
The Hoover School signage includes prominent lettering applied to the exterior of Hemphill Hall, a banner hanging in the lobby of the building, and a plaque at the entrance of the Hoover School's offices.  
The text of the plaque reads: "William D. 'Bill' Hoover (1935-2018; BBA 1960) was a beloved family patriarch, Air Force veteran, avid sportsman, and fierce friend. He was a successful businessman and CPA, and he was proud to be a college graduate of The University of Louisiana Monroe. Bill believed a college education was invaluable. His generous financial contributions to ULM have afforded many young people with the opportunity to obtain their college degrees, and to enjoy the successes in life that a ULM degree can provide." 
William D. Hoover, or "Bill" to friends and family, earned a Bachelor of Business Administration in 1960 from ULM, which was then named Northeast Louisiana State College. Prior to receiving his degree, Mr. Hoover served in the U.S. Air Force during the Korean War. He and his wife Lois raised three children: Garry, Terri, and Gayle.  
Hoover was a CPA in Northeast Louisiana, but also used his knowledge to guide his investments in several start-up businesses in the area. He was instrumental in starting Long Distance Savers with Nolan, Montgomery, and Chellette and worked with Clarke Williams at the beginning of CenturyTel, now known as Lumen.  
According to a biography provided by the Hoover family, Mr. Hoover "believed a college education would enable you to build your dreams." Mr. Hoover instilled to his children and grandchildren that not graduating from college was "not an option." His financial help not only secured the ability for future generations to attend college, but he also supported extended family and friends to aid their pursuit of a college degree. 
More photos from the event can be found at photos.ulm.edu/p731044332.