Published May 5, 2023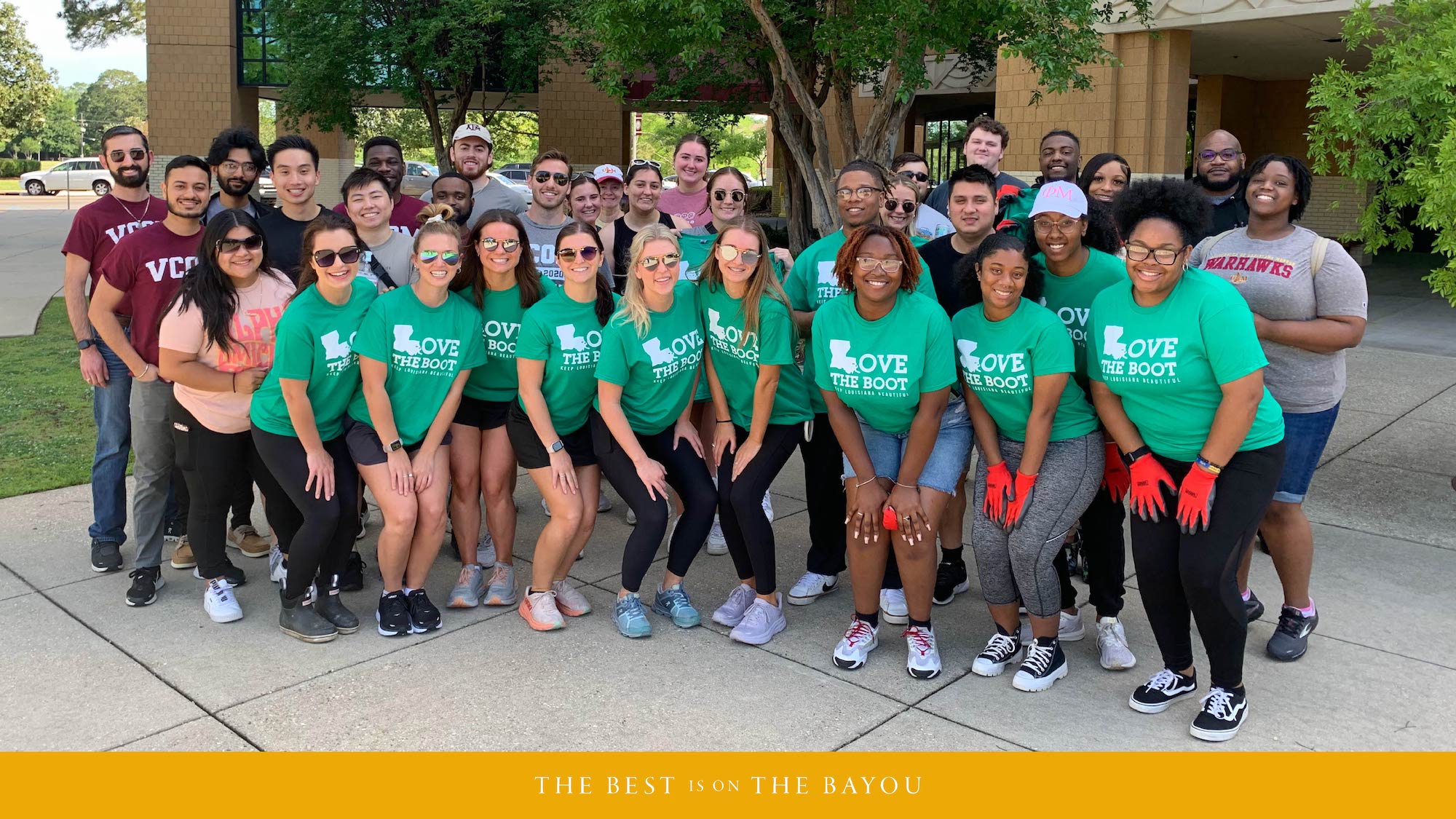 CAPTION: 37 students, faculty, and staff from ULM and VCOM gathered for a campus cleanup day on Earth Day, April 22, 2023. The group collected over 30 pounds of litter from the campus grounds. 
---
MONROE, LA – On Saturday, April 22, 2023, Keep ULM Beautiful hosted Love the ULM Campus Cleanup as part of Love the Boot Week, Louisiana's largest litter cleanup effort held in conjunction with Earth Week, April 17-23, 2023. Love the Boot Week is organized by Keep Louisiana Beautiful and supported by the Office of the Lieutenant Governor. 
"We had 37 participants, including VCOM and ULM students and ULM faculty and staff," said Joel Sinclair, Campus Activities Board Advisor. "It is exciting to see that they want to fight Louisiana's litter problem and take care of ULM. And today is Earth Day, what better way is there to celebrate!" added Sinclair.  
Participants met at Scott Plaza to begin the cleanup, where gloves, trash bags and handheld grabbing tools were made available. Participants were allowed to select an area on the campus to walk through and collect litter. 
"In today's cleanup, I was able to participate in a minor but effective beautification to campus. I collected trash along Stubbs Hall, Brown Gym, and the corresponding parking lots. The types of trash I noted were cigarette butts, weed eater strings, and candy wrappers," said Estrella Hernandez, a Junior, College of Health Sciences student. "I encourage all who visit and work on campus to remember to clean up after themselves, use the trash cans located outside each building and to always keep Louisiana beautiful." 
Litter is not a new problem for Louisiana's 64 parishes. For decades, litter has become increasingly detrimental to our communities, leading to a multitude of repercussions such as:  
Blight on natural areas, cities, towns, roadways, and waterways 

Death of wildlife due to polluted habitats 

Decline in quality of life in neighborhoods 

A negative impact on economic development, infrastructure, and tourism 

Flooding caused by storm drains clogged with litter and debris 
Despite spending over $40 million on litter abatement each year, Louisiana is still experiencing shocking levels of litter statewide. 
"Sportsman's Paradise won't be litter-free overnight, but by coming together during Love the Boot Week, we can bring awareness to the issue and take steps toward achieving a more beautiful Louisiana," says Susan Russell, Executive Director of Keep Louisiana Beautiful.  
Following the conclusion of Love the Boot Week, Keep Louisiana Beautiful will release an outcomes report summarizing the collective impact of the registered cleanup and beautification events. This report will include the total number of events, volunteers, bags of trash collected, pounds of trash collected, and other relevant statistics. 
"Today, after we calculated and subtracted the weight of the trash bags used, we collected approximately 30 pounds of litter and debris from the ULM campus. That's a lot and I know there more out there," said Andrew Hardee, Student Government Association Advisor. "We look forward to organizing more cleanup events to engage our students, faculty, staff, and community partners to maintain and improve the experience of our beautiful campus here on the bayou." 
Love the Boot Week is made possible by the Office of the Lieutenant Governor, Coca-Cola, and Blue Cross and Blue Shield of Louisiana. Love the ULM Campus Cleanup was made possible with the support of VCOM LA Internal Medicine Club and the ULM Office of Residential Life. 
For more information about Love the Boot Week, visit www.lovetheboot.org.  
About Keep ULM Beautiful 
Keep ULM Beautiful, formed in October 2022, is a Keep Louisiana Beautiful University Affiliate, which is a special mark of distinction and represents a commitment by the university to continual improvement in sustainability and environmental issues, promoting student environmental stewardship and engagement, and rigorous outcome measurement. Keep ULM Beautiful will pursue opportunities to improve the campus to meet the needs of the changing living and educational environment of students, faculty, and staff by encouraging litter abatement, recycling, and sustainability practices. 
About Keep Louisiana Beautiful 
Keep Louisiana Beautiful is an anti‐litter and community improvement non-profit organization focused on achieving a clean and beautiful Louisiana through education, enforcement, public awareness, and community engagement. Keep Louisiana Beautiful is affiliated with Keep America Beautiful and is comprised of a statewide network of 40 Community Affiliates and seven University Affiliates. Learn more at www.keeplouisianabeautiful.org.