Published November 3, 2023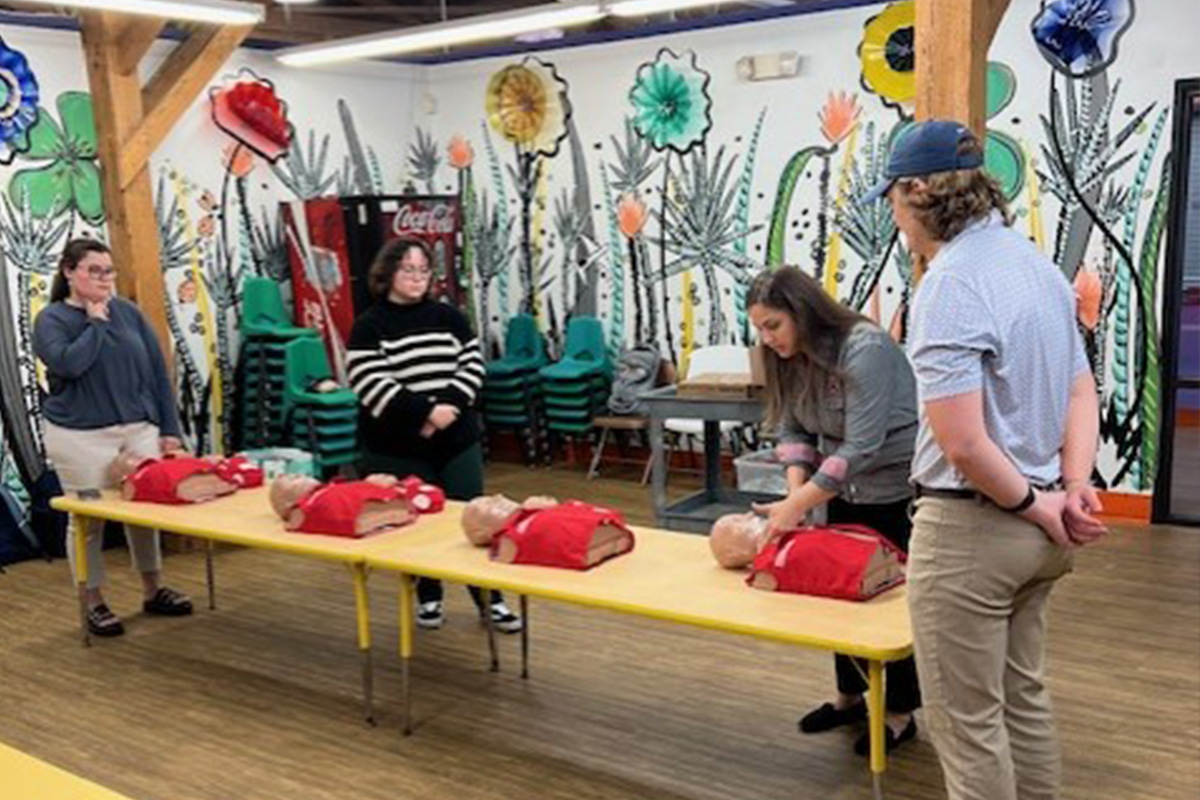 CAPTION: Members of the LEARN team demonstrate  lifesaving techniques at a training at the Northeast Louisiana Children's Museum on October 19, 2023.  
---
MONROE, LA – The University of Louisiana Monroe College of Pharmacy partnered with the Northeast Louisiana Children's Museum on October 19, 2023, to train the community with an event that is part of the LEARN program. LEARN stands for Louisiana Educational Awareness for Rescue Needs. The training allowed teens and adults to learn more about Basic Life Support (BLS), as well as EpiPen and Naloxone training, and tourniquet application.  
Dr. Jennifer Hoh is a Clinical Assistant Professor in the College of Pharmacy and the leader of the LEARN team. "In an emergency situation, timing is everything," said Hoh. "It is essential for community members to recognize an emergency is occurring and know how to act. Through LEARN, the College of Pharmacy is hoping to equip the community with the knowledge needed to remain calm and assist, whether it is through calling 911 or by providing the life-saving techniques we teach in our program," she added.  
Hoh said there were about 25 attendees at the event. "The ladies at the Children's Museum were gracious hosts, opening their doors to the community and working with us to set up space for our program. I want to truly thank them for making our event a success," said Hoh.  
The LEARN program has been funded by the ULM Opportunity Fund, which was founded by ULM President Dr. Ron Berry and First Lady Dr. Christine Berry. The Opportunity Fund is a flexible fund to support a wide variety of activities not typically funded through individual colleges or specific departments. Funded projects are selected by a committee after a review process.  
"Our LEARN team would like to thank the support of President Berry and Dr. Christine Berry, as well as the donors of ULM's Opportunity Fund," said Hoh. "We have been able to do what we love, educating our communities on remaining calm in emergency situations, through their generosity. We would also like to thank our community participants; our program has been met with great success through your willingness to learn," she added.  
The LEARN team will continue to provide trainings across the state, including upcoming events in Caldwell Parish, the New Orleans area, and the Shreveport area. They are also scheduling sessions for 2024.  
If anyone is interested in having the LEARN team educate their community or small group, they can contact Dr. Jennifer Hoh at hoh@ulm.edu. "We would love to reach as many learners as possible to share the importance of emergency preparedness," said Hoh.