Published February 8, 2022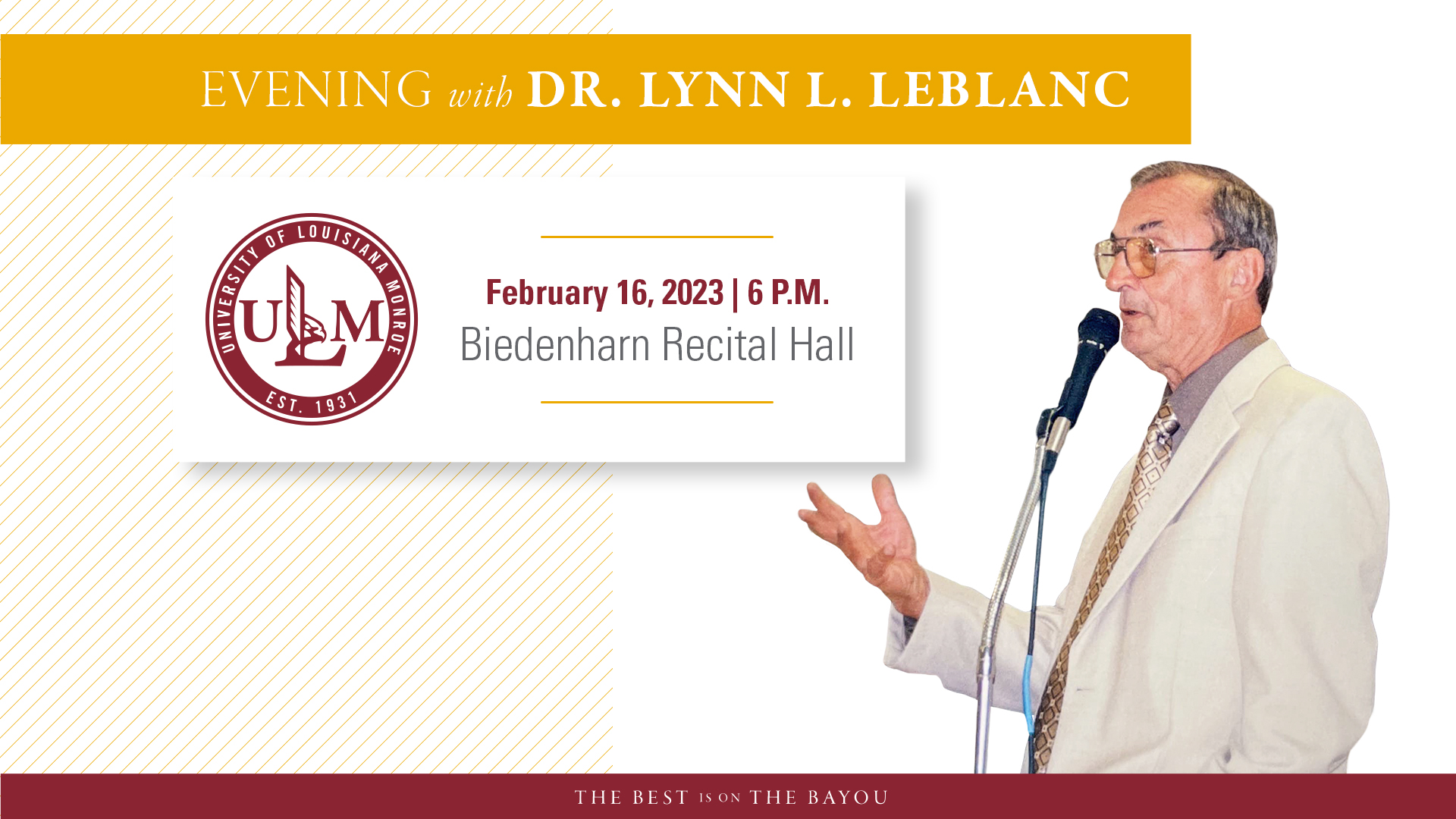 MONROE, LA – The ULM Foundation presents "An Evening with Dr. Lynn L. LeBlanc" Thursday, February 16, at 6:00 p.m. in Biedenharn Recital Hall on the ULM campus. Dr. LeBlanc is Professor Emeritus of Atmospheric Sciences and was integral to the program at ULM for decades. ULM is the only university in Louisiana with an Atmospheric Sciences program. Dr. LeBlanc will share the history of the program at ULM and how it evolved over the years.  
"It is an honor for Dr. LeBlanc to come back and share a wealth of knowledge with our students and faculty," said ULM Advancement Officer Missy Amy. 
The format for the evening will be an interview style conducted by KTVE/KARD Chief Meteorologist Jarod Floyd. Floyd is an alumnus of the ULM Atmospheric Science program.  
"I'll be honest, when I was asked to be part of this event, I was quite overwhelmed," said Floyd. "To sit down and discuss one of the most successful careers in meteorological history is an absolute privilege. Dr. LeBlanc is truly one of the founders of weather forecasting as we know it today. He's also been responsible for teaching meteorologists that serve the public daily across the country, and across the world," Floyd added.  
Floyd described Dr. LeBlanc as one of the kindest people and brightest minds he's ever met. "He has an amazing talent to explain very complicated material in such a patient manner. I think most students under him have spent their entire careers trying to make him proud. That's how highly we think of him," said Floyd.  
LeBlanc joined the faculty at ULM in 1983 as an assistant professor of atmospheric sciences and Director of the Climatic Research Center. He was promoted to professor in 1993. Under his direction, the department modernized the weather station and established an upgraded computer laboratory. He saw his own program designated a "Program of Unique Excellence" by the Board of Regents in the early 1990's-a distinction it has since retained. 
In addition to teaching courses, LeBlanc served as a faculty advisor, handled most of the administrative duties associated with the program, recruited, and worked as a member of several committees university-wide. LeBlanc has given many presentations as a member of the ULM Speakers and Artists Bureau. He has been involved with several grants and has been active in numerous civic and professional organizations. LeBlanc retired at the end of the 2004-2005 academic year. 
Floyd said Dr. LeBlanc is a treasure trove of knowledge for anyone who has ever been interested in weather or weather forecasting. "He was forecasting weather without computers, something that is absolutely unheard of these days. He is a history book of weather and weather forecasting, and I can't wait to spend the day with him," said Floyd.  
The event will be followed immediately by a reception in Biedenharn Hall, room 134. The event is free to the public, but donations are welcome. Any donations will go toward the Lynn L. LeBlanc Scholarship Fund.