Published March 7, 2023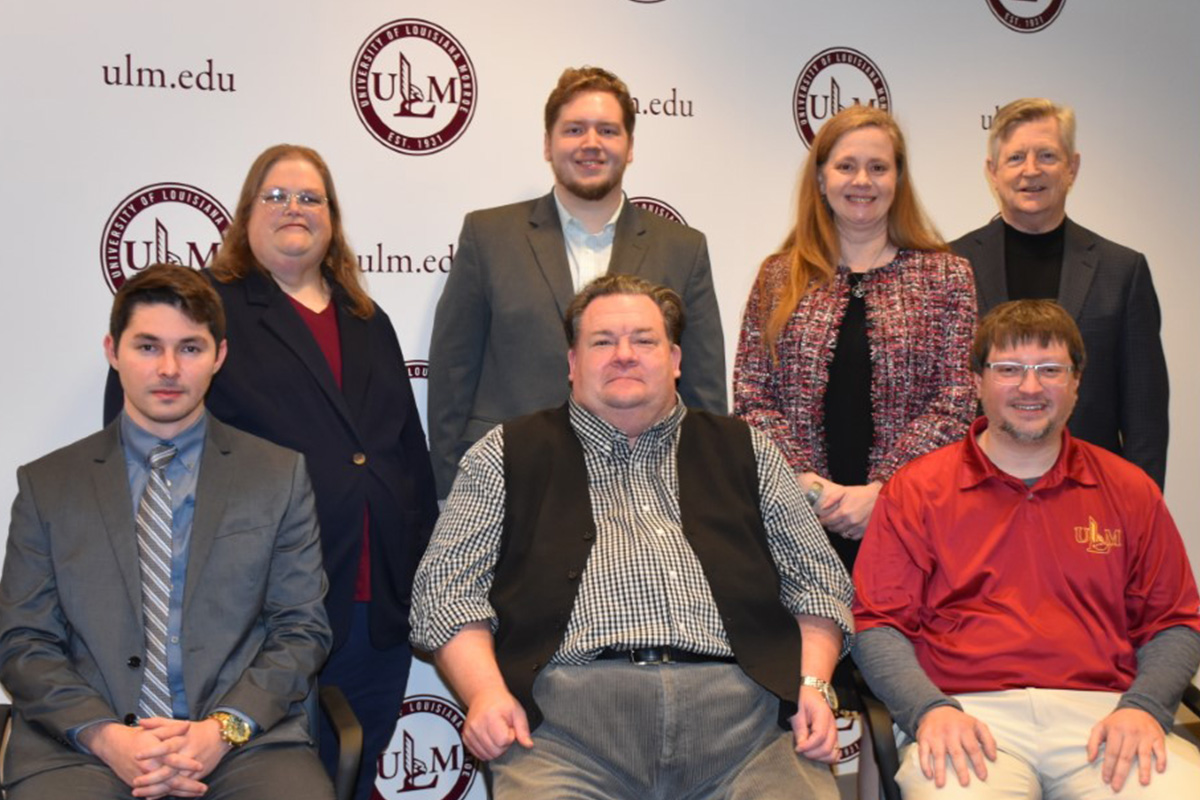 CAPTION: Back row L-R: Joanna Hunter, Owen Reppond, Dr. Leigh Hersey, Dr. Pearson Cross; Front row L-R: Anthony Trejo, Dr. John Sutherlin, Dr. Daniel Hummel 
---
MONROE, LA – The University of Louisiana Monroe proudly hosted the annual meeting of the Louisiana Political Science Association on Friday, February 3, in the 6th floor Conference Room of the University Library. Participants from throughout the state presented original research on a variety of topics, including International Relations, Comparative Politics, American Politics, and Public Administration. Presenters included undergraduate and graduate students as well as faculty members from several different Louisiana universities and programs, including ULM Political Science.  
Joanna Hunter is a ULM MPA alumna and current Louisiana Tech doctoral student who presented at the conference. "As a doctoral student, LPSA allowed me to present a piece of my research in an environment that provides feedback and encouragement. It was also great to hear other students and faculty from across the state share their knowledge. I enjoyed the experience," said Hunter. 
The annual meeting also included presentations from undergraduate students like ULM Political Science major Owen Reppond. Reppond says the conference broadened his view of the field of political science and allowed him to receive valuable feedback from professors. "This type of collaboration can be extremely useful for a political scientist who is hoping to polish their research. I especially enjoyed the atmosphere of the meeting, being that everyone was very kind and respectful to one another and provided only constructive criticism and advice," he added.  
Dr. Jennifer Dumas, Assistant Professor of Political Science at ULM, serves as the current President of the Louisiana Political Science Association. According to Dr. Dumas, "It is critical that we bring together scholars from throughout the state, from undergraduates to full professors, to demonstrate the kind of talent and exciting research Louisiana is capable of producing. Conferences like this give participants the opportunity to workshop their ideas before an audience that is truly committed to offering constructive criticism, elevating the discourse, and sharing knowledge." 
Reppond said that the conference left him feeling proud to be a part of ULM's Political Science Program. "I hope that more students take advantage of this amazing experience in the coming years. I look forward to seeing the future of LPSA and encourage all students of political science to try to experience the conference for themselves," he said.