Published March 1, 2023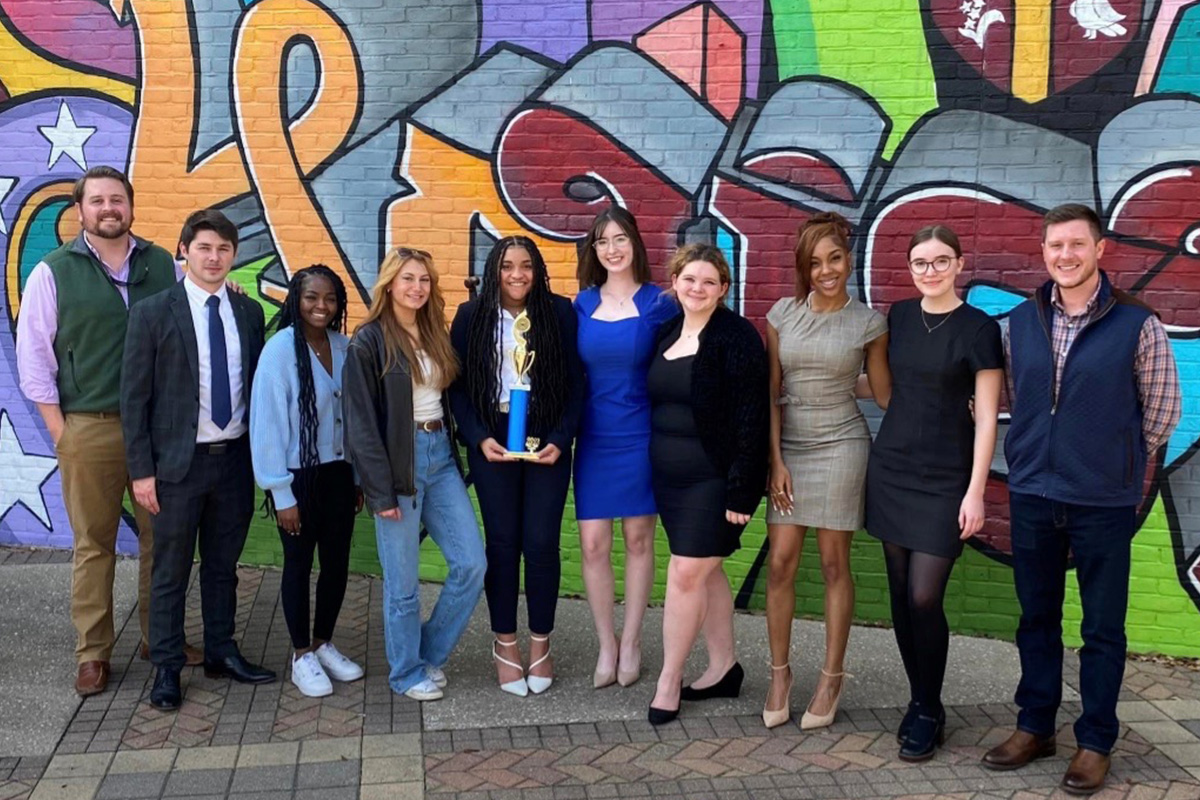 CAPTION: ULM Mock Trial Maroon Team (L-R): Coach Kyle Moore, Anthony Trejo, Kerrington Blow, Hannah Habisreitinger, Captain Katie Meno, Co-Captain Chloe Dustin, Chloe Eagan, Madisyn Rideau, Olivia Wyatt, and Coach Ryan Lloyd. 
---
MONROE, LA – After a 2-year absence during COVID, the ULM Mock Trial Maroon team has advanced to the Opening Round Championship Series (ORCS,) the second round of the American Mock Trial Association's national tournament. The team secured their spot in the ORCS after earning the second-highest team ranking at the Houston Regional Tournament from February 17-19.  
The ULM Mock Trial Maroon team was led by the performances of Chloe Dustin, named Best Attorney and Hannah Habisreitinger, named Best Witness. After starting 2-2, they swept both of their last two rounds against Baylor and Rice to finish 6-2.   
Dustin, a junior from West Monroe, scored 207 points over 8 ballots, at a clip of 8.63 points out of 10 per ballot.  "Regionals gave us a chance to compete with the best of the best and we're only getting started," said Dustin. "It was a weekend filled with a lot of emotions and I look forward to competing at ORCS with the best team ever." 
Habisreitinger, a freshman, competed across 8 ballots as a witness where she scored at an incredible rate of 8.88 points out of 10 per ballot.  "I was so honored to represent ULM in our region and now beyond!" said Habisreitinger. "I am extremely proud to be a part of this team, and of all of our hard work and accomplishments." 
The ULM Mock Trial Team consists of two teams: Maroon and Gold. The Gold team led by Senior Maggie Eubanks of Ouachita came up short in the last round with Texas A&M. A win would have also qualified Gold for ORCS.   
In the 10 years of its existence, ULM has advanced 7 times to ORCS.  The team travels to Arlington, Texas on March 10-12 to try to earn the right to compete in the National Finals in Memphis.  
The Maroon Team is coached by Kyle Moore of Cotton, Bolton, Hoychick & Doughty, LLP, and Ryan Lloyd of Gordon McKernan Injury Attorneys. Moore said, "I could not be more excited for or proud of this team. All of the students put in countless hours preparing for regionals, and their hard work definitely paid off."