Published January 12, 2023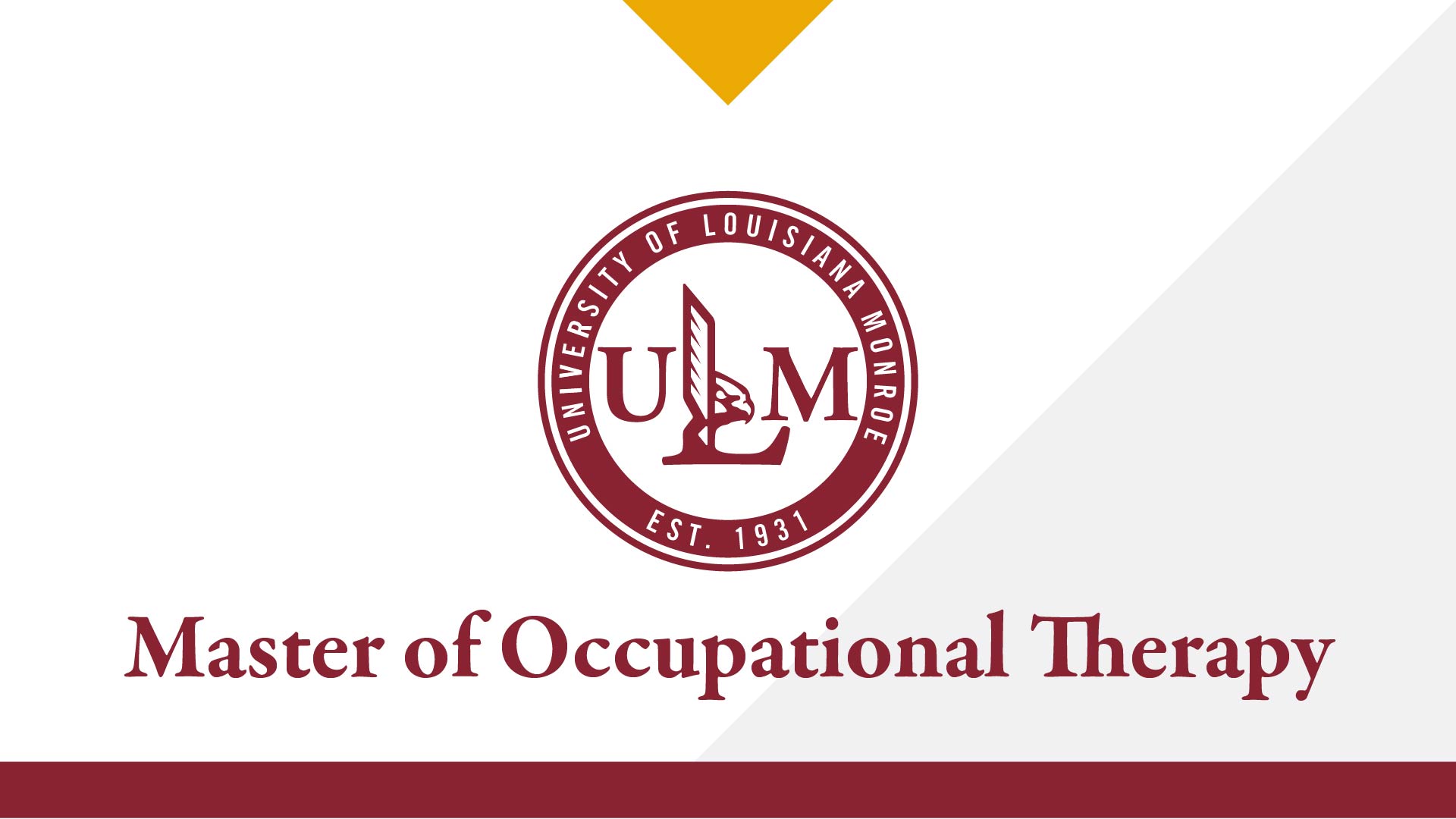 MONROE, LA – The University of Louisiana Monroe Master of Occupational Therapy Program was recently granted full accreditation by the Accreditation Council on Occupational Therapy Education (ACOTE) during its December 2022 meeting. The accreditation comes after a year-long self-study process and an on-site review by ACOTE in August 2022. The ULM MOT program received the maximum accreditation level of 10 years, indicating that the program showed "no areas of noncompliance" and "demonstrated exceptional educational quality."  
ULM MOT Program Director Dr. Patti Calk says she is incredibly proud of the MOT faculty and students for this accomplishment. "This was a strenuous 2-year process through the self-study and preparation for the on-site visit," said Calk. "This included a full curriculum review, revision of our mission, philosophy, and curriculum design to reflect the needs of our university and our unique student population, and development of a new strategic plan," she added.  
Dr. Donald Simpson, Dean of The College of Health Sciences, said, "The Master of Occupational Therapy (MOT) Bridge Program has consistently been one of the programs with the highest enrollment at the University of Louisiana Monroe and is one of only 15 accredited Bridge Programs in the United States for Occupational Therapy Assistants seeking to become Occupational Therapists.  Our program has been recognized by multiple sources as one of the best in the nation.  To receive the maximum accreditation of 10 years from ACOTE demonstrates that standards of quality and integrity have not only been met but exceeded." 
Now in its 10th year, the ULM MOT Program was awarded candidacy accreditation in 2013 and full seven-year accreditation in 2015. The program was granted an accreditation extension by ACOTE in 2021 due to an excellent compliance record. 36 students graduated from the program in December 2022 and there are currently a total of 90 students enrolled in the program across four cohorts.  
Dr. Calk would like to recognize all members of the MOT faculty for their contributions to the accreditation process. "This was completely a group effort and if it were not for the dedicated, compassionate, and knowledgeable faculty, we would not have received such accolades," said Calk.  
ULM Vice President of Academic Affairs and Provost Dr. Mark Arant also praised the faculty. "This is a testament to the quality and commitment of our faculty and administration in MOT and the College of Health Sciences.  Our students are learning from some of the best faculty in the country.  It is because of our faculty that we can look forward to the future with confidence," said Arant.   
The MOT team includes Dr. Carolyn Murphy, Academic Fieldwork Coordinator; faculty members Dr. Donna Eichhorn, Dr. Barbara Johnson, Dr. Emily Mike, Dr. Emilee Sasser, Dr. JoEllen Showers, Dr. Jamie Sikes, and Dr. Alvetta Smith; and adjunct faculty member Dr. William Wells. Dr. Calk also would like to thank President Dr. Ronald Berry, Vice President of Academic Affairs and Provost Dr. Mark Arant, Dean of the College of Health Sciences Dr. Don Simpson, Associate Dean of the College of Health Sciences Dr. Paula Griswold, and School of Allied Health Director Dr. Jennifer Whited.  
The ACOTE on-site evaluation report lauded the program in several areas, stating, "The faculty are applauded for their dedication to the on-campus, pro-bono occupational therapy adult and pediatric clinics. This has resulted in skilled occupational therapy services for underserved members within the community." They also highlighted the work of the students. "The students are acknowledged for their dedication and commitment to the occupational therapy program. It is noted that these students maintain employment on a limited basis as they are completing their degrees. This has resulted in graduates who are sought after for their ability to bring experience and new skills to their employers," the ACOTE report said.  
Dr. Calk says she is proud that the MOT Program received the maximum accreditation level of 10 years. "Our students can be assured of receiving a quality education and having the skills and knowledge to prepare them to be occupational therapists," she said.