Published April 27, 2023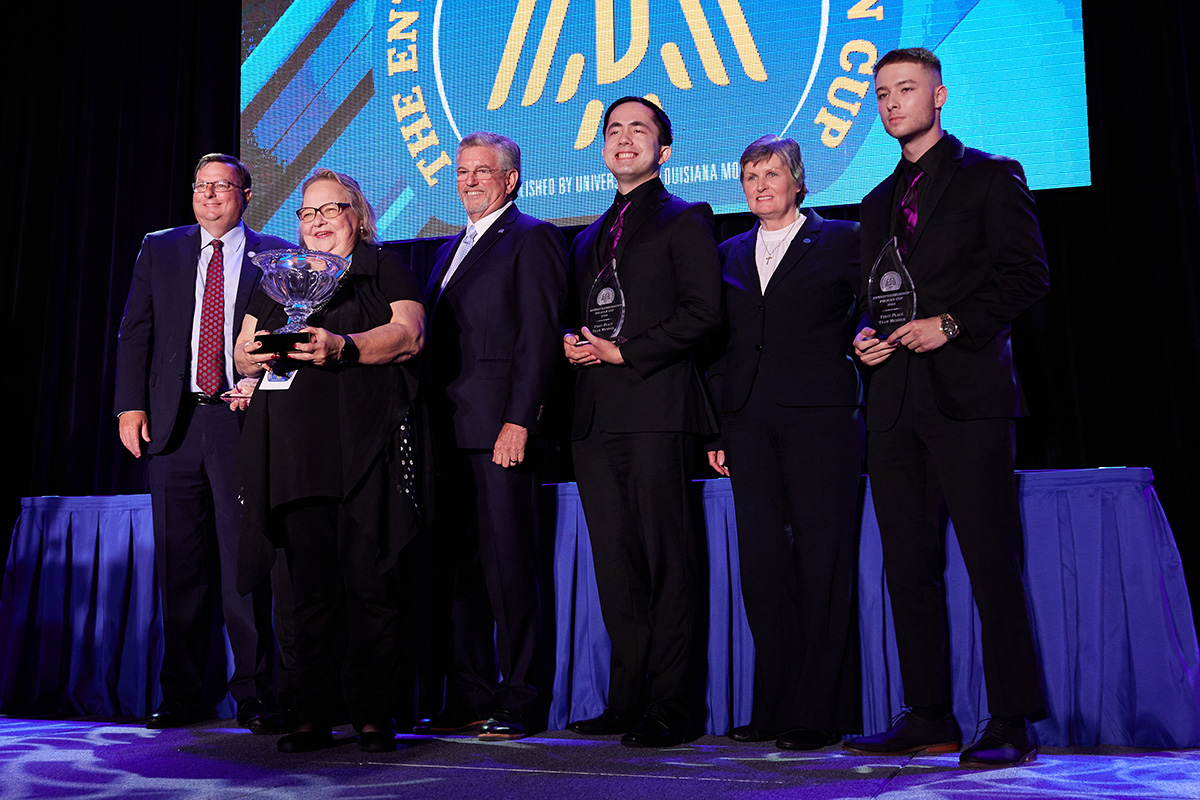 CAPTION: 2023 Entrepreneurship Pelican Cup first-place winners Rise & Rotate pose with their trophies. The team from Northwestern State University took home the top prize of $25,000. 
---
MONROE, LA – The Entrepreneurship Pelican Cup hosted its second annual awards luncheon on April 21, 2023, at ULM's Bayou Pointe Event Center. The luncheon was the culmination of the entrepreneurship competition, with $61,000 in prize money awarded to the three top teams, including their faculty advisors, and the winner of the live elevator pitch competition, voted on by attendees of the luncheon.  
Rise & Rotate, a team comprised of students from Northwestern State University, took home the first-place prize of $25,000. Their business plan centers around a device that will help patients with limited mobility more easily and safely rise from a seated position and rotate to a bed or a chair. Rise & Rotate features team leaderMatthew Gamble, team membersHayden Stanley and Alexander Brown, and advisor Elizabeth Prejean, DBA. 
The second-place prize of $15,000 was awarded to GloBowl, a team from ULM. GloBowl is a company whose purpose is to reduce the use of plastic by creating a sustainable, reusable, to-go food container.  GloBowl features team leaderJanet Stopka, team membersOlaia Becerril Alvarez, Victoria Abrams, Garrett Kahmann and advisor Veronika Humphries, JD, LLM. 
Third place and a prize of $10,000 went to ExploreMate, a team from ULM. Explore Mate is an app that helps users find a local person to act as a tour guide when traveling to new locations. Explore Mate features team leaderThalama Malla, team members Prajwol Pachhai, Ramesh Ranabhat, Manish Katuwal and advisor Joyce Zhou, Ph. D. 
The advisors from each of the top three teams also each received a $1,000 prize.  
The winner of the live elevator pitch competition was Garrett Kahmann from GloBowl. Kahmann won the $2,000 prize after receiving the most votes from attendees of the luncheon, who voted via text message after hearing 90-second pitches from each team.  
In its second year, The Entrepreneurship Pelican Cup expanded its eligibility and was open to teams from ULM, VCOM, Grambling State, Louisiana Tech, Northwestern State, Centenary College, and LSU-Shreveport.  
During her remarks at the luncheon, ULM Dean of the College of Business and Social Sciences Dr. Michelle McEacharn expressed the goal of expanding the competition statewide.  
"This really is the beginning. Our original goal was that in five years we would be across the state of Louisiana. We will be across the state next year," said McEacharn.  
Dhu Thompson, Premier Sponsor and Founder of The Entrepreneurship Pelican Cup also provided remarks at the luncheon.  
After thanking those who helped make the competition happen and recounting his own entrepreneurial experiences, Thompson spoke directly to the student competitors. "You have the opportunity to change the world, and you're going to change it with the gift of your entrepreneurial spirit," said Thompson. "Never lose sight of the true lessons that will be learned through your failures. Don't be afraid of failures and mistakes, learn from them," he said.
Thompson closed by reminding the students to practice humility. "Remember, the person beside you knows something you don't," he said.  
About The Entrepreneurship Pelican Cup 
Open to all majors with cash prizes totaling $61,000, The Entrepreneurship Pelican Cup is the premiere business plan competition for Louisiana. It provides an opportunity for students to develop critical thinking, team building, presentation, and other soft skills which are all important to career growth.  The goal is to inspire participants and the community to think entrepreneurially by rewarding creativity, professionalism, and hard work.  This year's competition was open to undergraduate and graduate students of ULM, VCOM, Grambling State, Louisiana Tech, Northwestern State, Centenary College, and LSU-Shreveport. 
Eighteen teams submitted written, formal business plans which were reviewed and scored independently by a panel of twelve volunteer judges made up of business owners and investors. The panel of judges later deliberated in groups to select the six finalist teams.  
The six finalist teams presented in-person oral presentations, held on April 4th at The Hangar on the ULM campus. Five volunteer judges dedicated their time to listening to each team present their business plan and supporting visuals. The judges then deliberated and selected the first, second, and third place winners.  
The Entrepreneurship Pelican Cup was founded by distinguished ULM alumnus Dhu Thompson. Thompson is the founder, past owner, and former chairman of the board for Delta Plastics, producer of agricultural irrigation tubing, and the largest recycler of plastics in Arkansas. He is also the former owner and past chairman of the board for Revolution Bag that manufactures EPA-compliant trashcan liners. Thompson's honors include 2004 Arkansas Business Executive of the Year and SBA Person of the Year. In 2019 he sold the Revolution brands to a New York private equity firm and now focuses on entrepreneurship growth in Arkansas and Louisiana.  Earlier in 2023, Thompson received the Warhawk Ambassador Award, one of ULM's highest honors. The Warhawk Ambassador award is reserved for individuals whose interests and loyalty are evident in their deeds and actions, reflecting and recognizing the importance of ULM in our local and global community.  
For more information about The Entrepreneurship Pelican Cup, visit www.ulm.edu/pelicancup