Published February 27, 2023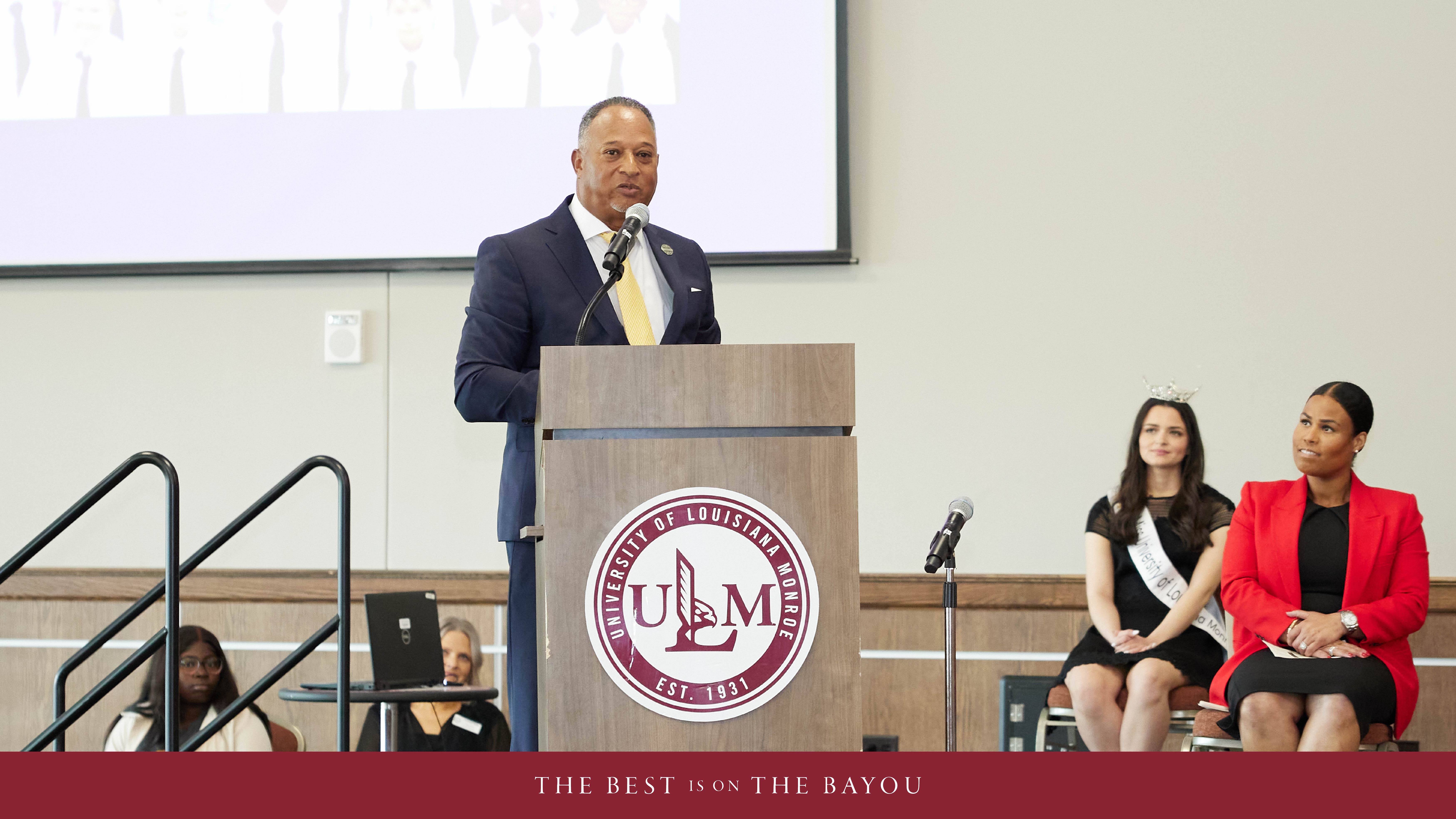 MONROE, LA – Nationally renowned author, speaker, and educator Dr. Stephen Peters delivered the keynote address at ULM's annual Black History Program on February 24. Peters' speech highlighted the importance of education and literacy in his personal story, and also black history in America. 
"We're here to honor the humanity, the hard work, the blood, sweat, and tears of people who went before us who didn't think about themselves first; they thought about society," said Peters. 
Peters has spent over 37 years in the education realm as a classroom teacher, assistant principal, principal, director of secondary education, and superintendent. Most of his experiences have been in schools with significant, quick growth, resulting in both national and state blue-ribbon distinction. 
Emphasizing literacy as a key to success for everyone, Peters noted that he realized earlier in his career that "poverty is the enemy of education, but literacy is the vaccine for poverty." He challenged the crowd with the question "What are you reading?" "If you can't tell somebody what you're reading, you need to step up because you are not becoming the best version of yourself. People who walk in their calling understand the importance of being well-read," he added.  
Peters recounted his experience as a college basketball standout who was required to shift his professional focus to education after an injury shortened his athletic career. "In many respects, as I think back, I could have given up. I could have taken a different route, but I was just getting started," said Peters of that time in his life. "To whom much is given, much is required, and I understood that assignment, and I'm still walking in that today." 
Peters told of how his bestselling book "Do You Know Enough About Me to Teach Me?" afforded him the opportunity to appear on The Oprah Winfrey Show and his work as principal of Orangeburg-Wilkinson High School in South Carolina was featured in the award-winning BBC documentary American High School.  
Encouraging the attendees to continually think of others, Peters said that "highly effective leaders don't create followers, we develop more leaders." "Don't allow all of the access that you have before you to go to waste. Access it and then activate it, but not with success on your mind for you. Success for me says that every generation in our families should get better." 
The program was presented by The University of Louisiana Monroe Cultural Diversity Council and the Office of International Student Programs and Cultural Affairs. The program included a performance by students from Dazzle Dance Company and Mr. ULM Colby Pogue provided a saxophone rendition of Mariah Carey's "Hero."  
The program concluded with the presentation of awards. The Diversity, Equity, and Inclusion Spotlight Award was presented to Erick Burton, Enrollment Services Specialist in ULM's Office of Recruitment. The Dr. Pamela H. Saulsberry Trailblazer Award was presented to Dr. Alicia Rollins. Rollins received her Ed. D. from ULM and currently serves as a Diversity, Equity, and Inclusion fellow for the University. She also works as an Anatomical Laboratory Supervisor at the Edward Via College of Osteopathic Medicine (VCOM) on the ULM campus.  
The Black History Program committee included Ms. Adewumi Ariwajoye, Ms. Kaitlin Arnett, Mr. Erick Burton, Mr. Ethan Estis, Dr. Valerie Fields, Dr. Pamela H. Saulsberry, Mr. Ahmaad Solmone, Ms. Brittney Thurman, Mrs. Gina J. White, Mrs. Faith Wilson, and Mr. Chris Williams.  
The Awards Committee included Dr. Mystee Burrell, Mr. Erick Burton, Mrs. Shonnie Hall-Trotter, Mrs. Lashonda Reese, Mrs. Sara Siereveld, Dr. John Sutherlin, and Mr. Horace Wilson. 
For more photographs from the event, click here.  
For more information about Black History Month at ULM, visit www.ulm.edu/bhm.