Published August 17, 2023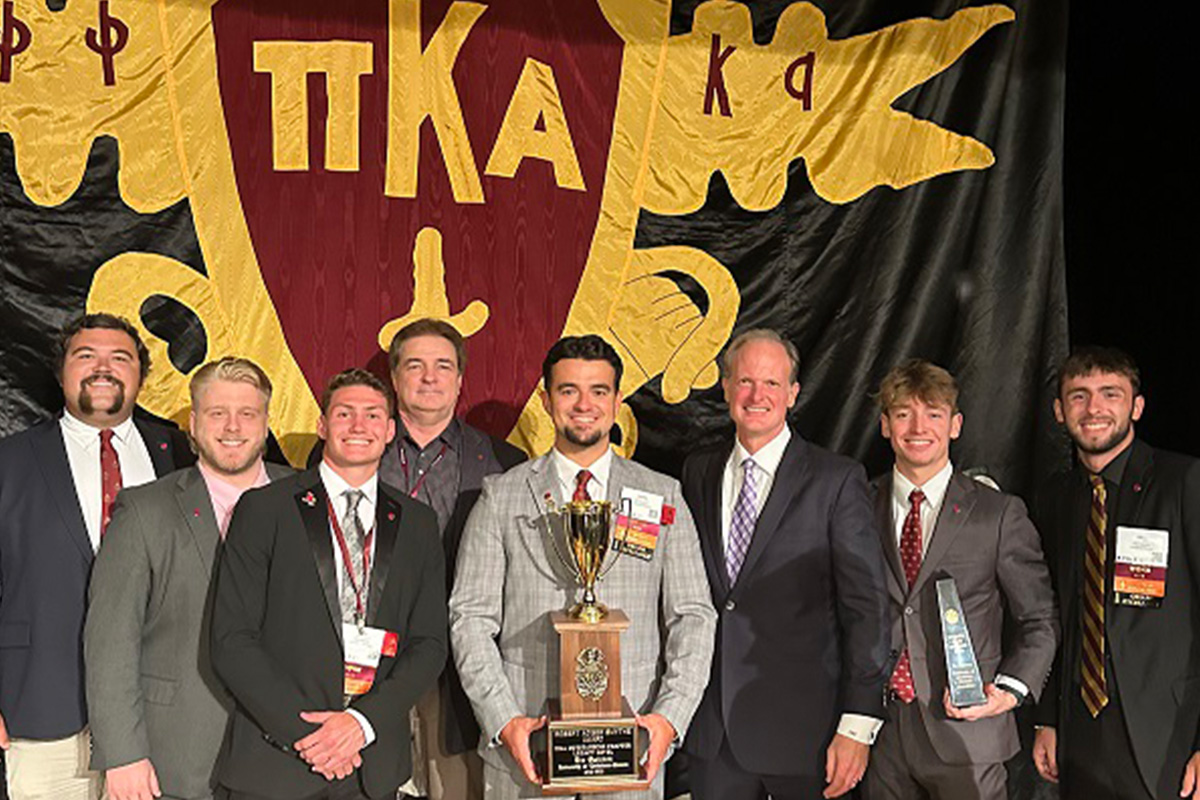 CAPTION:(L to R): New Member Advisor Jeron Medaries, Braden Moore, Cody Ponthieux, Delta Region President Tommy Walpole, Landon Trahan, Pi Kappa Alpha International President Chris Peterson, Caleb Medlin and Ethan Miller 
---
MONROE, LA – Members of the University of Louisiana Monroe's Pi Kappa Alpha Fraternity recently returned from their 155th Summer leadership event, the Thomas C. Tillar Leadership Academy where the group won their fourth consecutive Robert A. Smythe Award. The Smythe is presented to the top 10 percent of Pi Kappa Alpha chapters each year. This win marks the 28th Smythe win in the last 32 years for the ULM Pike chapter. 
The Smythe is based upon excelling in 16 areas of chapter operations including academics, community service, campus involvement, athletics, management, health and safety, new member education, accountability and alumni relations. 
Five ULM students joined Pike Alumni Advisory Board member Jeron Medaries and Pike's Delta Region president Tommy Walpole at the four-day event held in Memphis. 
"All Pi Kappa Alpha alumni are extremely proud of the chapter's outstanding streak of excellence and we will do our part to assist in ensuring they have the resources available for it to continue," said Walpole.  
During the Leadership Academy the group was recognized for earning—for the thirteenth consecutive year—an overall grade point average higher than a 3.0. 
Other highlights of the trip included the ULM chapter receiving the Raymond L. Orians Award for Chapter Excellence, which honors overall chapter performance from the previous year. This marked the chapter's 36th consecutive Orians award for the ULM Pikes. 
The group was also recognized for excellence in Financial Management, Recruitment, support of the Fraternity's Leadership program, Excellent House Management, 100% support of the International Undergraduate donor club, and an International Work Day participation award. 
Landon Trahan earned Garnet status for attending his third Pike University Leadership event and Internal Vice-President Cody Ponthieux earned Gold status for attending his fifth Pike University Leadership event.  
The ULM Pi Kappa Alpha Alumni Association won its 12th consecutive William R. Nester Outstanding Alumni Association award. This was the group's 24th time to be recognized as one of the organization's best alumni associations in North America in the last 29 years. 
Pi Kappa Alpha has 200 chapters in North America and is headquartered in Memphis, Tenn. 
The Pi Kappa Alpha chapter at ULM was founded in 1972 and is one of only eleven Pike Chapters in North America to operate more than one house on a university campus.