Published April 28, 2023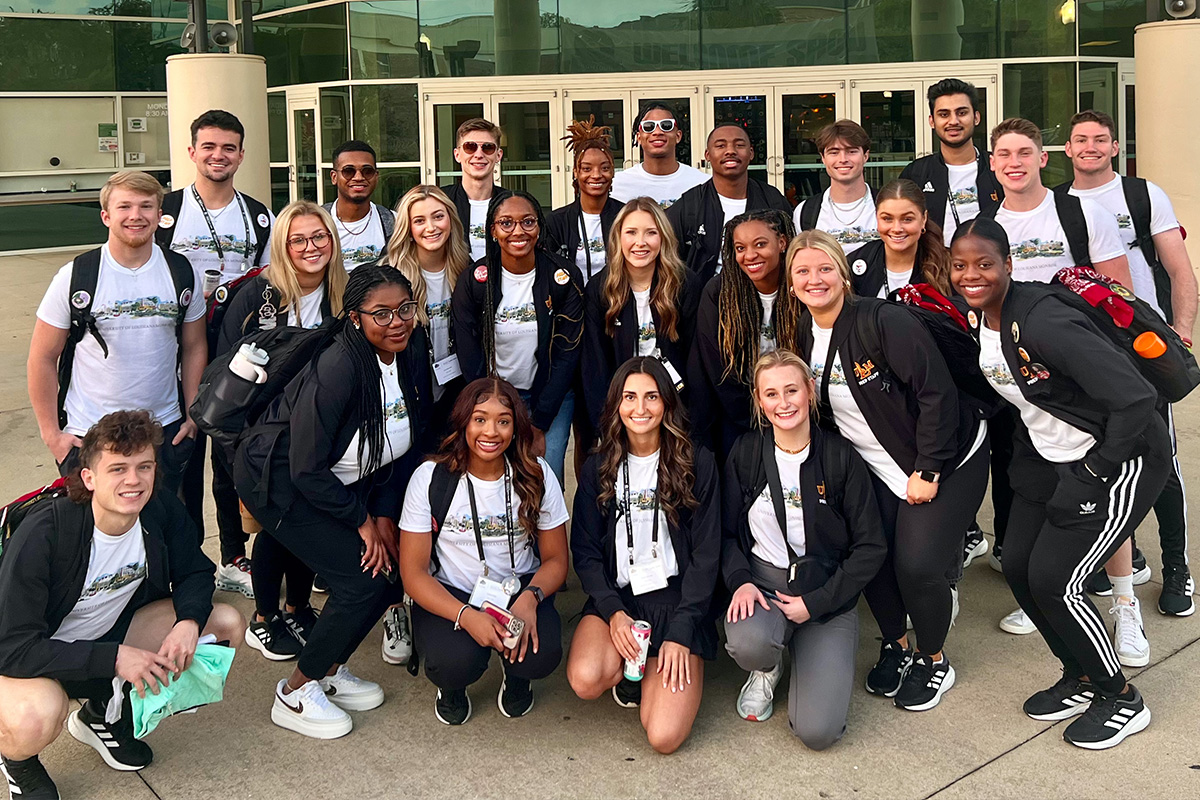 CAPTION: The ULM PREP team poses at the Southern Regional Orientation Workshop. (Back Row, L-R): Johnathan Fee, Landon Trahan, Colby Pogue, Ryan Laurence, Shae Hicks, Enrique Gonzalez, Ashon Fields, Wyatt Morgan, Muhammad Talha, Jesse Drake, Cody Ponthieux; (Middle Row, L-R): Kiwi Smith, Lily Smith, AnaaBelle Isaac, Gabrelle McLeod, Haley Belle Hearron, Raquelle Franklin, Sydney Andrews, Cat Cowsar, Amaya West; (Front Row, L-R): Garret Darden, Rachel Meredith, Olivia Rainey 
---
MONROE, LA – The University of Louisiana Monroe PREP staff recently took home first place honors in the original song competition at the annual Southern Regional Orientation Workshop (SROW), held on March 10-12, 2023, at Florida A&M University in Tallahassee, Fla. The PREP (Preview Registration Enrollment Program) staff consists of 25 students of all majors and is led by Director of Orientation Programs and Special Events Ahmaad Solmone.  
The ULM PREP staff competed in the song category of the S3D (Song, Skit, Step, & Dance) competition at SROW. The team wrote original lyrics to the tune of a popular song for the competition. Their efforts earned them first place in the medium schools division of the competition.  
"I am so proud of this team for winning first place at SROW. While getting ready for SROW, the main advice I would give them would be that no matter what, you can't fake chemistry, so they needed to work as a team, and at the end of the day, that was very evident once we arrived at SROW," said Solmone. He continued, "This is probably one of the most cohesive teams I've ever worked with, so I am excited to see what they do this summer with students and parents at PREP and POP." 
Gabrelle McLeod is a freshman Radiologic Technology major from Vicksburg, Miss. who is a member of the PREP staff and competed in the S3D Competition at SROW. McLeod says the PREP staff's key to success was preparation. "We worked multiple weekends practicing and getting ready for the performance," said McLeod. "We were nervous before going on stage, but I feel like it was the best performance we ever did working as a team. We were as one in that moment," she added.  
Not only did ULM excel in the S3D competition, but they were also voted "Most Spirited" by all other schools in attendance, across all divisions. Additionally, ULM earned second place in the painted banner competition, and PREP staffers Raquelle Franklin and Jesse Drake won best communication in the case study competition.  
Solmone says this is the most awards ULM has ever won at SROW and the first time the University has won first place in over 25 years.  
In addition to the spirit competitions, PREP staffers spent the weekend learning more about being effective in their roles through various educational sessions. Solmone says ULM was among the most represented institutions in the educational sessions, with PREP staffers presenting six sessions and Solmone presenting one himself.  
McLeod said the information learned in educational sessions will be greatly beneficial to the team. "We were placed in many different sessions so we would branch out to learn things for this summer," she said.  
SROW is the annual regional conference for Region VI of NODA, the association for Orientation, Transition, and Retention in Higher Education. Region VI consists of Louisiana, Mississippi, Alabama, Georgia, Florida, Tennessee, Kentucky, North Carolina, and South Carolina and is one of the larger NODA regions in the nation.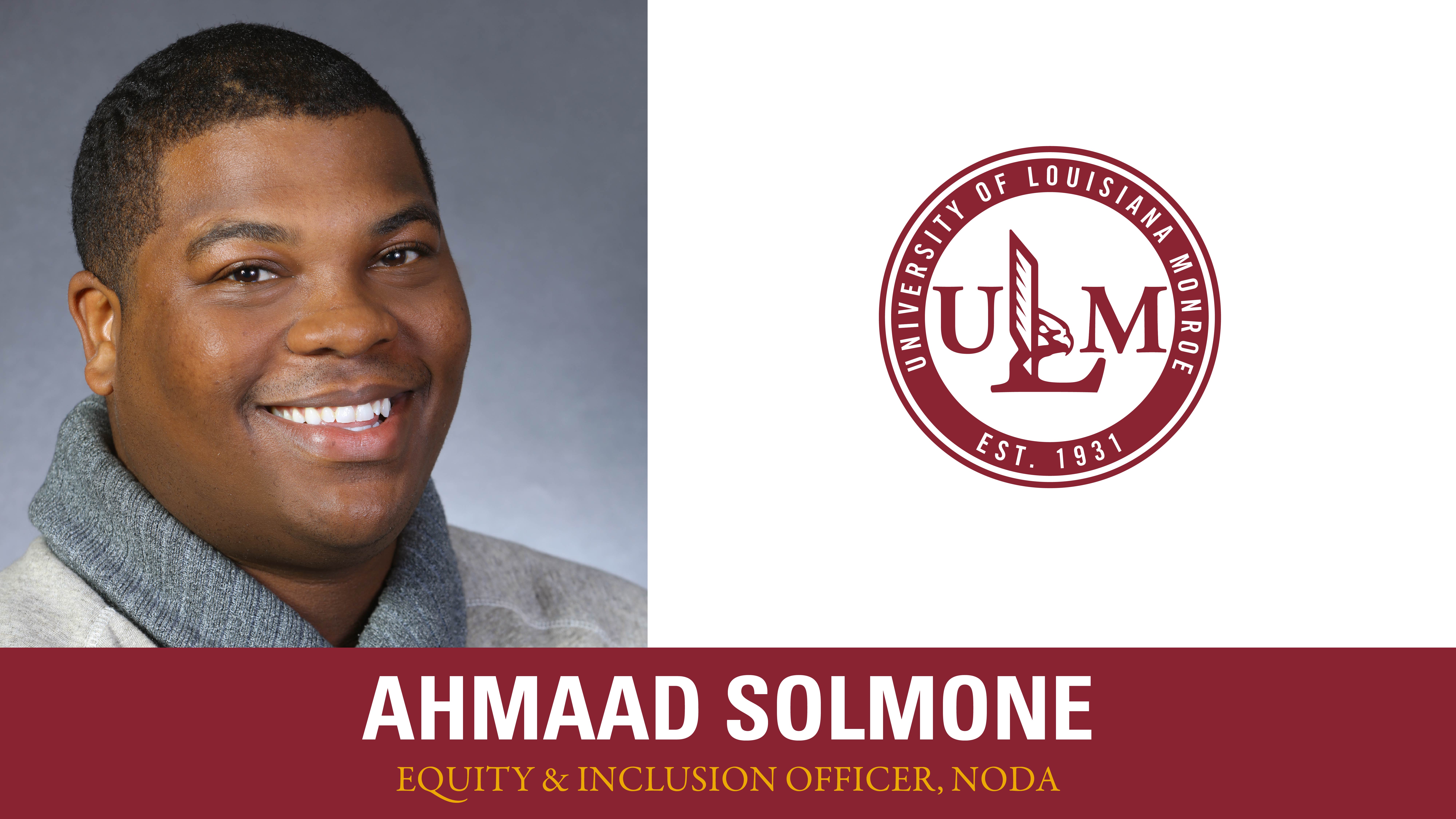 ---
In November 2022, Ahmaad Solmone was appointed as the Equity and Inclusion Officer for NODA.  "Being the Equity and Inclusion Officer for NODA falls in line with what I like to do in my work at ULM, which is to make sure that all students have fair access to things," said Solmone.  
As part of his role, Solmone oversees the Diversity, Equity, and Inclusion Committee, with whom he meets once a month to discuss how the organization can be of service to students. Solmone also sits on the executive team and helps cast vision for the entire organization.  
Solmone says he was encouraged to get more involved in NODA by ULM Vice President of University Relations and Enrollment Management Lisa Miller. When he learned of the opening of Equity and Inclusion officer, he went through the extensive application process and was voted into the role by members of NODA.  
"Being in this position keeps me ahead of the curve. It gives me insight into trends that are happening across the nation," he added.    
For more information about NODA, visit. www.nodaweb.org.  
For more information about the ULM PREP staff, visit. www.ulm.edu/prep.