Published July 31, 2023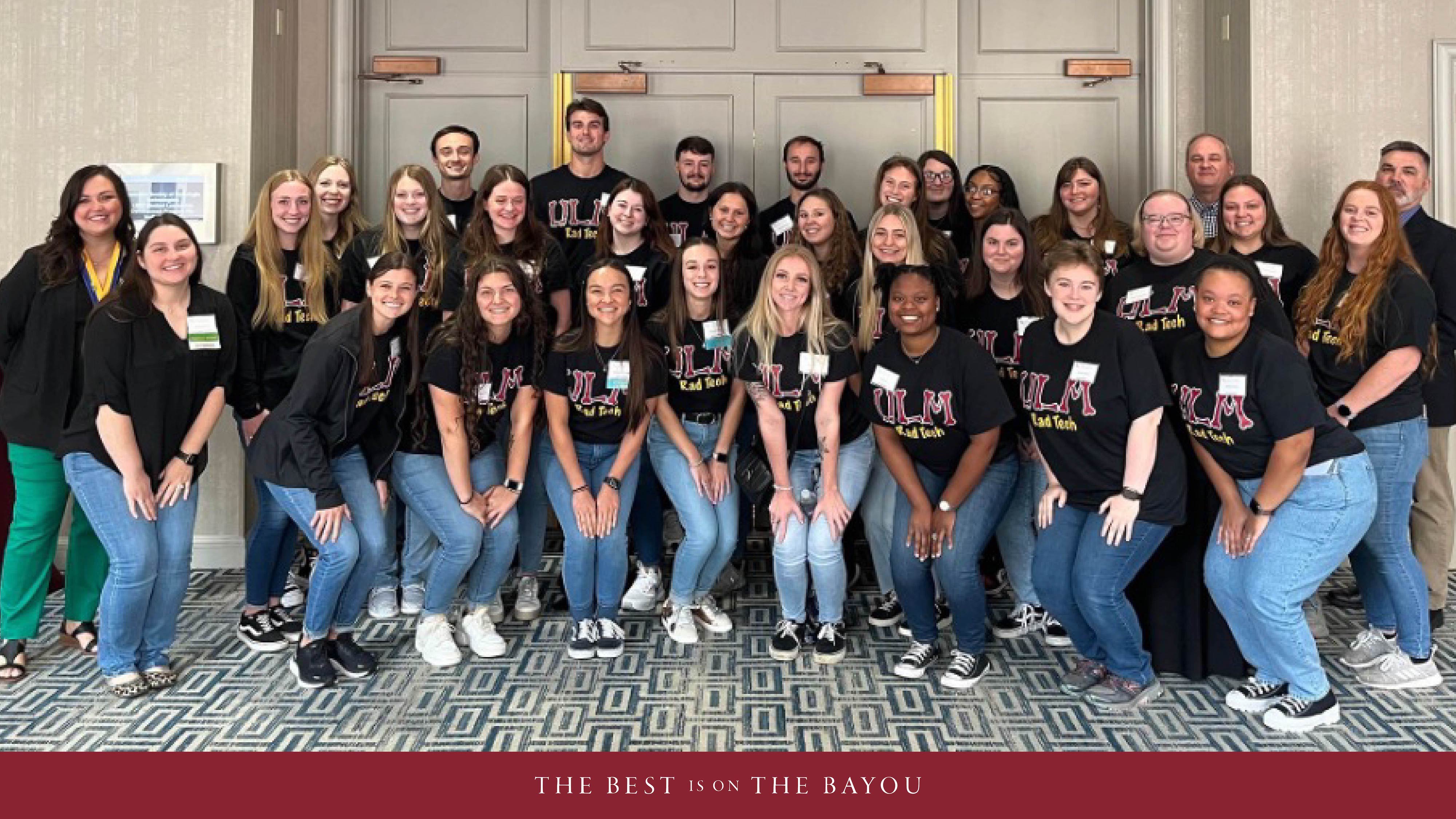 CAPTION:Top Left to Right: Cole Bryan, Mitchel McKee, Jaden Book, Maxwell McKey, Jordan Sanders, AnnaBelle McLemore, Amiyah Gray, Emily Maples, Brett Bennett (ULM RADT Program Director), Jason Smith (Associate Professor); Middle Left to Right: Rebecca Hamm (Associate Professor), Jennifer Simms, Lauren Henry, Abbigail Riordan, Avery Free, Jessie McManus, Emily Austin, Destinee Lawson, Sadie Martel, Kennedy Sisung, Elizabeth Mathews, Macy Williamson, Victoria Payne; Bottom Left to Right: Brittany Smith (Instructor), Jacey Smith, Paige Polkey, Mallory Domingue, Kenzie Allen, Olivia Haynes, Nyla Gray, Skylar White, Emily Wilson.   
---
MONROE, LA – The University of Louisiana Monroe Radiologic Technology students attended and competed in state competitions with several other schools at the Louisiana Society of Radiologic Technologists (LSRT) Annual Conference July 13-15th, 2023.  
"This event allows our students to network and grow as student technologists. I am so proud of our students and faculty and for the opportunity to attend this event," said ULM Radiologic Technology program director Brett Bennett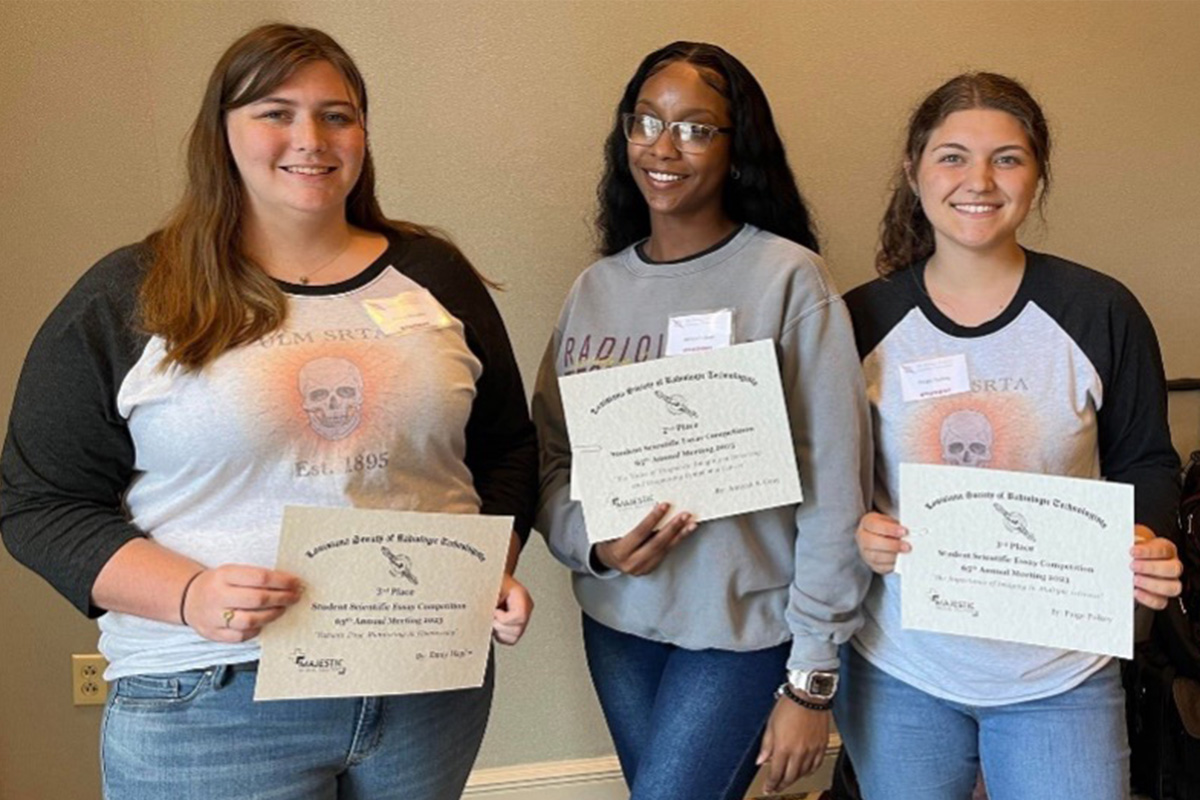 (L-R) Emily Maples, Amiyah Gray, Paige Polkey
The students represented ULM impressively by placing in several events. Amiyah Gray won second in the Student Essay Competition with her submission of "The Value of Diagnostic Imaging in Detecting and Diagnosing Lymphoma Cancer." In addition, two ULM students tied for third place with their submissions to the Student Essay Competition. Paige Polkey submitted "The Importance of Imaging in Multiple Sclerosis," and Emily Maples submitted "Patient Dose Monitoring in Fluoroscopy."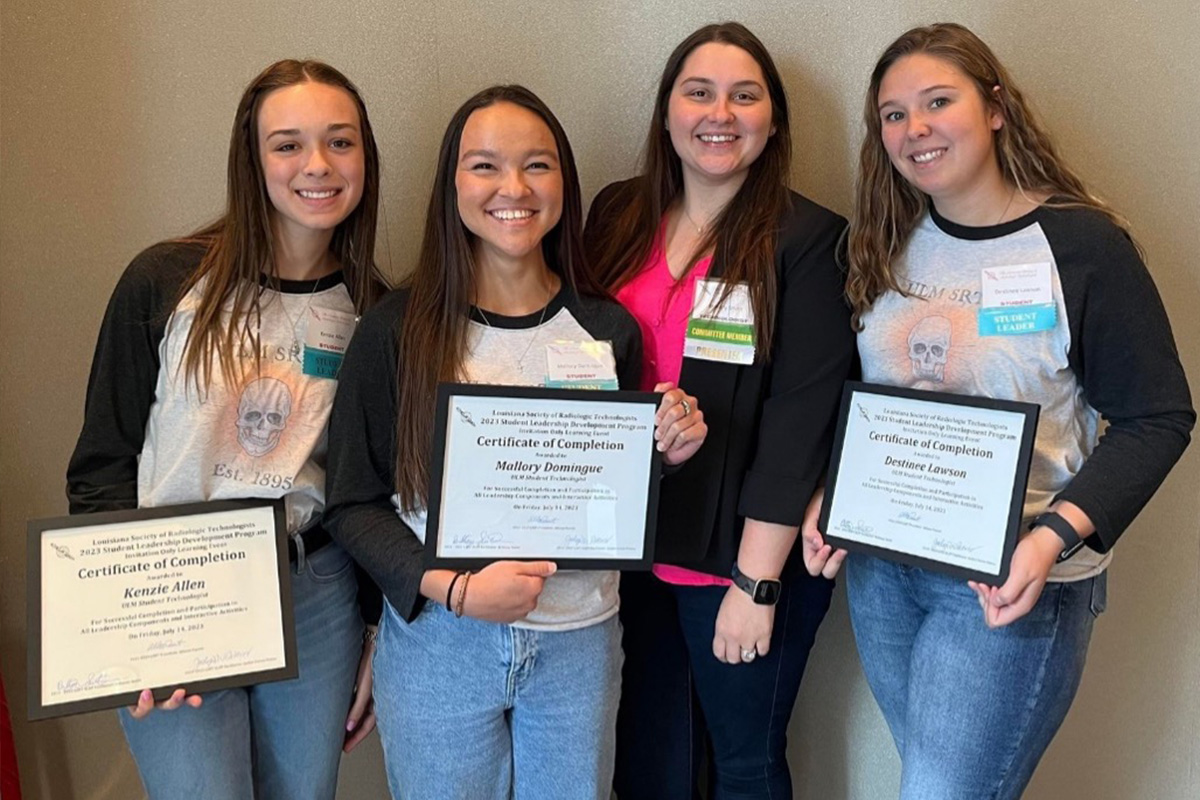 (L-R) Kenzie Allen, Mallory Domingue, Brittany Smith (SLDP Facilitator), Destinee Lawson
Three nominated students attended the prestigious LSRT Student Leadership Development Program: Kenzie Allen, Mallory Domingue, and Destinee Lawson. These students attended a specialized program to develop leadership skills and had the opportunity to network with various leaders across the state. Allen, Domingue, and Lawson also now have the opportunity to apply for the national Student Leadership Development Program hosted by the ASRT next summer.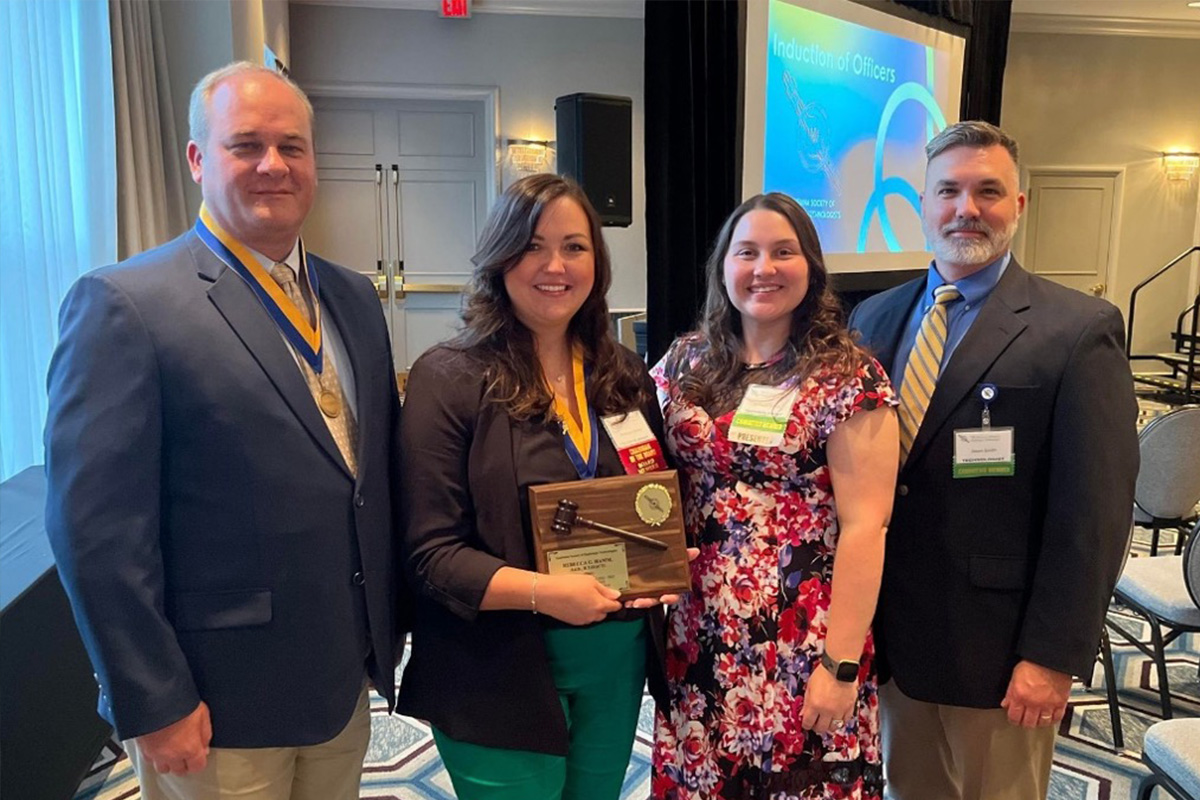 (L-R) Brett Bennett, Program Director; Rebecca Hamm, Assoc. Prof.; Brittany Smith, Instructor; Jason Smith, Assoc. Prof. 
Faculty from the ULM Radiologic Technology program also represented the university outstandingly. Mr. Brett Bennett, program director, was awarded Life Member with the LSRT. Life Member is prestigious and represents Mr. Bennett's service and dedication to the Radiologic Technology profession and the LSRT organization. Mrs. Brittany Smith served as the Louisiana Educators in Radiologic Sciences Council (LERS) Chairperson and as an SLDP Committee Member and Facilitator. In addition, Mrs. Brittany Smith presented a lecture for the event "Pain Management: A Place for Rad Techs." Dr. Rebecca Hamm assisted with leading the organization this past year as Chairman of the Board. Mr. Jason Smith continued to serve the LSRT as a member of the Legislative Affairs Committee and participated in the SLDP event this year as a facilitator.