Published October 11, 2023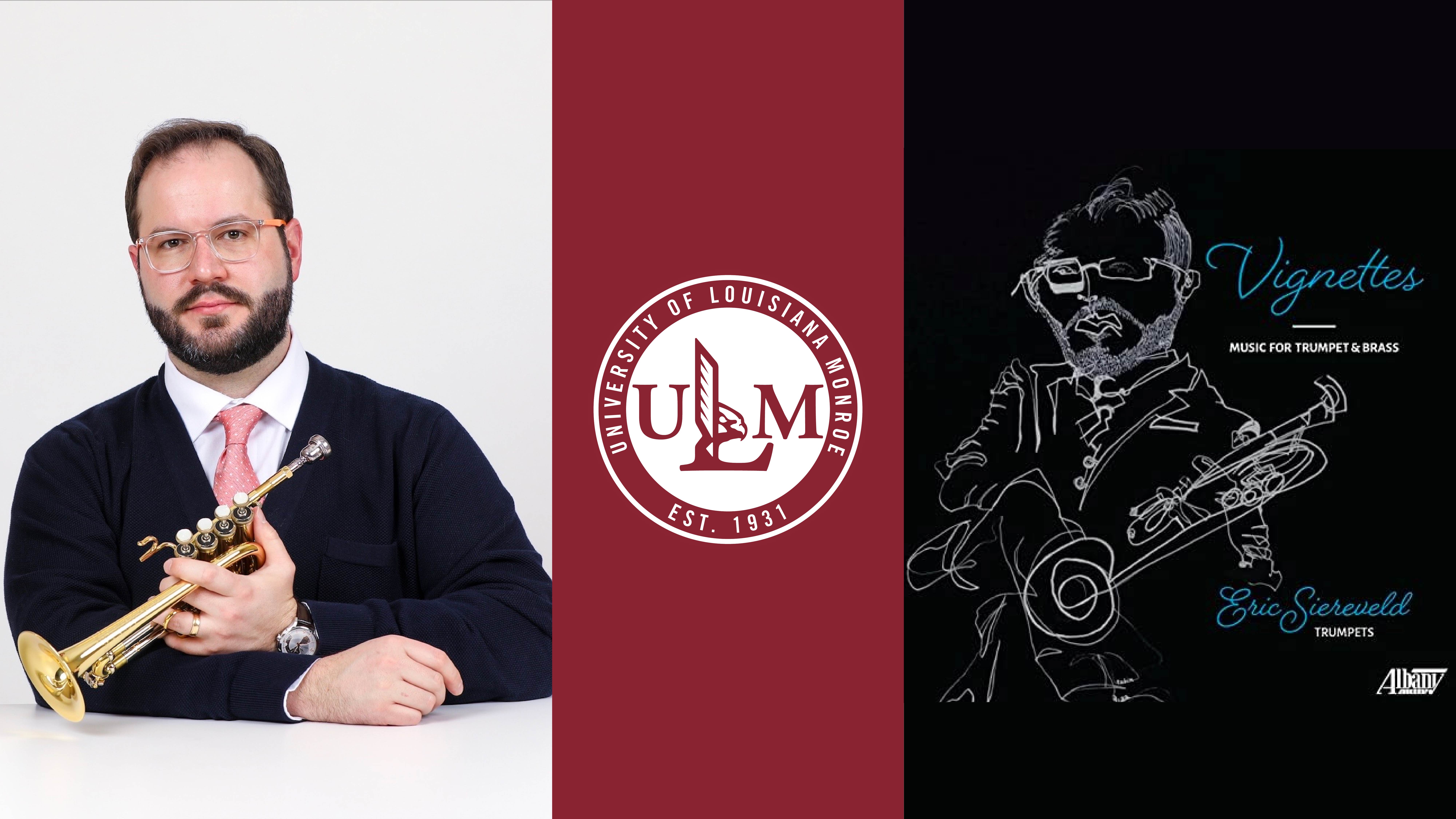 MONROE, LA – University of Louisiana Monroe School of Visual and Performing Arts assistant professor of trumpet, Dr. Eric Siereveld, released his album for trumpet and brass called Vignettes: Music for Trumpet and Brass. 
Siereveld's album received outstanding reviews from the International Trumpet Guild Journal, which is an internationally recognized publication known for reviewing and supporting instrumentalists. 
The journal stated in one review that the "recording features beautiful playing of interesting works that deserve programming on future trumpet recitals." 
For his audience, Siereveld paints delicate pictures portraying various scenes in one's life. A lyrical piece, "For Ella", was written to celebrate the life of his dog, while "Mountain Idyll" recalls the beauty of nature's mountains. Siereveld gives his listeners a haunting tune called "Free to Be", which includes a somber melody played by trumpet with the recorded voices of Ruth Bader Ginsburg and other women's rights activists. 
"Vignettes would not have been possible without the tremendous contributions from my colleagues, the composers, the recording engineer, Robin D. Williams' artwork, and of course the Biedenharn Endowed Professorship in Music," Siereveld said. "It's my sincere hope that the music on this album uplifts and captivates listeners for years to come." 
In addition to Vignettes: Music for Trumpet and Brass, another album was composed. Select School of Visual and Performing Arts instrumental and vocal faculty make up an ensemble called Black Bayou Brass. This ensemble came together to create an album called Vibrant Colors. The album, which features notes for brass, piano and voice, also received glowing reviews.
Vibrant Colors showcases the recordings and works of renowned brass composer Douglas Hedwig through various musical settings for brass quintet, solo trumpet, brass octet and trumpet ensemble. 
For the creation and release of Vibrant Colors, Siereveld also played an important role in the development of this project as he served as the personnel manager and project coordinator alongside Douglas Hedwig. 
Both albums are available for streaming or purchase on Amazon, as well as on most streaming platforms, including Apple Music and Spotify.