Published July 24, 2023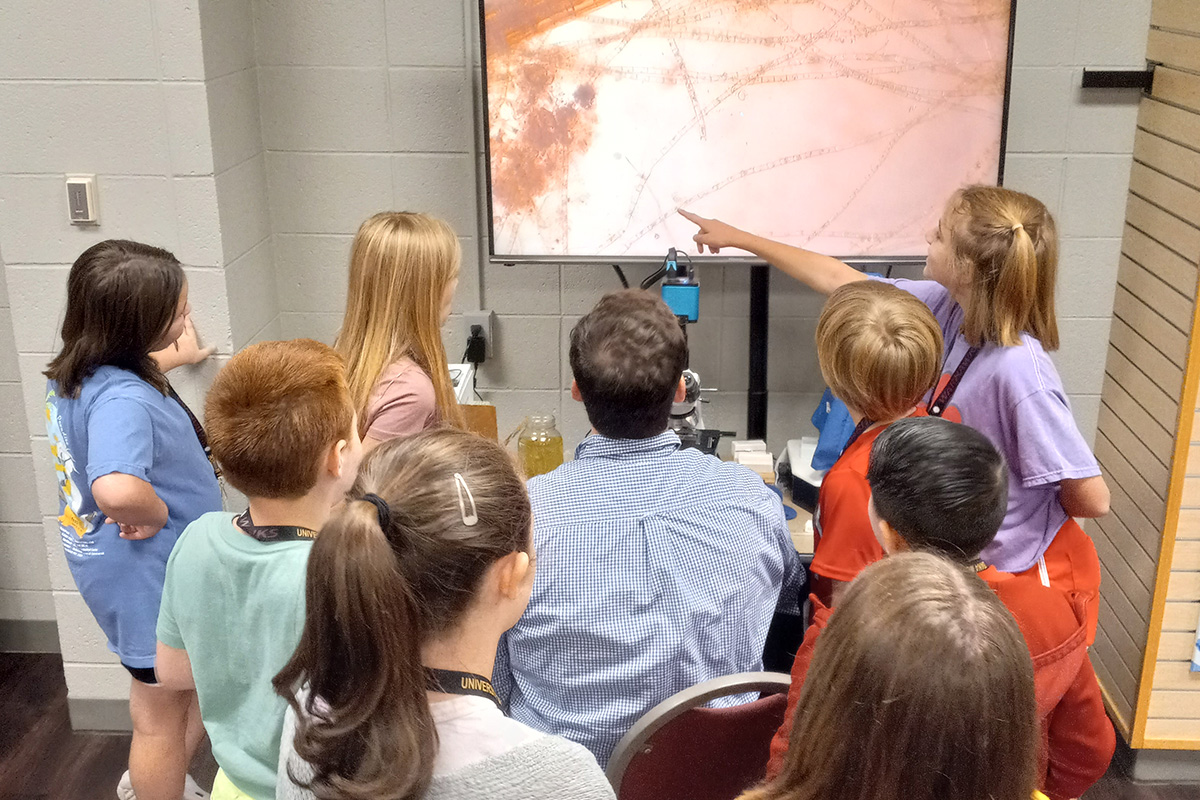 CAPTION:Students attending the Bayou Discovery STEAM Camp at ULM's Museum of Natural History engage in a discussion about microorganisms they found in bayou water.Photo credit: Dr. Kim Marie Tolson  
---
MONROE, LA – The ULM Museum of Natural History partnered with VCOM to host the 2023 Bayou Discovery STEAM Camp from June 19 – 23. This year's theme was "Marvels of the Human Body." The camp took place inside the ULM Museum of Natural History on the first floor of Hanna Hall and was open to elementary students entering the 4th or 5th grade. Camp sessions were presented by teams of faculty and staff from ULM and the Edward Via College of Osteopathic Medicine (VCOM), which is located on the ULM campus. 
Campers participated in five days of activities designed to provide fun, hands-on learning experiences in science, technology, engineering, arts, and math (STEAM). Examples of their activities included water chemistry on bayou water, culturing microbes swabbed on common surfaces, painting tissues seen under a microscope, calculating stride length and reading graphs, isolating DNA, blood typing to save a superhero in need of a transfusion, and crime scene investigation. 
Dr. Kim Marie Tolson, Director of the ULM Museum of Natural History and co-director of the camp, says the camp is important because most elementary students in our region are not exposed to hands-on science of any type. "We wanted to expose them to a variety of science disciplines that many had never heard of and present the activities in a manner that was encouraging and free from the constraints of a regular classroom," said Tolson.  
"By participating in ULM's STEAM camp, VCOM helps inspire young students' interest in healthcare and medicine," said Dr. Mark A. Sanders, Dean of VCOM-Louisiana. "The ULM faculty, students, and staff have created a wonderful program, and VCOM is proud to partner with and further develop this STEAM camp," he continued. "One day, we hope to see these STEAM camp participants as physicians, nurses, microbiologists, pharmacists, or related scientific professionals."  
ULM Associate Professor of Biology Dr. Allison Wiedemeier, co-director of the camp, says the partnership with VCOM was a win-win situation for all involved. "VCOM contributed financially to purchase supplies for the camp, but their biggest contribution in this partnership was their medical students and faculty. VCOM's commitment to the welfare of people living in Northeast Louisiana was evident from the beginning," said Wiedemeier. 
Tolson says this is the second year that the Bayou Discovery STEAM Camp has been hosted in the Museum of Natural History since the COVID-19 pandemic, and she hopes to continue offering the camp each summer. "If we can secure funding, we would like to offer multiple weeks of camps with different themes and target multiple age groups," she said.  
For more information about the ULM Museum of Natural History, visit https://www.ulm.edu/caes/museum.html 
For more information about VCOM-Louisiana, visit https://www.vcom.edu/locations/louisiana.