Published February 1, 2023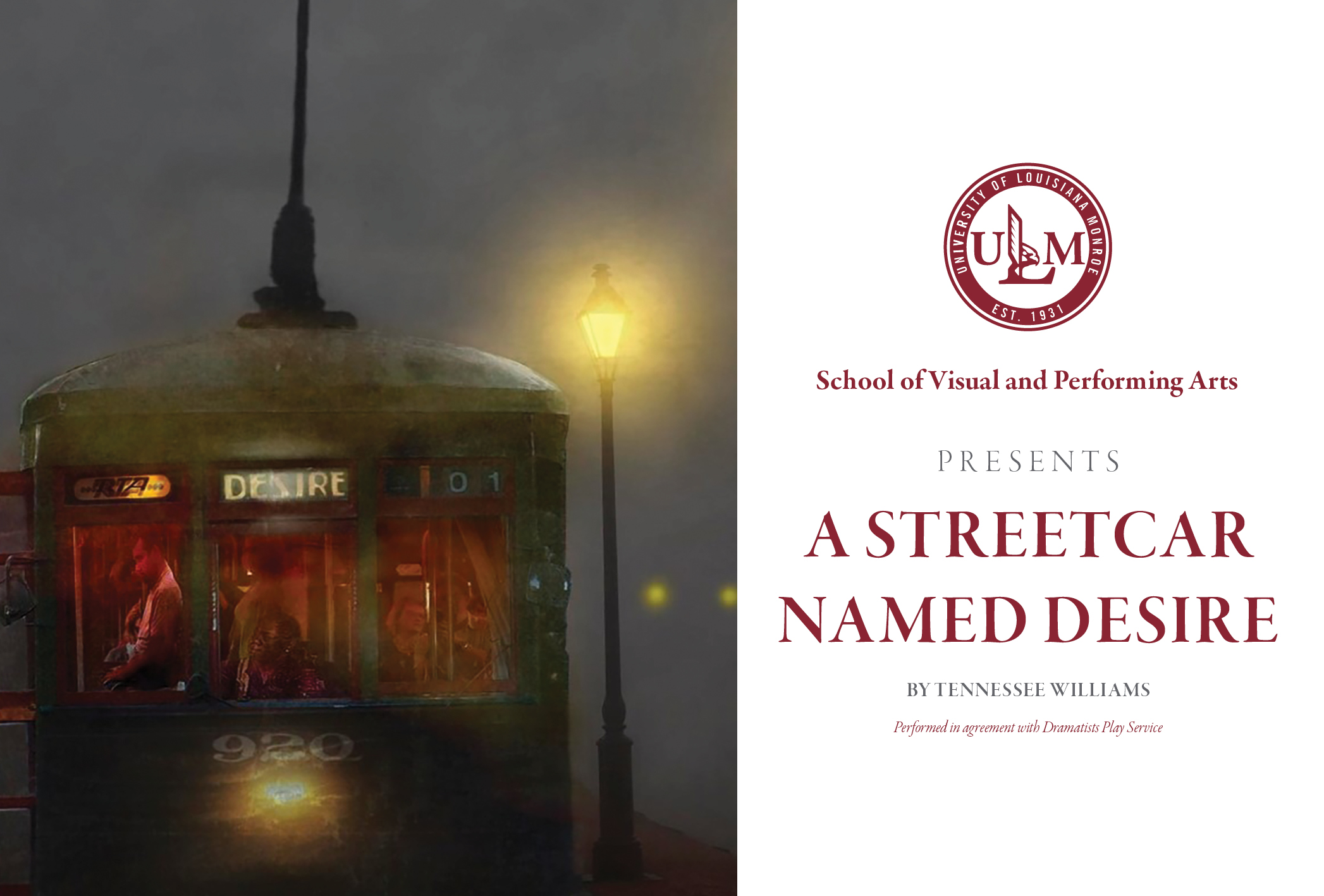 ---
WHAT: A Streetcar Named Desire 
WHERE: Spyker Theater, behind Brown Auditorium, 4001 Desiard St., Monroe 
WHEN: Feb. 8, 9, 10, 11; 7:30 p.m. each night 
TICKETS: GA $10, ULM Faculty & Staff $5, ULM Students Free with ID; available at the door or online at Eventbrite 
---
MONROE, LA - The School of Visual and Performing Arts (VAPA) at the University of Louisiana Monroe, will present Tennessee Williams' classic play, A Streetcar Named Desire, on February 8, 9, 10, and 11 at 7:30 pm, in the Spyker Theater, behind Brown Auditorium on the ULM campus. The play, set in New Orleans, features an all-student cast of ULM theatre students.  
"These performances are filled with surprises," said director Mark Clark, D.M.A., Professor of Music and Theatre at ULM. "Tennessee Williams had the ability to enrich a character just with the language, and there are many twists and turns," he added.  
The leading role of Blanche Dubois will be played by Rebekah Johnson, while Blanche's sister Stella will be portrayed by Cherie Mialaret. Stanley Kowalski is double cast by Wyatt Sage (Wednesday, Friday), and Kade Matkins (Thursday, Saturday). Mitch is Callan Saldutto (Wednesday), and Landon Morris (Thursday, Friday, and Saturday).  The cast is rounded out by Libbi Musgraves (Eunice), Brandon Latino (Steve), and Jesus Aguilar (Pablo).  Gabriela Barrios is the Mexican Woman, Elizabeth Frison is Regina, and Ethan Lancaster is the Young Man.  Gabe Wright is S.H.  C.J. Haynes is the stage manager. 
The play is directed by Mark Ross Clark, and Steven Burnside is the Technical Director. Margaret Hall is the costumer.
Tickets are available online at Eventbrite or at the door, and General admission is $10. ULM faculty and staff admission is $5, and ULM students are admitted free with ID. 
For more information, contact mclark@ulm.edu