Published September 14, 2023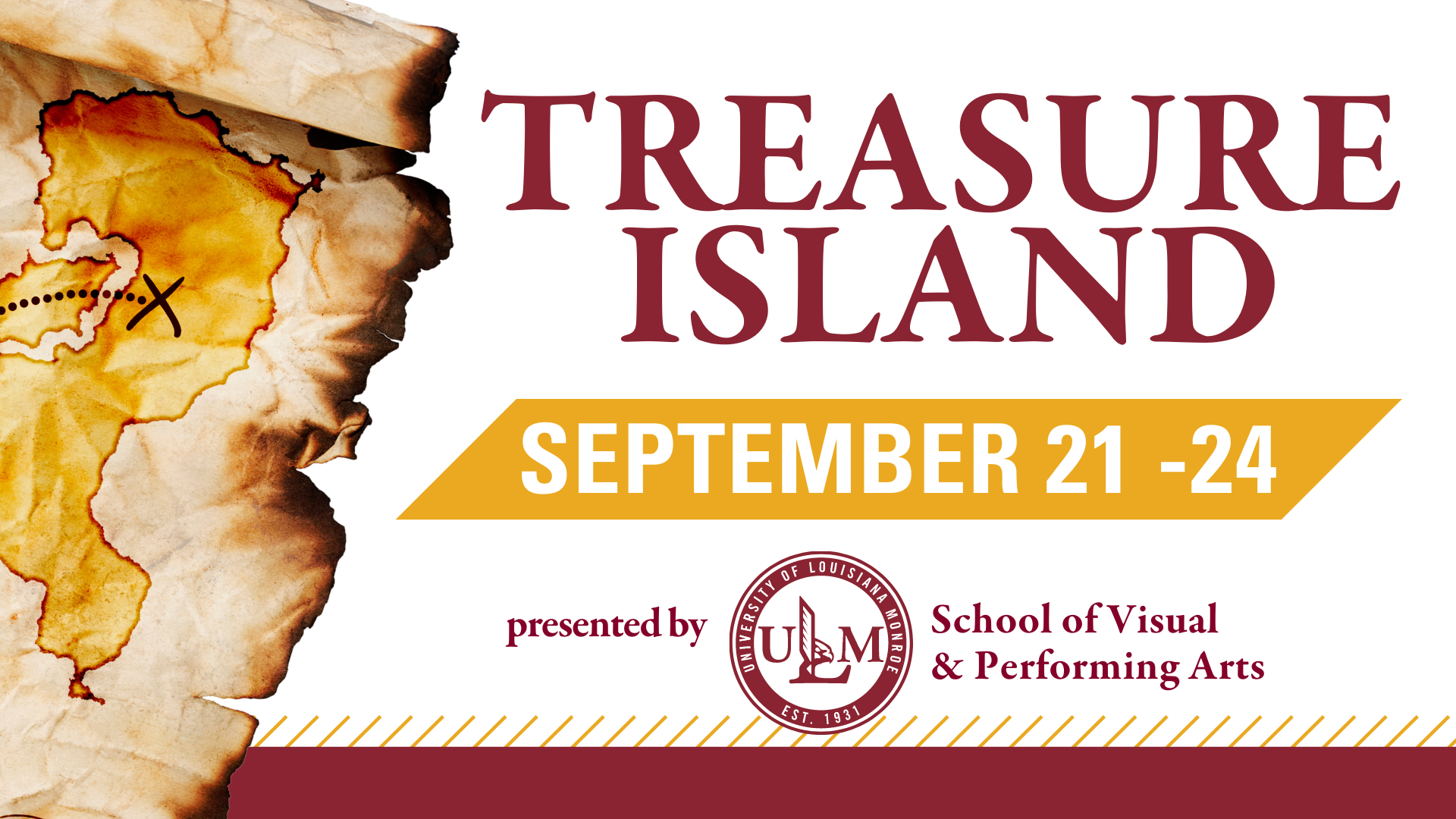 ---
Want to go? 
WHAT: ULM School of VAPA presents Treasure Island 
WHEN: September 21, 22, & 23 at 7:30 p.m.; September 24 at 2:00 p.m. 
WHERE: Spyker Theater, 3803 Desiard St. 
TICKETS: ULM students: free; ULM faculty/staff: $5; General Admission: $10 Available at the door or at Eventbrite.  
---
MONROE, LA – The University of Louisiana Monroe School of Visual and Performing Arts presents the play Treasure Island, based on the Robert Louis Stevenson English classic adventure. The play will be presented at the Helen Spyker Theater, 3803 Desiard St. on ULM's campus. The play opens on Thursday, September 21 at 7:30 p.m., with additional performances on Friday, September 22 and Saturday, September 23, each at 7:30 p.m. A final matinee performance will take place on Sunday, September 24 at 2:00 p.m. Admission is free for ULM students. Tickets are $5 for ULM faculty and staff and general admission is $10. Tickets will be available at the door prior to each performance or in advance on Eventbrite.  
Several years ago, Director and ULM Professor Mark Ross Clark saw a performance of a new version of Treasure Island and was too impressed, he knew he had to "bring it to Louisiana." The ULM presentation will be a version that only premiered a few years ago at the English National Theatre in London. 
The ULM student cast features seasoned actors who have appeared in past ULM Theatre productions, including Barefoot in the Park, To Kill a Mockingbird, and A Streetcar Named Desire. Principal cast members include Wyatt Sage, Delaney Morgan, Maggie Ronconi, Landon Morris, Nicole Perez, Jacob Baham, Elizabeth Frison, Dena Hall, Ethan Lancaster, Ri'Kylah McCain, Madison Semien, Kyra Savage, and Jada Caldwell. The student stage manager is Artie Smith. 
The Director of Treasure Island is Mark Ross Clark. The Technical Director/Set Designer is Steven Burnside, and the costumes are designed by Margaret Hall. 
The School of Visual and Performing Arts at the University of Louisiana Monroe aims to provide students with the highest level of arts education, research and educational opportunities to majors and minors. VAPA aims to offer curricular, co-curricular and extracurricular opportunities to students enrolled at ULM, as well as provide cultural activities, special events and performances for university, local and area communities. VAPA at ULM offers degrees in various disciplines in art and music as well as experiences in dance and theatre. For more information, visit ulm.edu/vapa.