Published January 24, 2023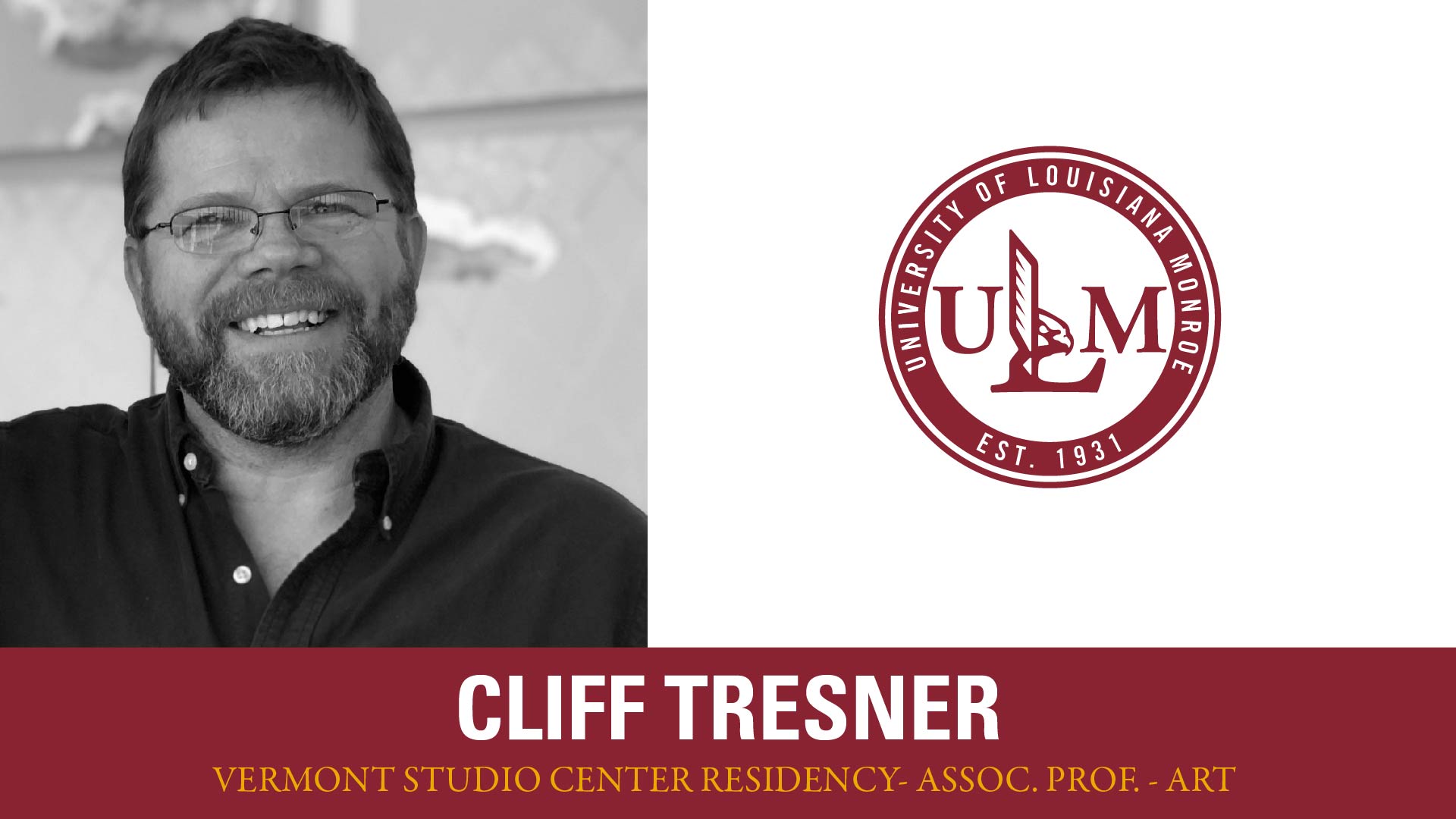 MONROE, LA – Cliff Tresner, an Associate Professor of Art at ULM, has recently been accepted to the prestigious Vermont Studio Center for a three-week residency in May-June 2023.  
A panel of jurors chose Mr. Tresner from a very competitive pool of applicants after reviewing his impressive portfolio of artwork. Mr. Tresner was also given a grant award of $6,750. 
Mr. Tresner will be focusing on both 3-D printing and painting during his tenure in Vermont."During my time at Vermont Studio Center I hope to continue exploring the nuances between the interplay of two-dimensional and three-dimensional art forms as I continue to reference a broad array of contemporary and historical concerns from Neoclassical sculpture, through Modernism, to cartooning, and pop culture," said Tresner. 
The residency includes a private studio, living accommodations, and unlimited access to VSC's significant resources including a lecture series and studio visits by internationally renowned artists, and the opportunity for Mr. Tresner to share his work through scheduled artist slide nights and an open studio night. Over the course of his residency, Mr. Tresner will also be able to enjoy the companionship of professional peers, sharing views and concepts with other visual artists and writers also engaged in creative work. 
The Vermont Studio Center was founded by artists in 1984 and is situated along the banks of the Gihon River in the historic village of Johnson, Vermont. This location was chosen with the intention of fostering creativity through community, collaboration, and quiet reflection supported by the unspoiled beauty of the northern Green Mountains.  
Over the last 38 years, VSC has hosted visual artists and writers each month from across the country and around the world. VSC's mission is to provide studio residencies in an inclusive, international community, honoring creative work as the communication of spirit through form. 
With a limited number of residencies, recipients go through a highly selective jury process. The jury is looking for excellence within a broad range of aesthetics, spanning the categories of painters, sculptors, video artists, performers, installation artists, and writers.