Published October 27, 2023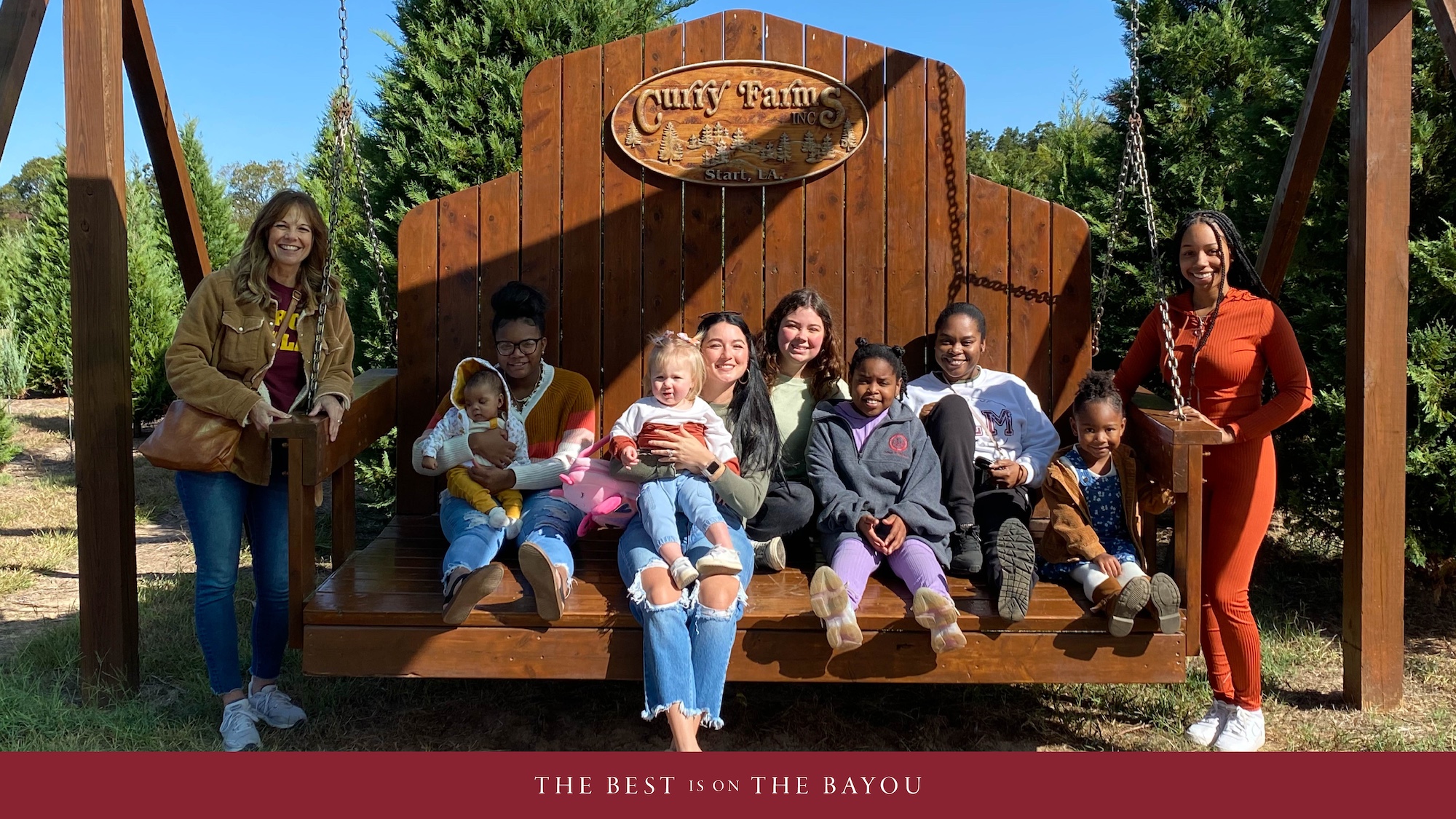 CAPTION: TRIO CCAMPIS student-parents and their families enjoyed the pumpkin patch at Curry Farms! 
---
MONROE, LA – Visiting Curry Farms Pumpkin Patch in Start, LA has become an annual event for the TRIO CCAMPIS student-parents and their families. This year's group was the largest yet, with 19 student-parents and children visiting the pumpkin patch on Saturday, October 7, 2023.  
The parent event provided a relaxing time for parents to interact, teach their children about pumpkins, and read The Legend of Spookley the Square Pumpkin while navigating the corn maze.  
Curry Farms offers a wide range of activities for everyone to enjoy. The student-parents and their children enjoyed the gourd walk, playing on the John Deere 7700 combine with slide, roller slide, bounce pillow, hayrides, corn maze, see-sawing (teeter-totter), feeding the goats and chickens, and a whole lot more. Kona Ice and freshly squeezed lemonade were available for those who wanted to quench their thirst.  
Tammy Anderson, TRIO CCAMPIS Assistant Director, stated "Student-parents find it difficult to juggle their studies, going to classes, working, and spending time with their children. Providing family engagement opportunities gives the student-parents the ability to socialize and interact with one another." 
The U.S. Department of Education federally funds the TRIO CCAMPIS program. The purpose of the CCAMPIS program is to support ULM full-time Pell-eligible student-parents through the provision of subsidized childcare costs. CCAMPIS stands for "Child Care Access Means Parents In School." Additional services are available to student-parents, such as parent workshops, financial literacy, and parenting events.   
To learn more about the ULM TRIO CCAMPIS program or apply, visit https://www.ulm.edu/research/trio/ccampis.html or stop by the TRIO office in Sandel Hall, room 351. To obtain additional information, contact Tammy Anderson, MPA, by calling (318)342-1097 or at taanderson@ulm.edu.