Published September 19, 2023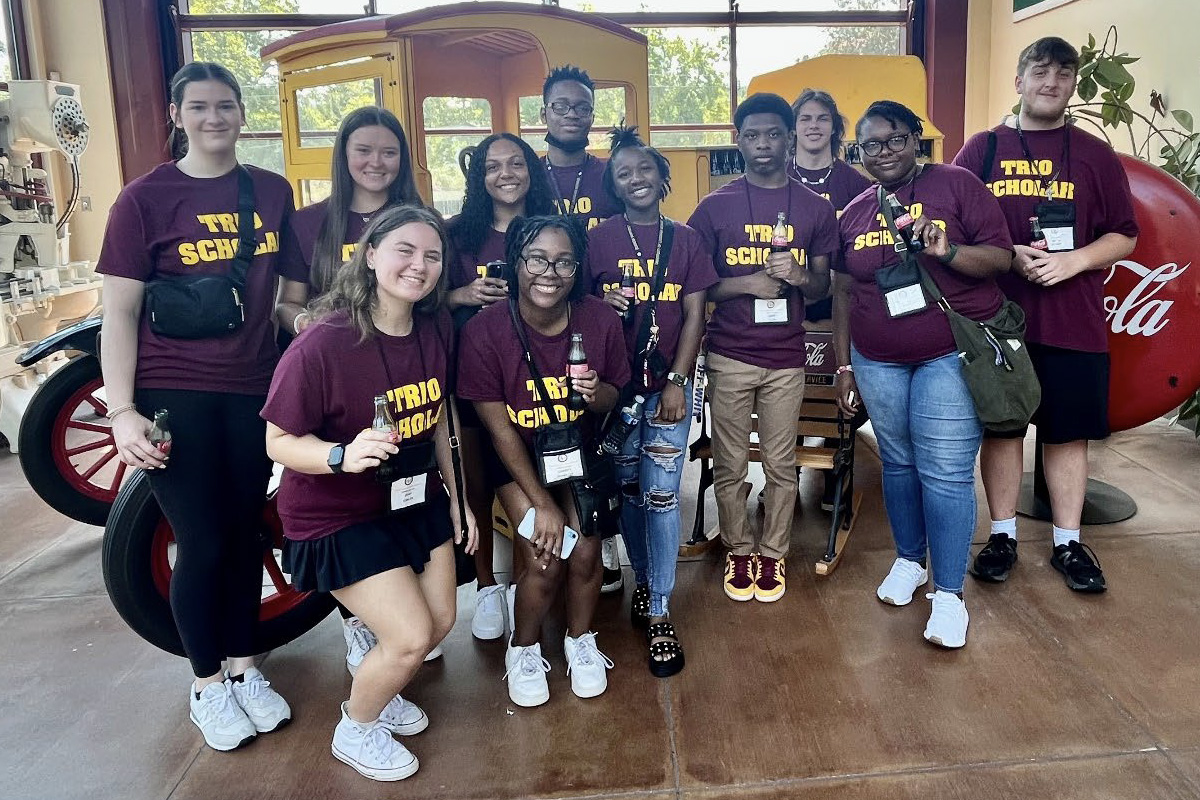 CAPTION:Fourteen first-generation freshmenparticipated in the WINGS camp. (Back L-R): Carlee Hudson, Taylor Lasyone, Madlyn Edwards, Javeon Harris, Tarralyn Wheeler, Riquel Tyler, Dakoda Vickery, Kyrie Mitchell, Mason Stokes (Front L-R): Leah Ashlak, Charity Seamster 
---
MONROE, LA – The University of Louisiana Monroe's TRIO Programs Student Support Services (TRIO SSS) successfully concluded its 8th Annual WINGS College Transition Camp from August 16th to 18th, 2023. The ULM WINGS Camp, a 3-day college transition program, took place just before the commencement of the fall semester and was exclusively designed for newly admitted TRIO-SSS program participants at ULM. The primary objective of the camp was to equip first-generation college students with the necessary tools for a seamless transition into university life. This involved acquainting them with campus resources, offering personalized guidance and support, fostering peer-mentoring relationships, cultivating a supportive community, and insights into the college experience. 
This year's camp saw the enthusiastic participation of fourteen first-generation, first-time freshmen. Participants had the opportunity to settle into their dormitories early, allowing them to actively engage in a series of workshops and activities that catered to their academic, career, financial, and social needs. Over the course of the three days, a diverse range of subjects were covered, including effective strategies for excelling in math and biology, uncovering the nuances of the college curriculum, valuable advice for career selection, insights into work-study opportunities, and essential study skills. Additionally, camp participants visited the Biedenharn Museum and Gardens for a cultural enrichment activity. 
To commemorate their participation, each attendee of the ULM WINGS Camp received a TRIO Scholar t-shirt, a TRIO Scholar tote bag, and a copy of Dr. Susan Lieberman's book titled Crack the Code: A Guide to College Success for First Gens. The ULM TRIO SSS team also organized a dedicated session for parents and family members, where they shared information about the TRIO-SSS program and offered guidance on how families can actively support students throughout their college journey. 
"Research indicates that students who participate in summer transition programs are more likely to persist through their first year and graduate within a reasonable timeframe," Dr. Mystee Burrell, Assistant Director of ULM TRIO SSS, "Programs like the WINGS College Transition Camp help set a positive tone for the entire college experience, laying a strong foundation for academic and personal success". The success of the 8th Annual WINGS College Transition Camp underscores the commitment of ULM's TRIO SSS program to ensuring a smooth and enriching transition for first-generation college students as they embark on their academic journeys. 
The ULM TRIO Programs team would like to thank the following ULM Faculty and Staff members for serving as guest speakers: Telitha Doke, Mathematics Instructor and Director of the Math Resource Center; Kambry Ford, Student Employment Coordinator; Shonnie Hall, Office Manager for Career Development; and Timothy McMahan, Biology Instructor and Core Laboratory Manager. 
TRIO-SSS is one of the eight TRIO Programs fully funded through the U.S. Department of Education to assist first-generation, income-eligible students to remain in good academic standing and graduate from college. Catherine Estis, ULM TRIO Executive Director states that the ULM TRIO SSS Wings Camp helps create learning environments that foster increased student engagement and lead to greater success toward college graduation. According to Dr. Estis there is a lot of focus on getting into college, but we do not hear much about the transition to college. The ULM TRIO Wings Camp is designed to assist in ensuring a seamless transition for these first-time first-generation freshmen students. 
To learn more about the ULM TRIO SSS program or to apply, visit www.ulm.edu/trio or stop by the TRIO-SSS office located in Strauss Hall room 206 or the ULM TRIO office Sandel Hall 3rd Floor. Additional contact information can be obtained by calling (318) 342-1097 or via email at burrell@ulm.eduor estis@ulm.edu.