Published November 2, 2023
MONROE, LA – The University of Louisiana Monroe School of Visual and Performing Arts is inviting the public to a series of upcoming and ongoing events. See below for full details of each event.  
---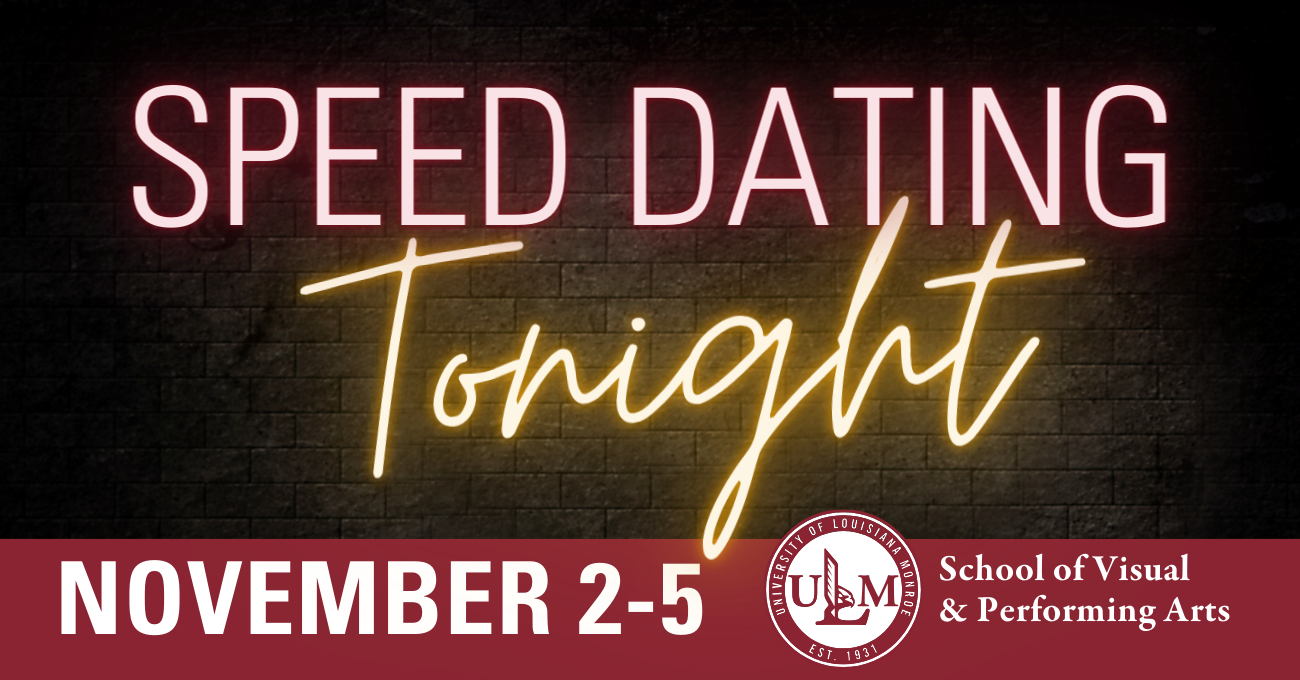 Speed Dating Tonight musical at Spyker Theater, Nov. 2-5 
Speed Dating Tonight is a fast-moving, fun, and interesting look at a night of speed dating in a local bar where anything can happen! The local bar (now closed) is the "Library," which was next to the ULM campus for many years. 
"There are plenty of musical moments in songs that are varied in style and in tone," said director Mark Clark. Four performances of the new show, written by Michael Ching, will be opening Thursday, November 2, at 7:30 p.m. in Spyker Theater, and will continue Friday and Saturday nights, November 3 and 4, and will close on Sunday, November 5 with a 2:00 p.m. matinee.    
The singers that comprise the cast are Alexa Cannon, Leslie Hobgood, Cecilia Milam, Addison Mitchell, Artie Smith, Dajah Taylor, Preston Anderson, A Marion Dimmer, Braden Tucker, Jemes Wright.  The Director is Mark Ross Clark, the pianist is Richard Seiler, the Technical Director Steven Burnside, the Costumer: Margaret Hall, and the Stage Manager is Elizabeth Frison.  
ULM Students with school ID are admitted free; ULM faculty and staff tickets are $5, and general admission tickets are $10. Tickets are available at the door before the performances or at Eventbrite.com.   
The entrance to Spyker Theater is located on the west side of Brown Auditorium, 4001 Desiard St.  
---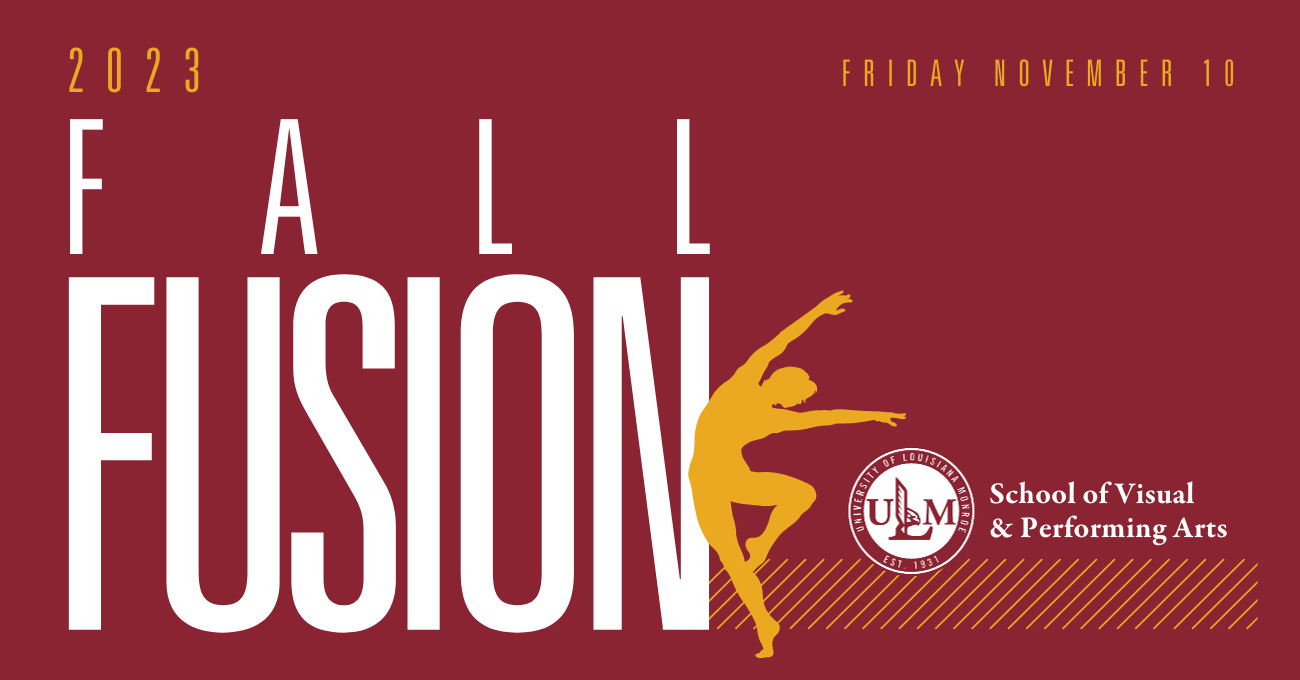 Dance Repertory Ensemble presents Fall Fusion Dance Concert Nov. 10 
The University of Louisiana Monroe School of Visual and Performing Arts is proud to present the Dance Repertory Ensemble in concert on November 10, 2023, at 7:30 p.m. The ensemble will perform at Brown Auditorium, 4001 Desiard St.  
The Fall Fusion Dance Concert is a Dance Repertory Ensemble performance where ensemble members will perform pieces in a variety of genres, including jazz, lyrical and tap. Each piece was choreographed by Dance Repertory Ensemble director, Starla Gatson. 
"The Dance Repertory Ensemble members and I are thrilled to present the 2023 Fall Fusion concert," said Starla Gatson, Dance Repertory Ensemble Director. "The dancers have been working to perfect these pieces all semester long, and I hope audience members see and appreciate their efforts. I'm proud of this group, and I look forward to seeing them shine onstage." 
The event costs $5 for General Admission at the door, and is free for students, faculty and staff with ID. 
---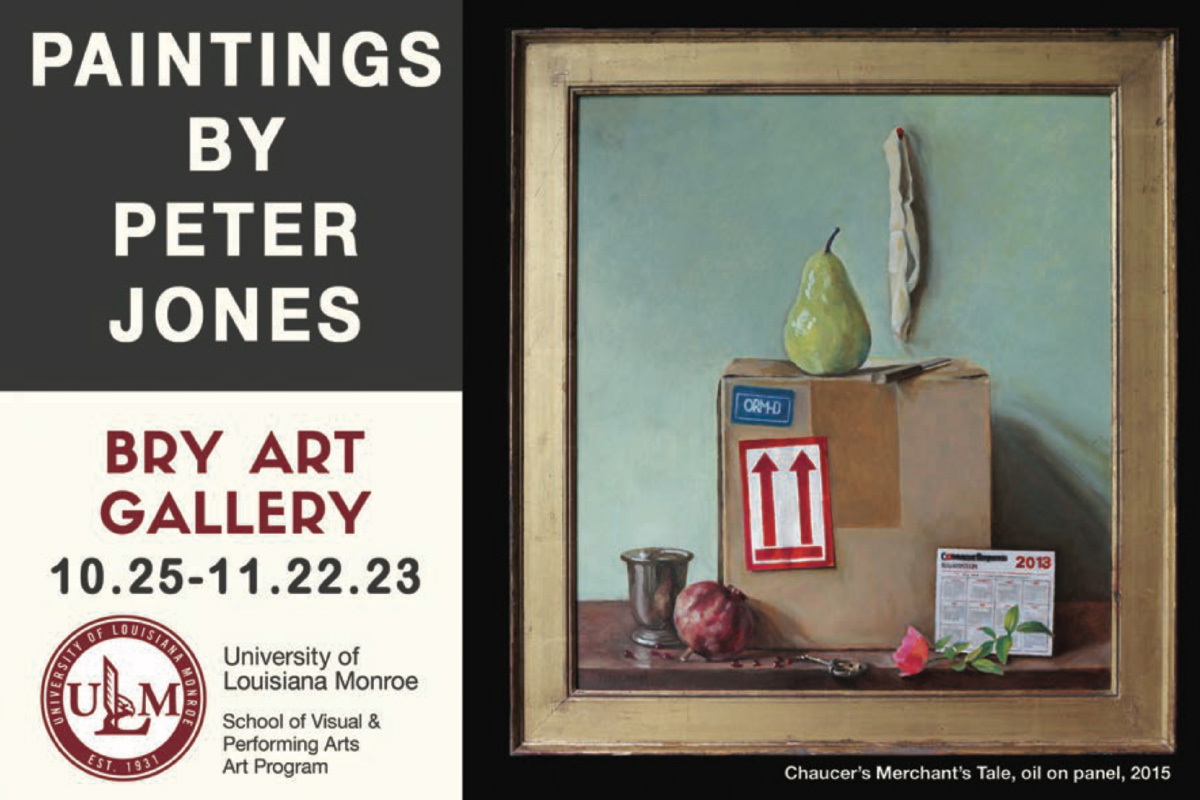 Paintings by Peter Jones on display at Bry Art Gallery through Nov. 22; artist talk Nov. 8 
The University of Louisiana Monroe School of Visual and Performing Arts is thrilled to host renowned artist Peter Jones at the Bry Art Gallery on ULM's campus from October 25 through November 22, 2023. 
Jones is best known for his landscapes and still-life paintings. He grew up in the artists' community of Woodstock, New York, where his mother painted portraits and his father painted mural commissions for Federal Government projects during the Depression. He received his MFA from the University of Iowa in 1969 and turned to New Realism in the early 70s during his first teaching experience at Sullins College. 
Following a stint as art director of Vermont Life Magazine he came to Louisiana Tech in 1980, and taught there for 31 years. During this period he had two one-man shows at A.M Adler Gallery in New York City, and one-man shows at Amherst College and in Woodstock, as well as a number of galleries in the Mid South. In Louisiana he has had one-man shows at the Museum in Alexandria, the Bank of Ruston, and Ruston Artisans, and shared a group show with Albino Hinojosa and Jerry Berg at the Zeagler Museum in Jennings, LA, the Lincoln Parish Library in Ruston and at LSU Alexandria. 
"The Art Program at ULM is honored and excited about this month's exhibition by Peter Jones," said Dr. Joni Noble, ULM Art Program Coordinator. "Professor Jones was a long-time Professor of Art at Louisiana Tech. His landscapes and still-lifes have won awards on both the National and International level. Most are in vintage European frames, and many will be offered for sale." 
Jones will give an artist talk on Wednesday, November 8 at 2:00 p.m. in Sandel Hall Room 238 with a reception to follow in Bry Hall Gallery.  
Bry Art Gallery is located in Bry Hall, 4101 Desiard St., and will be open Monday through Thursday 8:00 a.m. - 4:30 pm, and Friday 8:00 a.m. - 11:30 a.m.. Admission is free and open to the public. 
---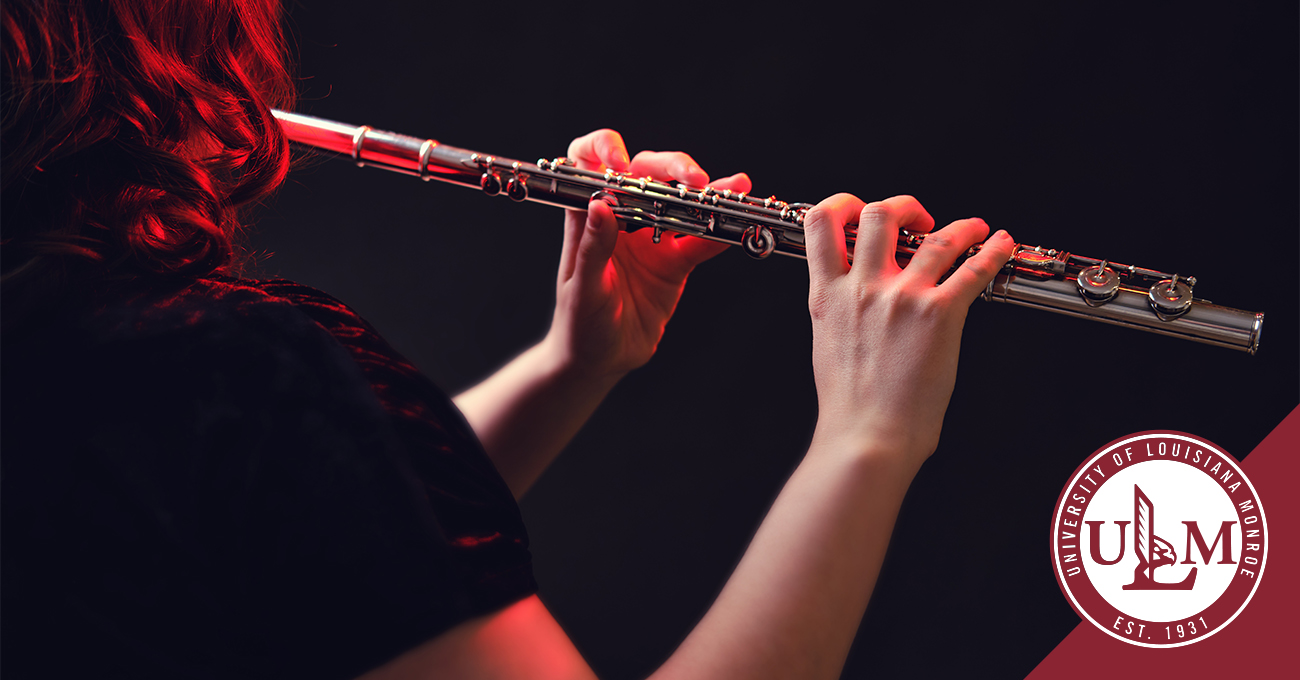 Flute Choir Concert on Nov. 12, featuring High School Flute Invitational 
The ULM Flute Choir presents a special concert on Sunday, November 12 at 7:30 p.m. in Biedenharn Recital Hall, 200 University Ave. The event is free and open to the public.  
The School of Visual and Performing Arts is also inviting local high school flutists to participate in the High School Flute Invitational. The musical afternoon and evening will include a 4:45 p.m. rehearsal, a pizza supper, and the opportunity for high school flutists to perform several pieces with the ULM Flute Choir at the end of the concert.  
Interested high school flutists can email Dr. Sandra Lunte at lunte@ulm.edu to register.  
---
The following upcoming concerts and recitals are free to ULM students and employees with ID. General admission is $5.  
Bayou Masterworks and Concert Choir 
Monday, November 13 at 7:00 p.m.  
Parkview Baptist Church, 1001 Forsythe Ave.  
Warhawk Singers and Bayou la Belle Performance 
Tuesday, November 14 at 7:30 p.m. 
Biedenharn Recital Hall, 200 University Ave.  
Jazz Combos Performance 
Wednesday, November 15 at 7:30 p.m.  
Biedenharn Recital Hall, 200 University Ave. 
Bayou Steel Concert 
Monday, November 20 at 7:30 p.m.  
Biedenharn Recital Hall, 200 University Ave. 
Brass Chamber Music Recital 
Tuesday, November 21 at 7:30 p.m.  
Biedenharn Recital Hall, 200 University Ave.