Published March 22, 2023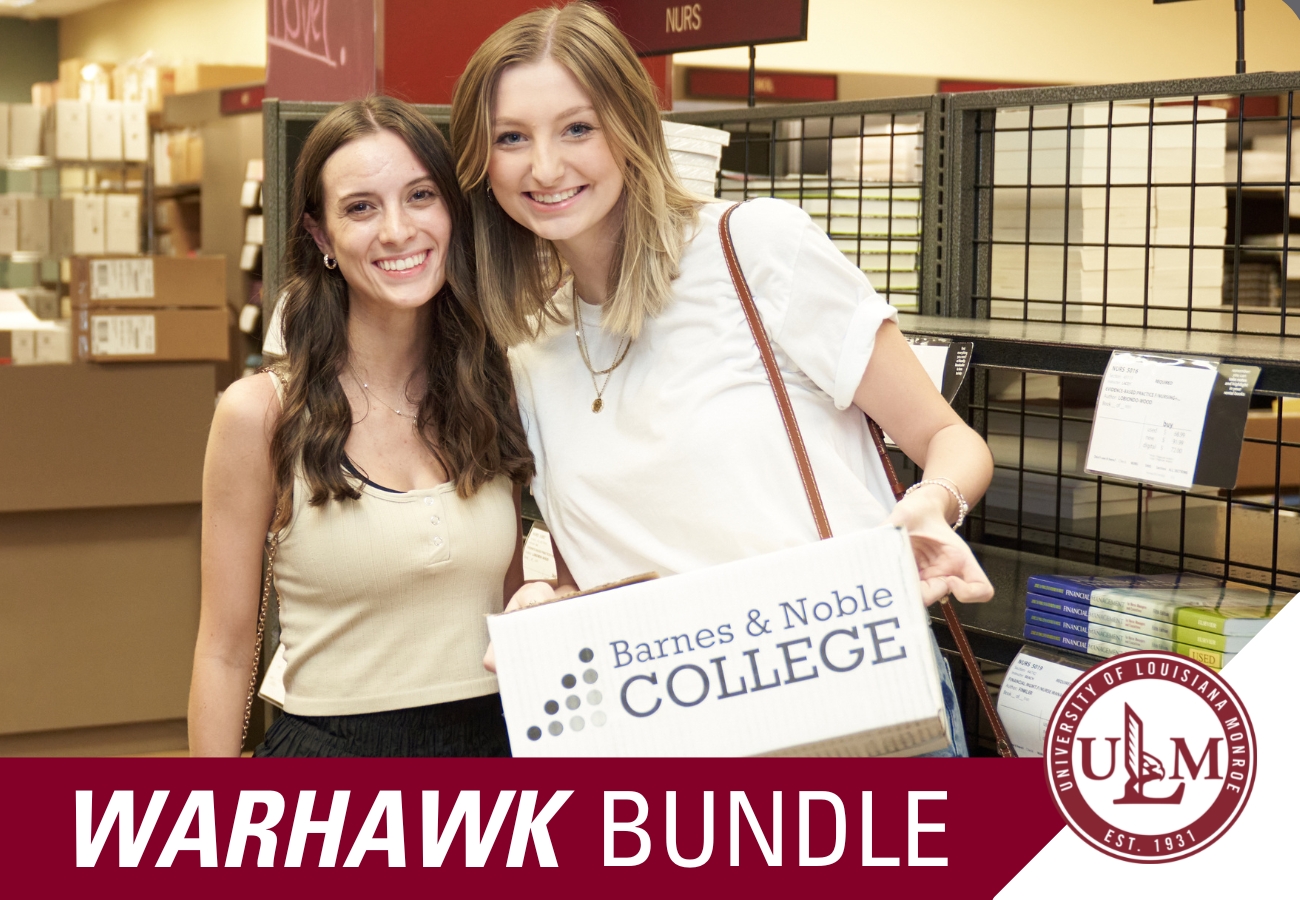 MONROE, LA – In the fall semester of 2022, ULM, in conjunction with Barnes & Noble Education, launched the Warhawk Bundle, a concierge service that allows students to have access to all their course materials before the first day of class at an average savings of 35-50%. Data provided by Barnes & Noble College (BNC) shows that ULM students saved an estimated $628,000 in the fall 2022 semester using Warhawk Bundle.  
"Warhawk Bundle replaces the need to get to the bookstore early and shop book by book, section by section," said Tommy Walpole, ULM's Executive Director of Auxiliary Enterprises and Student Services. "The most important improvement in the student experience is the money they saved and the fact the Warhawk Bundle is placed on the fee bill, which of course is paid before school begins," added Walpole.  
According to the report provided by BNC, 78% of students found it convenient to have their course materials bundled and delivered to them through this program and 63% of students reported feeling better prepared for the academic term.  
Randy Head, a senior biology major, said he appreciates the Warhawk Bundle's convenience because of his busy schedule. 
"Getting all your books, physical or the online version along with online homework codes all at once is a lot better than searching and finding all of your materials separately and on your own," Head said. 
With Warhawk Bundle, instead of purchasing materials a la carte, the cost is included in each student's account at the same time tuition is charged. Ahead of each term, students will receive an email from the ULM bookstore prompting them to select their preferred delivery method. The bookstore prepares materials for each student and notifies them when materials are available for in-store pickup or have shipped. Digital materials are automatically delivered to students within Moodle, the university's online course management system. 
Kade Felter, a freshman communication major, said he likes the Warhawk Bundle because it decreases his stress to find the right books for class.  
"The Warhawk Bundle is useful and a simple way to get your books without much stress. I don't have to search for my books anymore or worry that I bought the wrong books online. Overall, the Warhawk Bundle just helps me get my books without the hassle," Felter said. 
Walpole says collaboration between ULM and Barnes & Noble has been integral to this new transition. "Making a move of this magnitude brought with it several unanticipated problems but Barnes and Noble, along with our Controller's Office, IT department, and others have worked very hard to come up with a quick solution for each obstacle we faced," he said. "Barnes & Noble and ULM are committed to the growth of this program and to a problem-free experience for our students." 
The Warhawk Bundle is currently available to all undergraduate students, with the exception of Nursing and Pharmacy students. The program provides all required textbooks, lab manuals, access codes and digital textbook versions to eligible undergraduate students. All eligible undergraduate students are automatically enrolled in the Warhawk Bundle program, but can opt out if they choose. In the fall 2022 semester, 70% of eligible undergraduate students participated in the program.  
"The Warhawk Bundle doesn't make sense for every student, so we encourage our students to read all of the information we have provided," said Walpole. "I do see the program growing to the 80-85% participation rate and with this growth will come an even lower cost per credit hour for those who participate," he added.  
For more information about the Warhawk Bundle program, click here.