Published November 17, 2023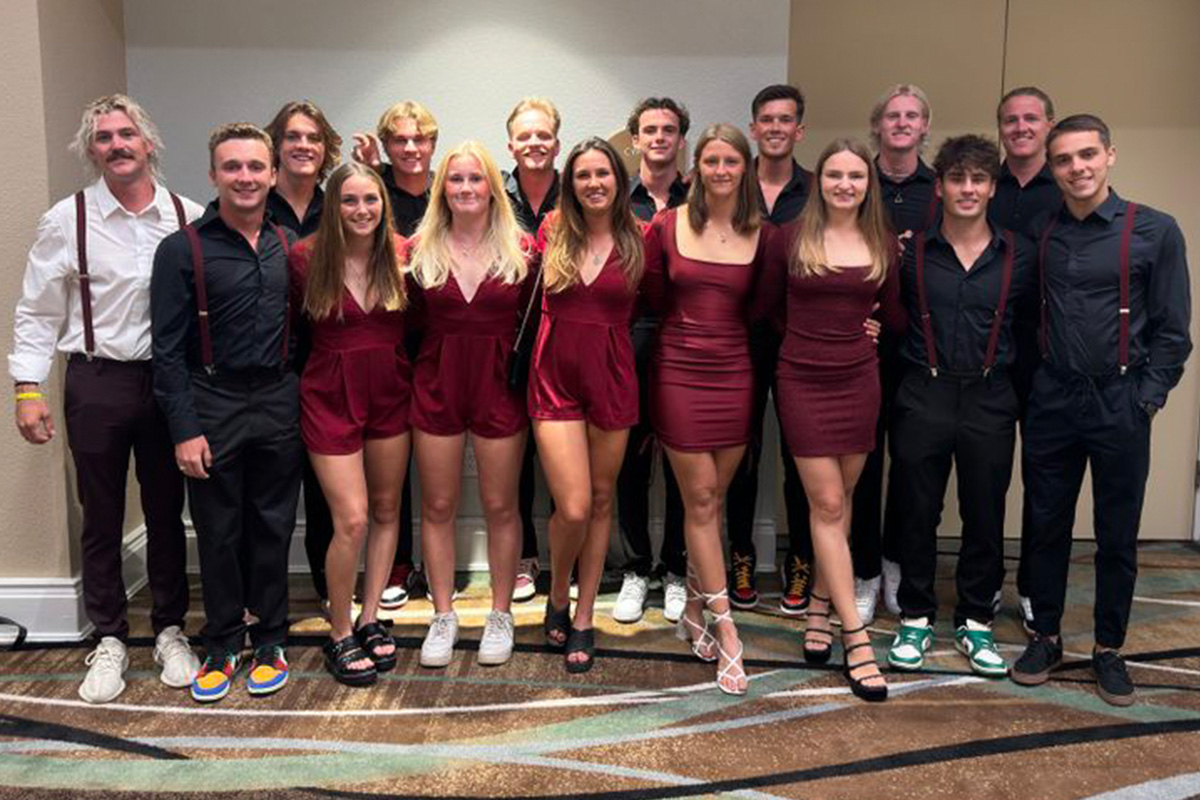 CAPTION: The 2023-2024 ULM Water Ski Team: (Back Row L-R): Coach Zane Nicholson, Jake Chambers, Aatu Virta, Stefan Piatrenka, Jacob Duffy, Viktor Motov, Sondre Stalheim, Ryan Schipper (Front Row L-R): Connor Pauley, Nellie Allard, Eline Vang, Lea Miermont, Valeryia Trubskaya, Stanislava Prosvietova, Carter Lucas, Damir Filaretov 
---
MONROE, LA – The ULM Water Ski team placed second at the 44th Syndicate Waterskis Collegiate Water Ski National Championships in Zachary, LA on Oct. 28. The tournament marked ULM's 45th consecutive appearance at Nationals.  
ULM finished second with 11,510 points, beating the University of Alabama by five points as well as Florida Southern College (10,415 points) and Arizona State University (10,160 points). 

"Every team member made a vital contribution to our second-place finish. We skied above our seed, edging out Alabama by the slimmest margin possible. This could only happen with the vast support from our school, coach, and alumni providing us with the best facility and resources in the nation," said Ryan Schipper, Water Ski team captain.  

The Nationals was the largest tournament of the year with 24 teams competing. The Nationals is divided into two Divisions. ULM competed in Division 1 along with the University of Alabama, Arizona State University, Clemson University, Florida Southern College, Kansas University, University of Louisiana Lafayette, Miami of Ohio University, Rollins College, Texas A&M University, University of Wisconsin and University of Wisconsin-La Crosse. 

Along with their second-place win, Valeryia Trubskaya and Stanislava Prosvietova tied for third place in Overall and Damir Filaretov placed fourth in Overall. Overall titles were awarded to athletes competing in all three events including slalom, tricks, and jump.  
ULM Water Ski team competitors include Nellie Allard, Jake Chambers, Jacob Duffy, Damir Filaretov, Carter Lucas, Lea Miermont, Viktor Motov, Connor Pauley, Stefan Piatrenka, Stanislava Prosvietova, Ryan Schipper, Sondre Stalheim, Valeryia Trubskaya, Eline Vang and Aatu Vita.

"This ski session was by far my best season yet with the team! It was amazing to see how the team came together to get our team to where we finished. I saw the team work harder than I ever have to ski our best this season and the results definitely show," said Zane Nicholson, the coach of ULM Water Ski. "I'm so proud of this team and what they have accomplished, and I look forward to what the future holds for our skiers and our ski program!"