Published September 25, 2023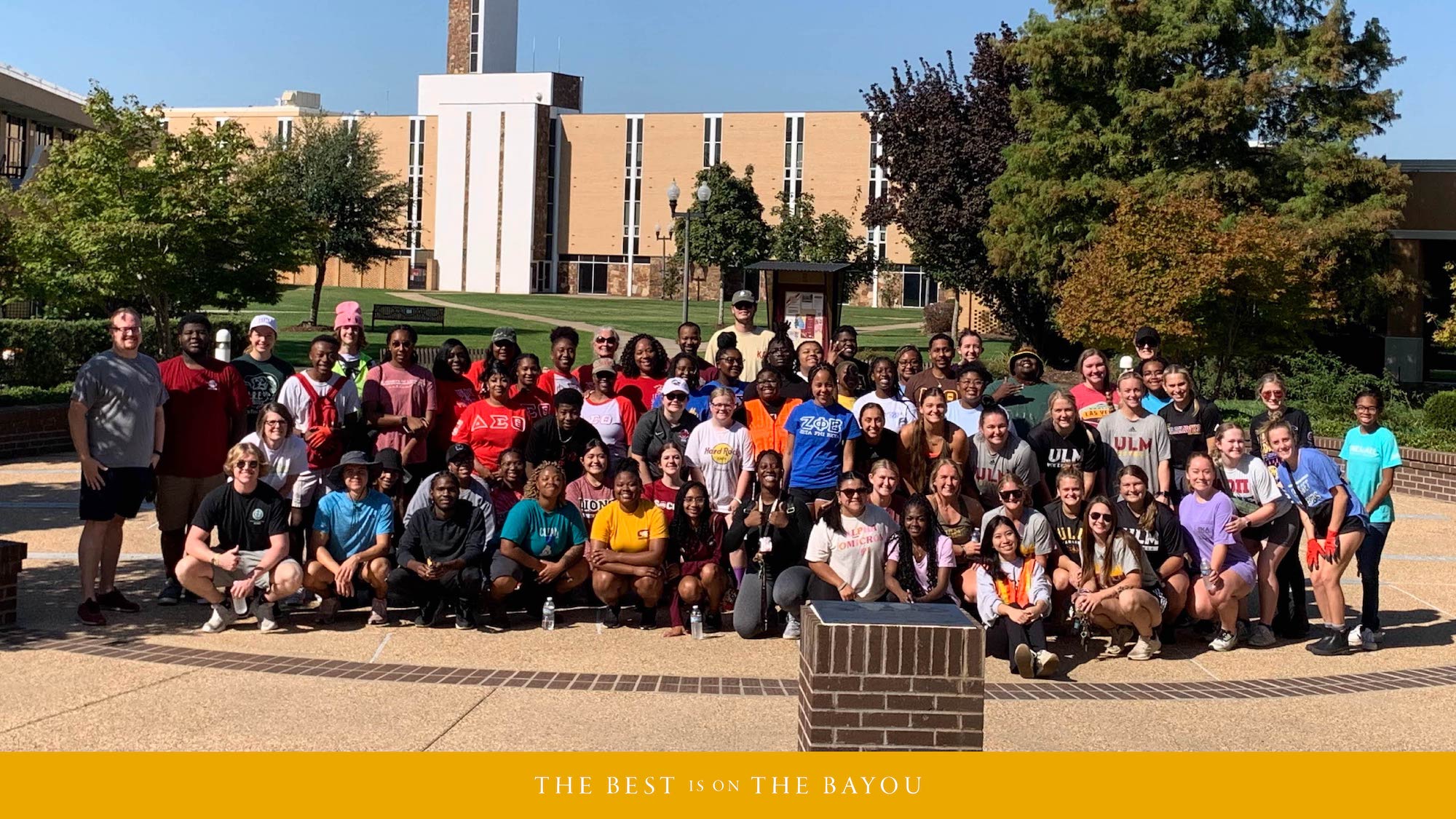 CAPTION:ULM students, faculty, staff, and administrators collected 149.69 pounds of litter as part of Water Sweep 2023. There were 64 participants for this year's event.  
---
MONROE, LA – On Saturday, September 16, 2023, Keep ULM Beautiful hosted a location for Ouachita Green's Water Sweep 2023, a waterway cleanup event. During a waterway cleanup, participants come together to remove trash, plastic, marine litter, and other pollution from the water and surrounding areas. This helps preserve the natural beauty of our waterways, supports biodiversity, and keeps our water free flowing. 
"We had 64 participants for this event," said Andrew Hardee, Keep ULM Beautiful University Affiliate Coordinator, "and when we weighted and calculated, taking out the water weight and the weight of the bags used, we found that we collected 110.88 lbs. of litter/trash/debris and 39.69 lbs. of recyclable litter for a total of 149.69 lbs. collected! That is an approximate average of 2.34 lbs. per participant." 
"The Water Sweep cleanup was fun, but also beneficial," said Kendall Morton, a Senior in the College of Arts, Education, & Sciences. "I specifically walked in places on campus that I don't usually walk, and I was surprised at the amount of things that were found in the bayou. Keeping ULM beautiful is not just about the campus, it's about us and shows a greater pride in how we feel about our campus." 
Participants met at the Library Overhang, closest to Scott Plaza, to begin the cleanup, where gloves, trash bags, handheld grabbing tools, water waders, and magnet fishing kits were made available. Participants split off into five groups, each taking a section of the bayou and surrounding areas from the Bayou Village Apartments down to the VCOM campus and back around the University House, University Library and to the footbridge, to walk through and collect litter. 
"I found a lighter first, right on the bank of the bayou, then proceeded to find a toothpick, battery, and eventually a chicken wing in the back parking lot of University Suites," said Julia Cherry, a Junior in the College of Business and Social Sciences. "It made me feel good helping in some way to clean up the college I live at. I would definitely consider doing more community service after this." 
Students were not the only people to participate. ULM Faculty, Staff, and Administrators joined in on the clean-up efforts. 
Dana Mejia, ULM Staff Senate President-Elect, said, "As a staff member, it gave me great joy to work alongside our student body in efforts to keep our university the beautiful place it is.  It truly takes us all to make our university, our city, our state, our country, and our planet a place that not only we love but that will love us back." 
Water Sweep 2023 was made possible with the support of Ouachita Green and its partner organizations, the ULM Office of Residential Life, and participants doing it for themselves and participants from the following Recognized Student Organizations/Campus Departments/Teams:
Alpha Kappa Alpha Sorority, Inc. 

Alpha Omicron Pi 

Campus Activities Board 

College of Health Sciences Dean's Office 

CollegeRepublicans of ULM 

Delta Sigma Theta Sorority, Inc. 

Honors Program 

Iota Phi Theta Fraternity Inc. 

Kappa Alpha Order 

National Association for the Advancement of Colored People 

Ouachita Parish High School Student Government Association 

School of Basic Pharmaceutical & Toxicological Sciences 

School of Education 

Sigma Gamma Rho Sorority, Inc. 

Speech-Language Pathology Program 

ULM Resident Assistants & Residents 

ULM Softball 

ULM Staff Senate 

ULM Student Government Association 

ULM TRiO Programs 

Zeta Phi Beta Sorority, Inc. 
There will be another opportunity for a Campus Clean-Up event later this semester. Keep ULM Beautiful can also work together to plan a clean-up event just for your organization. Please contact Andrew Hardee, Keep ULM Beautiful University Affiliate Coordinator, by email at hardee@ulm.edu. 
About Keep ULM Beautiful 
Keep ULM Beautiful, formed in October 2022, is a Keep Louisiana Beautiful University Affiliate, which is a special mark of distinction and represents a commitment by the university to continual improvement in sustainability and environmental issues, promoting student environmental stewardship and engagement, and rigorous outcome measurement. Keep ULM Beautiful will pursue opportunities to improve the campus to meet the needs of the changing living and educational environment of students, faculty, and staff by encouraging litter abatement, recycling, and sustainability practices. 
About Ouachita Green 
Ouachita Green is a nonprofit organization dedicated to preserving natural beauty, protecting the environment, preventing blight, litter abatement, promoting environmental education, and planning and participating in community enhancement projects that make Ouachita Parish a cleaner and greener community to live in. Serving as the umbrella organization for Keep Monroe Beautiful, Keep Ouachita Parish Beautiful, and Keep West Monroe Beautiful, Ouachita Green provides organization and planning for beautification projects, litter abatement, fundraising events, and educational efforts for these three affiliates. In partnership with Keep Louisiana Beautiful & Keep America Beautiful, our unified efforts will help positively shape the future for generations to come.